When your iPhone starts to run low in internal memory, its performance is in most cases affected. Some of the consequences of this include reduced speed in processing of data, slow applications launching, and periodic hanging, among others. It also makes you unable to install new apps, take new photos or add new files. One of the best ways to solve this is by deleting junk or unnecessary files from your iPhone to free up memory. Some apps, such as games, internet browsers, and social networking apps are often culprits in consuming too much memory in the form of cache data, history, obsolete app data and much more. But how exactly do you check how much iPhone app memory usage is consuming?
Part 1. How to Check an iPhone App Memory Usage
Guides on How to Check an iPhone App Memory Usage: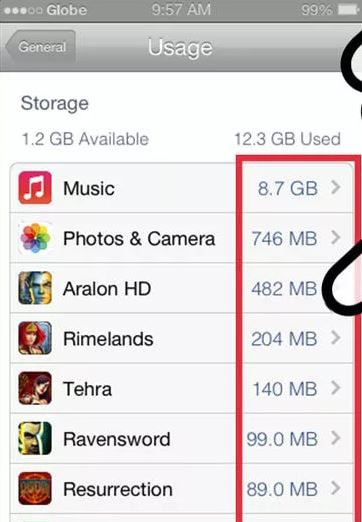 Method 1. Use the Device "Settings" to Check iPhone App Memory Usage
Checking an iPhone apps' memory usage is simple, go to device's settings, then tap on general, Storage & iCloud Usage and then tap on Manage Storage.
Step 1. Go To Settings from Main Menu.
Step 2. Then go to select General.
Step 3. In the next interface, click the Storage & iCloud Usage tag.
Step 4. At Last, you can check the memory usage in "Manage Storage".
Depending on the device type and iOS version, you can also follow Settings > General > Usage. This should give you a list of all apps ion your device alongside the amount of space each is consuming on your device. You can tap on a specific app to get more detailed information regarding its memory usage.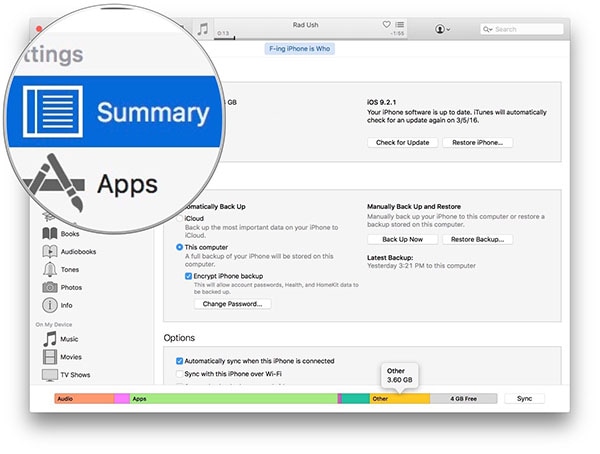 Method 2. Use iTunes to Check iPhone App Memory Usage
Step 1. Launch iTunes on your Mac. You can get the main interface of it.
Step 2. Then connect your iPhone to Mac using its USB cable and select your iPhone in iTunes.
Step 3. iTunes will detect content on your iPhone and give details about how much memory each one is consuming.
Part 2. The Best Solution for iPhone App Memory Usage Full
As compared to other apps out there, dr.fone(Mac) - Data Eraser (IS) (o dr.fone - Data Eraser (IS)) is by far the best solution for iPhone storage cleanup. It not only allows you to free up device memory by deleting data from your iPhone completely, it also gives you the convenience to speed up your iPhone and protect your sensitive data from falling into the wrong hands in case you want to donate or dispose your iPhone. The dr.fone - Data Eraser (IS) can be used to securely erase files such as videos, music, documents, and images, as well as data such as browser cache, history, logins, messages, call logs, contacts and much more. You can as well use it to delete files from apps that are consuming your iPhone storage memory. Since there are available applications that can be used to recover deleted files from storage, this software makes your information secure by completely erasing such files permanently from your iPhone.
Key Features of dr.fone - Data Eraser (IS):
Delete junk files from iPad and iPhone to free up memory.
Compress Files Using Files Compressor. Allows you to save space on your iPhone.
Erase deleted files permanently from your iPhone.
Erase all data from iPad or iPhone on Mac. Allows you to secure your personal/private information.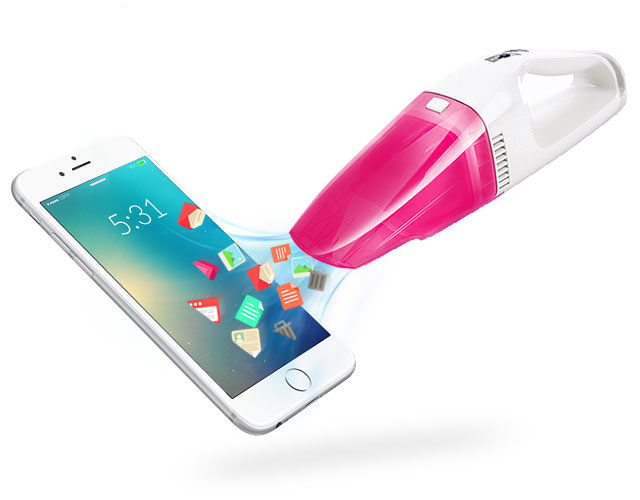 Step-By-Step Guide on How to Solve iPhone App Memory Usage Full