You might have heard about recovering lost data from a PC or an Android mobile phone. There is a plenty of tools available to recover your lost data like photos, videos, audio & other documents. But those software tools cannot help you when you want them to recover the most important thing in your phone. Messages or SMS! People often face the problem of losing their SMS during a factory rest or a virus attack on their Android phone. In such events, you can use the software tools having the feature to recover messages on Android. We are going to see the top 5 software tools that can recover messages on Android phone. And the best part is, these software tools are free to download.
Top 5 Android Message Recovery Software You Need to Know
When people face SMS deletion issues, they often visit the nearby shops, markets or online resources to get their SMS recovery. Many devices do the need with ease, but most of the apps fail and have some flaws. The situation gets very troublesome for the people if they fail to approach some reliable sources or app that can ensure quick recovery with original SMS. Here we will discuss top 5 Android SMS recovery software and apps that have become popular and widely used nowadays.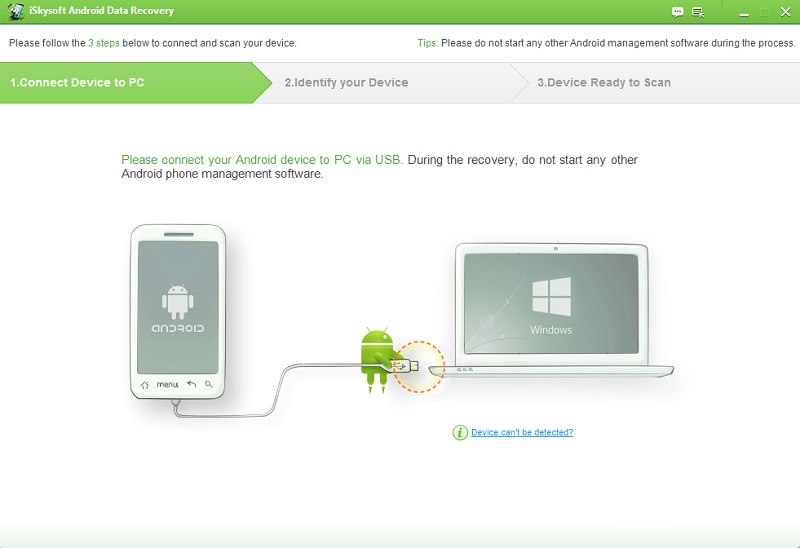 1. iSkysoft Android Data Recovery
iSkysoft Android Data Recovery for Mac (or iSkysoft Android Data Recovery for Windows) makes it possible for you to retrieve your data lost without putting across complex processes and ensures that you get the job done in minutes. This exceptional Android text recovery tool for Android is compatible with all types of devices such as Samsung, Motorola, Dell, Google, Nexus, Sony, HTC, Asus, and more. One of the greatest features of iSkysoft Android data recovery is that it only detects and retrieves data. It ensures that there is no room for your personal information getting leaked.
Key Features of the Program
This interesting software also allows you to recover all types of files, such as text messages, contacts, videos, WhatsApp conversations, images, etc.
All you need to do is follow three simple steps, select the data you want to recover and click the Recover button.
This makes the process very simple and also saves a lot of time that would otherwise be spent sifting through the recovered data.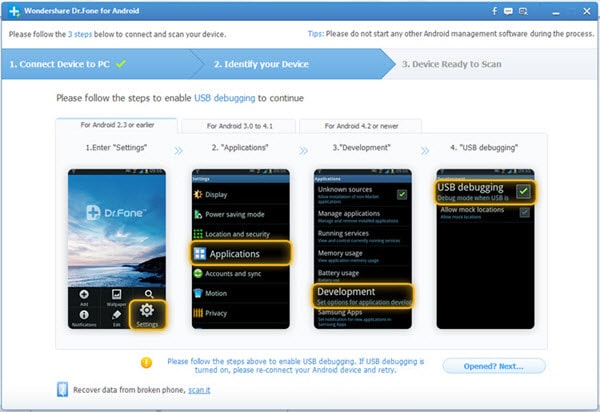 2. Dr.Fone for Android
Owned by Wondershare Dr.Fone for Android is a Android data recovery software tool designed to recover lost data from your Android phone. And that data includes your messages! You need to download and install Dr.Fone for Android on your PC or Mac. Once installed, you can then connect your Android phone from which you want to recover the messages. Then the software will scan for lost messages and display them for you to recover.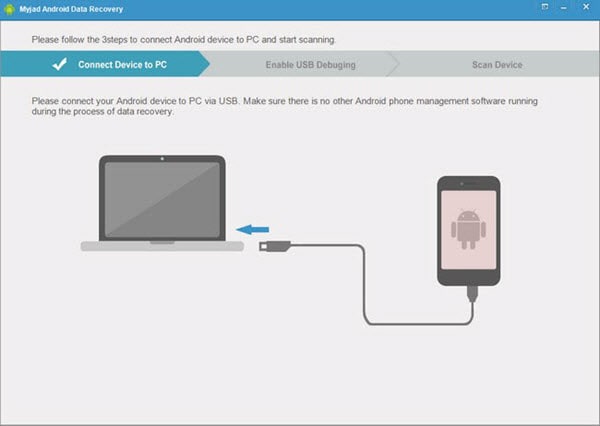 3. Myjad Android Data Recovery
Myjad Android Data Recovery is cool Android text message recovery software that can be used to recover your lost messages on your Android mobile phone. It flawlessly scans the lost files on your phone and helps you to recover them with ease. It requires PC interface for recovering the lost messages. Means, like Dr.Fone for Android, you need to install it on your PC for retrieving the lost data.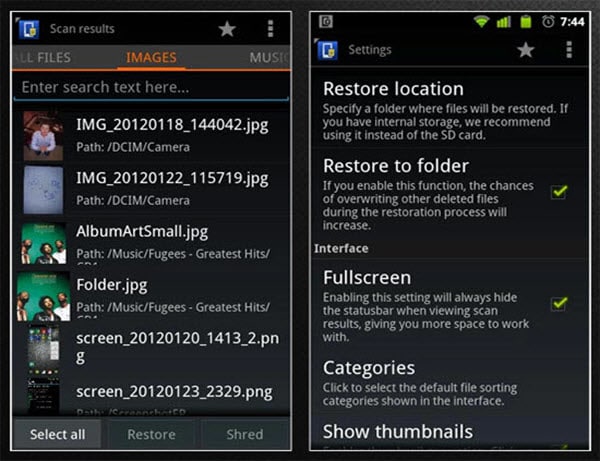 4. Undelete Beta
Unlike the above-said software tools, Undelete Beta is an Android message recovery that needs to be installed on your Android phone to recover your lost messages. It is handy since you don't need a PC for retrieving the data. However, most of the time we need a recovery tool when you no longer able to use you phone like broken screen, software issues, etc. For such kind of problems, having Undelete Beta on your Android phone is of no use.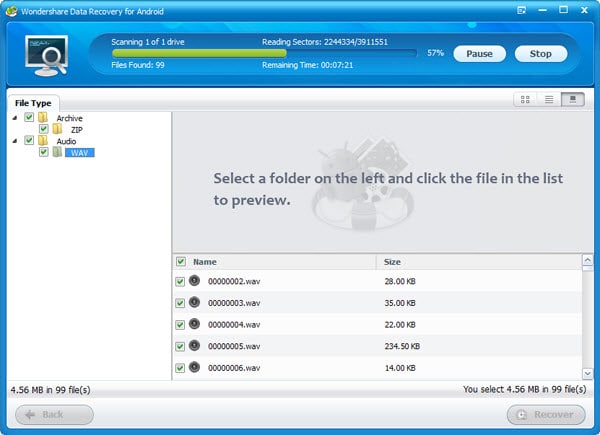 5. Android Recovery Tool from GutenSoft
Similar to Myjad Android Data Recovery, Android Recovery tool from GutenSoft can be installed on your PC to recover your lost messages from Android phone. It can recover not only messages but also other files such as audio, video, contacts, etc. Although it is not widely used, it can perform a decent job.
Though plenty of options available for recovering your lost message on your Android phone, we highly recommend you to go for iSkysoft Android Data Recovery. It is having a good amount of features and also it is used by more than 60-million people worldwide. Also, it has an awesome scanning ability. So, look no further and go for iSkysoft Android Data Recovery.