Can I extract data from my iPhone before upgrading to iOS 10?
As an iPhone user, you must be having some data that you can't afford to lose. Preventing the loss of data is, therefore, a must-do activity. Whenever you find your data subjected to the risk of being lost, you need to devise a mechanism to offset the impending danger. Before you upgrade your iPhone to iOS 10, it is important that you extract data from your phone to a backup device. This is because you anticipate data loss during this upgrade. To do this, you need to use the right application. This would guarantee security and safety of your data.
Best iPhone Data Recovery Software
iSkysoft iPhone Data Recovery can act as the best iPhone data extractor software, which helps extract deleted or the existing data on your iPhone/iPad/iPod before upgrading to iOS 10 for the sake of data loss. It can help extract data from not only iOS devices but also iTunes and iCloud backup.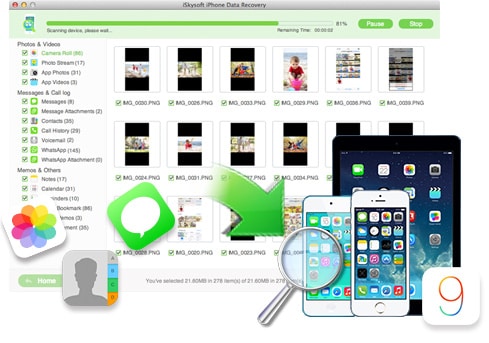 Key Features of iSkysoft iPhone Data Recovery
This tool has three modes of operation; for extracting data namely extraction directly from the device , extraction from iTunes and iCloud backups.
This application allows you to have a preview of iPhone data before you extract.
With this software, you can do selective extraction.
iSkysoft iPhone Data Recovery supports a large range of iOS devices.
It can extract up to 19 files of different data types.
It is fast and safe in data extraction - it takes a small time to scan and extract data.
The "Fix iOS to Normal" feature is used to repair an operating system.
iSkysoft iPhone Data Recovery provides free updates for lifetime.
Three Methods to Extract iPhone Data Before Upgrading to iOS 10
To protect your data from being lost during upgrading, you have to extract and keep them in a safe place. The following ways can be employed to perform this task.
#1. Extract iPhone Data from iPhone Device Before Upgrading to iOS 10
Step 1. Click "Recover from iOS Device"
Download, install and open iSkysoft iPhone Data Recovery Software on the main interface select "Recover from iOS Device "option. After that this app will inform you to connect your device to your computer, then click on the "start" button.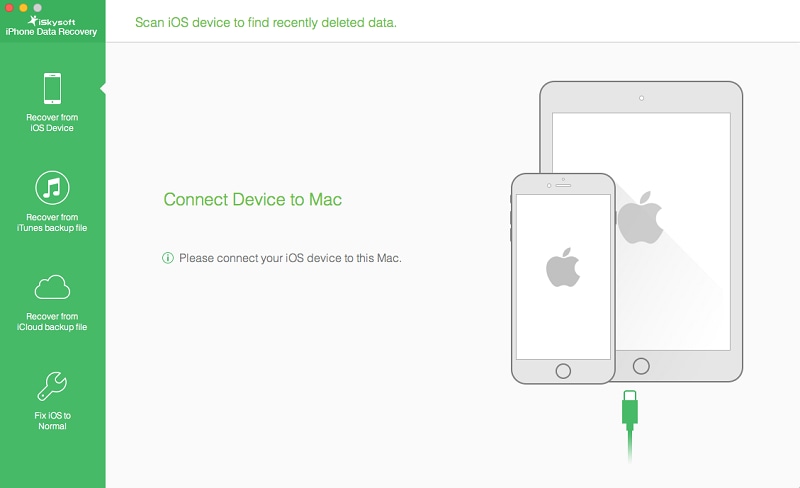 Step 2. Scan Files
Once you have connected, the program will realize and will display your device on the screen. To go to the next step, tap on the "Scan" icon, which is located just beneath the device.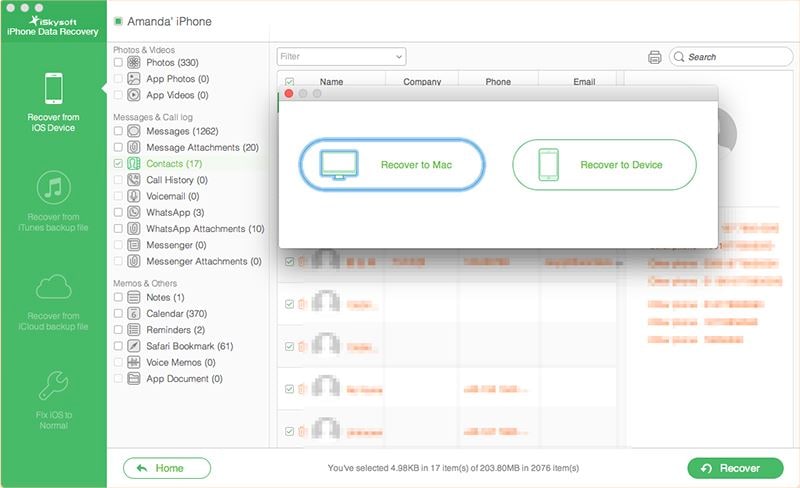 Step 3. Preview and Restore Files
This program will make a thorough examination and analysis of the device. It will thereafter display those data that can be recovered onto the screen. It is here that you can make a preview of the data. This allows you to confirm whether they are the right data you wanted to retrieve. When you have completed marking the necessary data, just tap on the "Recover" button.
A pop up in the form of a small dialog box shall appear. This will ask you to select the location of the folder where you would want this program to save the files. With navigation to the folder, you then wait until the recovery process is complete.
When the process has successfully completed, you can then check the folder to view the retrieved data from your iPhone.
#2. Extract Data from iTunes Backup Before Upgrading to iOS 10
iSkysoft iPhone Data Recovery software also allows you to extract files from iTunes backup. Here is how to extract your iPhone data from iTunes.
Step 1. Click on Recover from iTunes Backup
On the program main interface, click on Recover from iTunes Backup. On doing selecting that, the program will show you the list of backup files on your iTunes backup.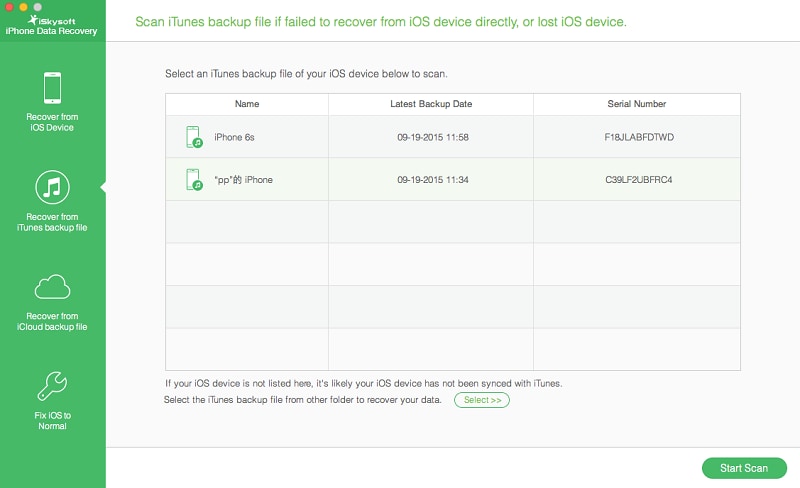 Step 2. Scan Backup File
Click on the backup file to extract data from and click on "Start Scan" button at the lower right.
Step 3. Preview and Restore Files
Once the scanning is over, you will be able to see all the data types on cloud backup file displayed under different categories. Click on each file to preview them. Next, mark on the data types you want to save on your computer. I am sure you may want to save everything so mark on all file types and hit on "Recover" button. Next choose where to save the files on your computer.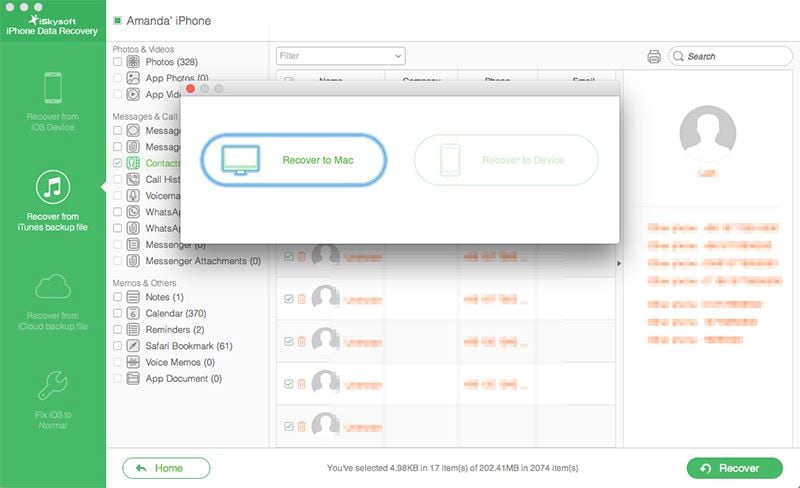 #3. Extract Data from iCloud Backup Before Upgrading to iOS 10
It is a good idea to backup your device data on iCloud backup. This will be easy to extract in an event of failure of the device. The following is a detailed guideline on how to extract iPhone Data from iCloud backup
Step 1. Select Recover from Cloud and Log in to iCloud
With your Apple ID and its password, log into your iCloud account. To get here, you need to run the program and then select "Recover from iCloud Backup" and then enter the aforementioned credentials.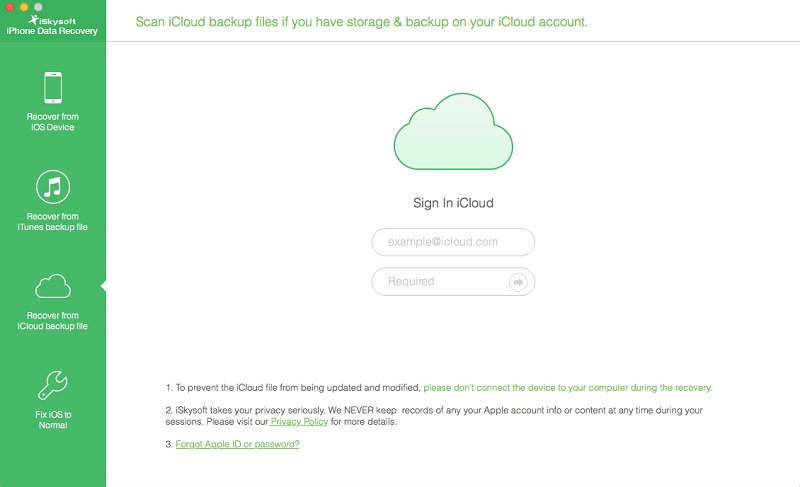 Step 2. Download and Scan Backup File
When the login is successful, select the iCloud backup file you wanted to extract. When you have selected, click on the "Download "button to download it from the iCloud backup. This will take you a bit of time but to finish. Once it is complete, "Scan Downloaded" shall replace the previous button labeled "Download". You then have to click on this button in order to the files from iCloud backup.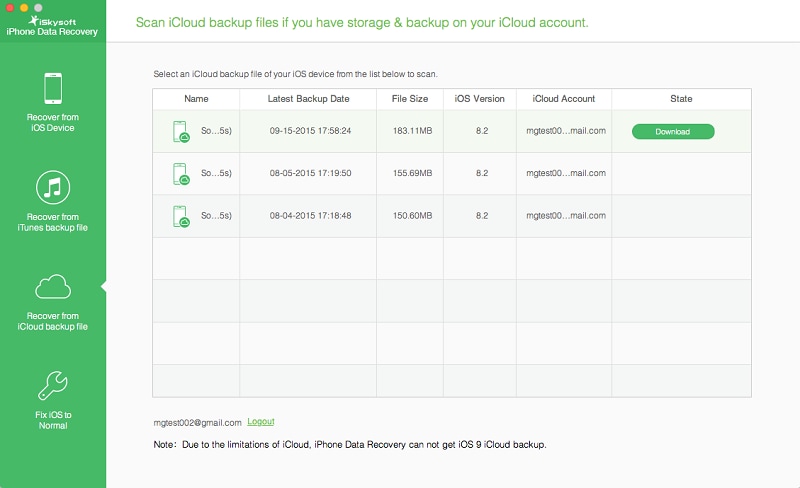 Step 3. Preview and Restore Files
After this, you now have an option of reviewing if you like. You can check whether the file details are still unchanged. Once you are done with the preview and satisfied with the results, select "Recover". This will bring the file recovery process into completion.