No matter you're a Windows or Mac user, you might have encountered various errors. Aside from the errors in software, operating system, you will also encounter system error also know as Blue screen error or Blue screen of death. A blue screen of error halts the normal functioning of the computer and restarts the computer. This will be only irritating if you were only playing games on your PC but if you were doing an important work, you will probably explode from the anger and disappointment.
So in this article, we're going to analyze the case of blue screen of death in details, including what is it, why it happens, how to fix it and other things you need to know about the blue screen error in Windows or Mac system. If you're troubled by the blue screen of death, then just keep reading this article as follows:
How to Fix a Blue Screen of Death on Windows 10/8/7/Vista/XP?
There are many reasons that can cause a blue screen of death on Windows like software issues, driver issue, windows updates errors, and hardware issue. If it is a hardware problem, then the fix can be troublesome as you would need to find the one that's causing a problem. But if it is a software issue, then a simple System restore can solve the problem. System restore is a convenient utility in Windows by which you can roll back to the previous good configuration on the Windows. System Restore reverts the operating system drivers, registries, software to a restore point.
Steps to Solve the Blue Screen of Death Error on Windows
Step 1: Go to the "Startup options" screen after restarting the PC. To do this hold Click on Start and click "Restart" while holding down "Shift" button.
Step 2: At the startup options, click on "Troubleshoot".
Step 3: Now, click on "Advanced options" to open its Window.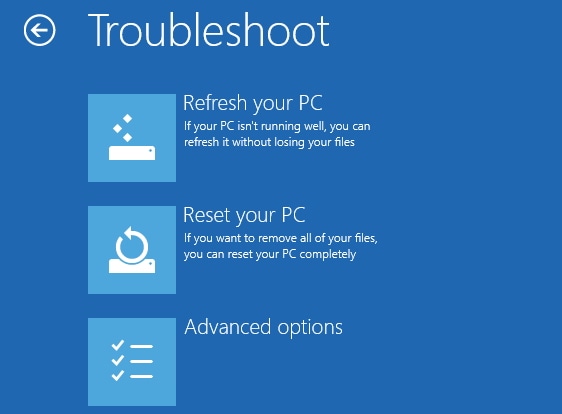 Step 4: On the Advanced options screen, click on "System Restore" and then Click "Next" at the System Restore window.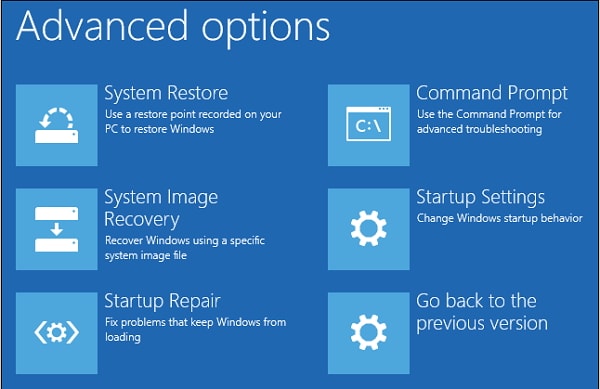 Step 5: Then, select a restore point and Click "Next".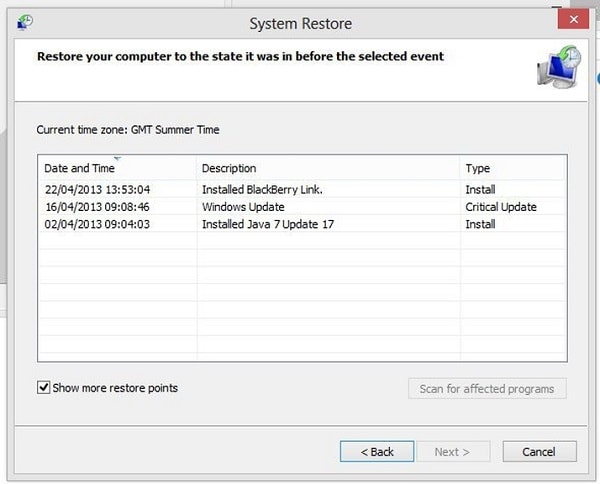 Step 6: At last, click on "Finish" and this will begin the process of restoring the system. Once the process is completed, the computer will restart and boot to the desktop.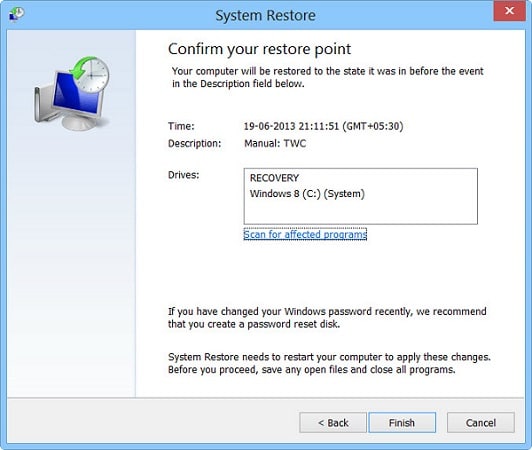 System Restore reverts the computer back to the state it was during the restore point. This includes uninstalling any system software, registries, rolling back driver updates and Windows updates.
---
How to Fix Mac Blue Screen of Death?
When your Mac computer stucks into the blue screen error, you can try to check your Mac and fix Mac blue screen of death from 2 different aspects. Now, let's check them as follows:
1) Fixing Startup Permissions
The startup drive repair could resolve the issue of the blue screen for most of the users. It causes a mac to freeze on the blue screen if the permissions are set incorrectly.
It happens due to power outage or power cut that makes the mac to go off without the proper shutdown process. Experimenting with the terminal commands and changing the command on startup drive can deny the access to your mac. It is possible to deny all the access to your mac however if you do it then mac would not boot.
So how to change Startup Drive Permissions by booting from another device?
- Boot the mac from a different startup device. Use the option key holding it down and a list of startup device would be displayed, select the device so that mac would use it for booting.
- After getting to the desktop, launch the Terminal that you can locate in the Applications/Utilities folder.
- Now, we would enter the command in the Terminal and replace the startup drive nae with the startup drive that was showing malfunction. Enter these commands as follows:
sudo chown root "/Volumes/startupdrive/"
- Now, it will ask you to provide the administrator password, type the correct information and hit enter.
- Enter the following command by replacing the startup drive name.
sudo chmod 1775 "/Volumes/startupdrive/"
Now, the startup device name is changed with granted permission. You can easily boot your mac now.
2) Fixing Peripheral Issues
Sometimes, it might be the peripherals such as the Thunderbolt or USB devices that cause a Mac to strangle on a spinning blue screen. It is the first thing that you could try if you are observing a blue screen then disconnect all the Mac peripherals attached.
In order to keep the things straight, you must power off the mac first and then pull out the Thunderbolt and USB cables. You can shut off the mac by pressing the power off button a longer until it sleeps.
By the time, it's going to sleep wait for it and let it shut off and then restart your mac again. This process might fix the issue if it's related to the peripherals.
---
What is the Blue Screen of Death? And What Causes Blue Screen of Death?
Blue Screen of Death is an error which stops the normal working of a computer and forces it to restart. Sometimes the Windows may recover from the blue screen of death after a reboot. But if this error was so easy to fix, then you probably wouldn't be here for a solution. Blue Screen of death is a name given to the errors which halt the system and not let it boot properly. The term was coined by the technicians due to the fact that it doesn't let the operating system recover without a restart. If you encounter a blue screen of death while working, you will lose all unsaved data.
What Causes Blue Screen of Death?
Blue screen of death or BSOD, is a common issue on Windows or Mac computer. But do you know what might causes the blue screen error on Windows or Mac computer? Here, let's make you aware about this happening and guide you with the correct measures that you can take to sort it out.
1) Whenever you start Mac or PC and there is a blue screen with a spinning beachball, there is likely to be an issue with the peripherals fixed in your computer, it might be a sort of startup items and software issue sometimes.
2) Not everytime the blue screen is a threat for death, sometimes it might be the scam popped up during the web browsing. It's something like you have seen a link to a phone number to call or to a website.
3) Blue screen death is something that all the computer users are aware of. It comes with a potential threat to lose the data you are working on. That sounds horrible! In a hope to fix it, you might restart your mac to make it start good and smooth.
Below are given some prevention to avoid blue screen of death error message.
• Avoid Installing Outdated Software
Generally, blue screen of death appears when there are some malfunctioning, outdated or incompatible programs, and software. If you have recently installed outdated software on your computer, it is very likely that you can encounter the Blue screen of death error. If you encounter blue screen error after installing a program, then simply uninstall it. At the first place, you should avoid installing incompatible software and programs forcefully.
• Fix Corrupted System Registries
Corrupted system registries can also cause the blue screen of death error message. System registries are responsible for the optimum functioning of a computer and if these get corrupted, will only hinder the system from performing optimally. Even a single corrupted registry can stop the Windows from loading and if you want to have a healthy PC free of blue screen error, fix the registry errors as soon as possible. You can use the System Restore to restore the corrupted registry to a previous version or use Automatic repair utility in Startup options to automatically detect and repair registry errors. One can also use "chkdsk" command in Command prompt to fix registry errors on the hard drive.
• Update Drivers
Faulty or obsolete device drivers can also interfere with the normal functioning of Windows kernel processes. To ensure that you don't encounter blue screen of death error message, always keep the device drivers updated. This will ensure that the devices in your computer always perform at their optimum.
• Check Hardware
If the reason for the blue screen of death isn't a software problem, then it will be related to hardware. Open the CPU case and ensure that all cables are properly connected to their respective hardware like motherboard, hard drive, CD drive, etc. Moreover, a failing hard drive or other hardware can also cause the blue screen of death to appear. In that case, the only option is to replace the faulty hardware.
---
How to Recover All Lost Data Caused by BSOD Error?
Blue screen sometimes will cause hard drive stop working and crash, and then result in data loss when you try to enforce to restart your PC or Mac. Thus, when you encounter a "Blue screen of death" on your computer, and don't know how to fix it, or you have used the above solutions to fix mac blue screen error but find something lost, then you can use a tool like Recoverit (IS) for Mac or Recoverit (IS) to retrieve your lost data.
iSkysoft data recovery for mac has ample of good features that might save you from this big trouble at times. Let us introduce you to the best program on our portal for your mac recovery.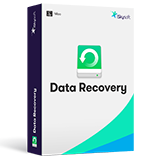 Recover formatted, lost, or deleted data from a crashed, damaged or broken hard drive without any restrictions.
Supportive to all file systems such as FAT32, NTFS, HFSX, FAT16, exFAT AND HFS+.
Different recovery modes allows users to scan and locate target files in the most efficient way.
Get a preview of recovery files like songs, documents, archives and videos before you save them.
...
For more details about how to perform the best data recovery software, you can check below tutorials:
- How to Undo Empty Trash on Mac
- How to Recover Files from Hard Drive