Is there any difference between hard resetting iPhone without or with iTunes?
A difference does exist. iTunes is, of course, an application that organizes and also plays your music and furthermore selling them. It also does the same to books, apps, and others by the iTunes stores. The two methods have got different requirements and procedures of execution. Without iTunes, you are prompted to use iPhone settings. This does not require any iPhone to computer connections.. Using the iTunes requires you to first disable the Find My iPhone, you then launch the iTunes, connect with the iPhone and continue with the process.
Part 1. How to Hard Reset iPhone with iTunes
If you have a problem with your iPad's or iPhone's software and that you have tried all the basic possibilities of troubleshooting, then having your device restored might be the very best idea. Sometimes some other factors may prompt you to restore your device. They could be in a case where you want to sell your phone. In this scenario, you would not want somebody who purchases your device to get into your personal data. Or in a case where you want to pass on your phone maybe to somebody else and that you want your data never be accessed by that person. All these reasons prompt you to consider wiping your data from the respective device. Doing this with iTunes is quite simple. What you have to do is to just follow the procedures and your task will at the end of the day e successfully executed.
To perform this resetting, you are required to first disable the Find My iPhone.
1. Connect your iPhone to your computer using a USB cable.
2. Launch iTunes and select the iPhone icon.
3. Click the Restore button on the iTunes summary tab.
4. If prompted to backup your iPhone content, do so.
5. You will then receive a message asking you if you are sure to restore your device. Click the Restore button. All your data will be erased.
6. iTunes will begin to download, prepare and then restore the software on your iPhone. Your iPhone should remain connected to your computer throughout the process. When the process is completed, iTunes will ask whether you want to restore your previous data from backup. You can choose to restore the data or set up as a new iPhone instead.

Part 2. How Can We Hard Reset iPhone Without iTunes?
Other than using iTunes to restore your iPhone, you can also involve other methods and can run successfully. ITunes is not the only option for backup and restoration. We have other methods. You can use the settings on your iPhone. The process is simple and you don't need to have your iTunes to reset your iPhone. The process is simple and fast. Just like any other factory reset method, you will lose data and personal settings that you have made on your iPhone. Therefore, you must do backup of precious data on iTunes or iCloud. After that, you can now follow these baby steps.
Step 1. On the home screen of your iPhone, search for "Settings" icon.
Step 2. Next tap on "General" icon.
Step 3. Scroll down under general settings and tap on "Reset" button.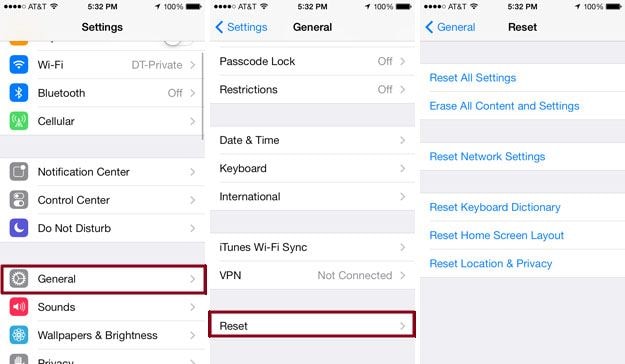 Step 4. You will then have a list of reset options. Tap on "Erase All Content and Settings" to factory reset your iPhone.
Step 5. Now confirm that you want to erase your iPhone by clicking on "Erase iPhone". The iPhone will begin to reset immediately. Be patient as the process takes place. Once its complete you will then set your iPhone as a new device.
By the way, if you want to learn more solutions to hard reset iPhone, please click this link.
Recommend the Best iPhone Data Recovery Software
iSkysoft iPhone Data Recovery is a software that allows you to retrieve mistakenly deleted files in your device. You might have lost files, which are very important for your own purposes, and that retrieving them is inevitably the most important solution. iSkysoft iPhone Data Recovery will allow you get all those files back. It can retrieve things like photos, messages, lost contacts, calendar, your very crucial notes and many other files lost in your device.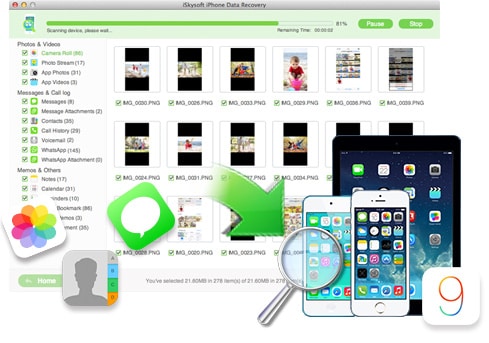 Key Features of iSkysoft iPhone Data Recovery
iSkysoft iPhone Data Recovery is a very powerful tool. It does scanning and retrieval of lost items with greater ease.
It is built with Fix iOS to Normal functionality that offers a solution to iOS devices stuck on black screen, Apple logo, white screen, and recovery mode.
This software has the capability of allowing you to do the selective retrieval. You just select what you wish to restore.
Three recovery modes to recover more than 19 types of files.
It is easy to use. This is ensured by a very friendly user interface, which is characterized by well elaborate icons.