Can I recover deleted app documents on iPhone 6s Plus?
Today's trend is the iPhone 6s Plus and it creates a havoc among professionals when they lose notes or app documents. But it's not a big deal if you have iSkysoft iPhone Data Recovery in your pockets. You could easily deal with situations like lost data or deleted documents with this application. Even though Apple Inc. has made data management much simpler for iPhone users, you cannot avoid instances like virus attack, unintentional deletion of files, software update, jailbreak and so on. Losing notes may seem like you have lost a whole lot of important information from your daily or work life. The best and fastest way to recover any deleted data like documents is by using iSkysoft iPhone Data Recovery software.
Most Effective Software to Recover App Documents on iPhone
iSkysoft iPhone Data Recovery is the most effective way to recover deleted documents from iPhone through Windows or Mac. It allows its users to restore various file types from their iPhone 7 (Plus)/SE/6s (Plus)/6 (Plus)/5s/5c/5/4s/4/3GS. It also enables you to recover deleted documents through your device or from the most popular method which is iTunes/iCloud backup. It is recommended by many iPhone users and professionals as it is 100% secure and superfast in recovery or transfer of lost data from your iPhone to the computer or Mac.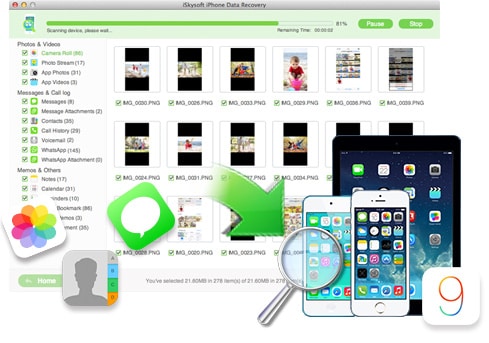 Key Features of iSkysoft iPhone Data Recovery
Efficient program with 3 Super-fast recovery methods. Recover deleted documents from iPhone device or iTunes & iCloud backup.
3 simple clicks to recover deleted documents: Scan, Preview/Select and Recover.
Supports various files types or recovery of deleted files from any instance.
Simple and Fast recovery process with its Wizard-Style Interface.
Fix iPhone to Normal mode also available.
Solution 1: Direct Recovery of App Documents from iPhone SE/6s (Plus)/6 (Plus)/5s/5c/5/4s/4/3GS
Step 1. Run the software and connect your iPhone
Launch iSkysoft iPhone Data Recovery in your PC/Mac and then connect your iPhone with its USB cable. The program will automatically detect your iDevice. In the main interface, chose the recovery method as "Recover from iOS Device" method.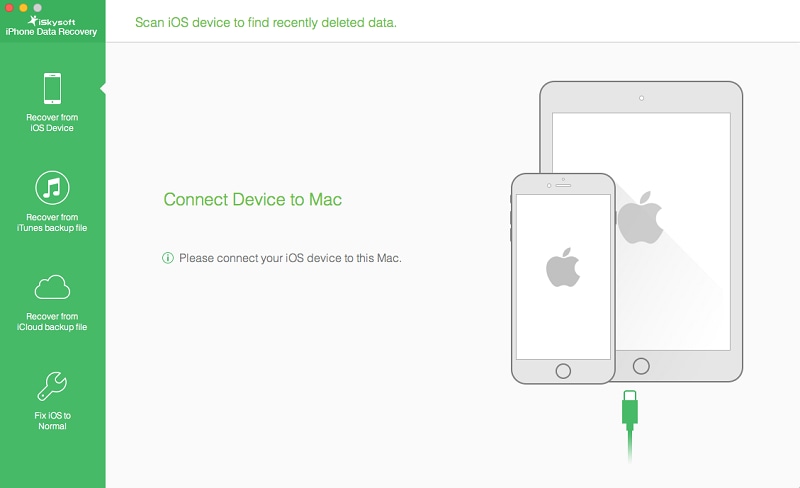 Step 2. Select Documents for Recovery
All the data from your iPhone will be automatically displayed. From the options, just check "App Documents". Click "Start Scan" to begin the recovery process. Wait for few seconds. The program will start the scanning process for recovery of the App Documents. Make sure that the connection between your iPhone & computer is maintained throughout the process. In case of any disturbance, you have to start the recovery process again.
Step 3. Recover iPhone App Documents from your iPhone
After scan, you could preview the files from the App documents to be recovered. Mark them one by one or just select all and click "Recover". The selected files will be saved in your computer in your preferred file location.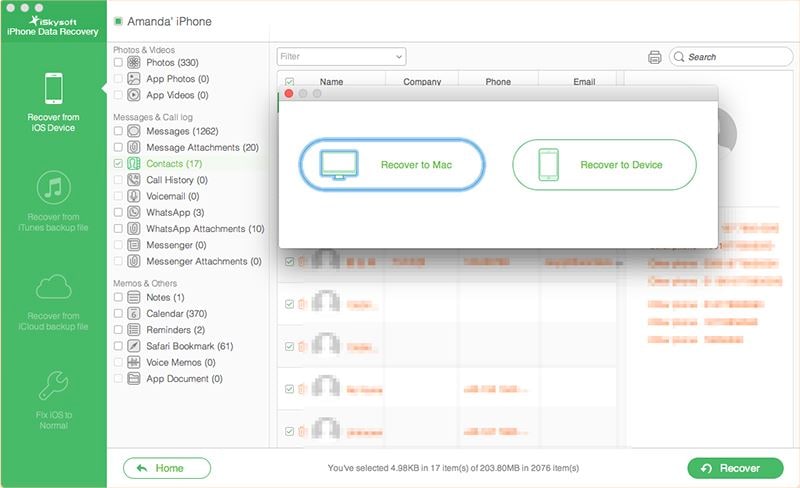 Solution 2: Recover Deleted iPhone Documents from iTunes Backup
Step 1. Choose iTunes backup recovery method
Open the program and choose the recovery method as "Recover from iTunes backup file". In this method, there is no need to connect your iPhone but you need to update the iTunes to its latest version if it is not updated yet. All the iTunes backup files from your iPhone will be detected automatically. Choose "App Documents" from the file types and click the scan option.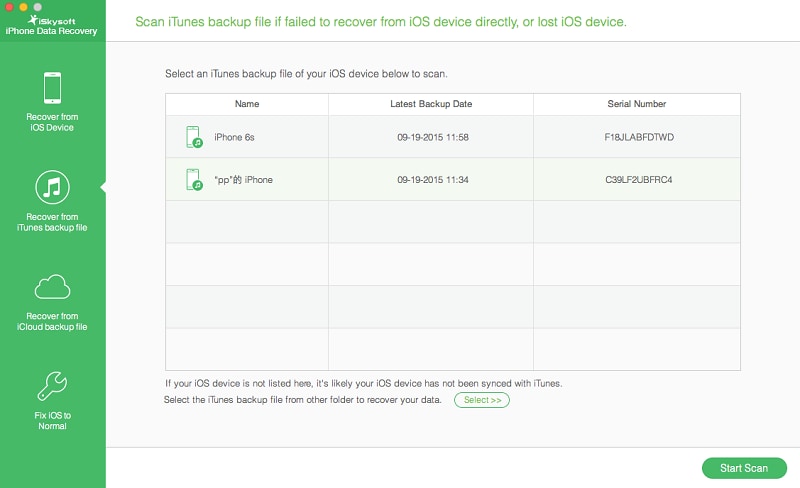 Step 2. Extract App Documents from iTunes to the computer
When you click the scan option, all the data from App documents will be extracted and displayed in an order. You could preview each of them and select accordingly. Either way you could simply click all and go for full recovery of the entire App documents too.
Step 3. Save the recovered App Documents in your Mac/PC
After preview and selection of the App Documents, you could save them in your computer by simply clicking "Recover". This is how you recover deleted iPhone App documents to your computer. Isn't it easy and amazing to recover any iPhone lost documents to your computer?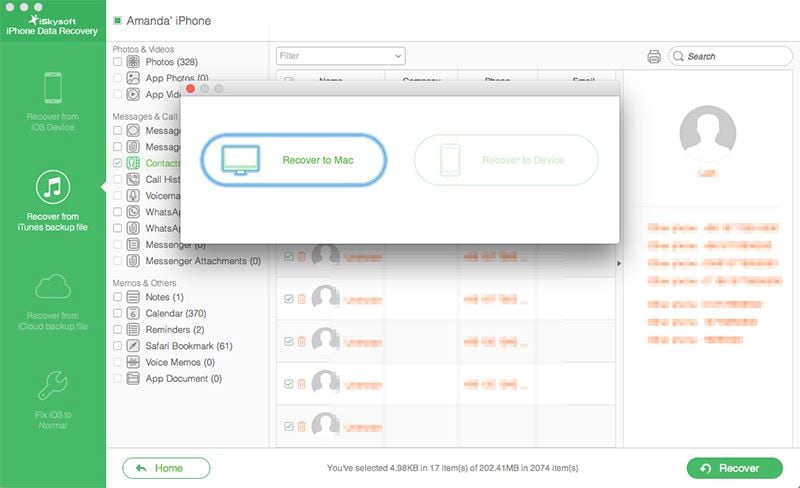 Solution 3: Retrieve Deleted iPhone Documents from iCloud Backup
If you are a regular iCloud user, then this is the best option. But the only criterion is that you have to regularly maintain the iCloud setup in your iPhone to automatically save the data from App Documents. Here are the 3 simple steps to recover App Documents through iCloud backup.
Step 1. Select recovery method & sign in
After launching the program, choose recovery method as "Recover from iCloud backup file". You need to enter your iCloud Apple username and password.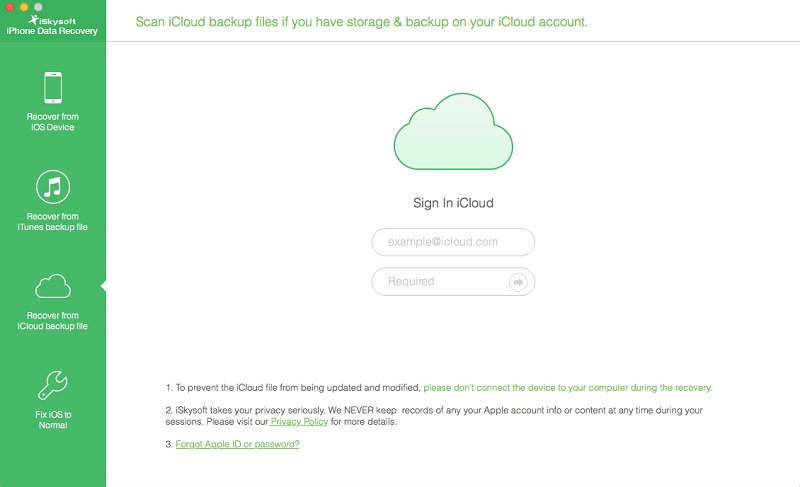 Step 2. Choose App documents and Start Download
The program will display all the file types from iCloud backup. You just need to choose "App Documents" and select "Download" button to transfer them to the application. Remember that the files downloaded into the application is not stored or saved in it. It will be saved only after selecting the "Recover" option. After download click "Start Scan".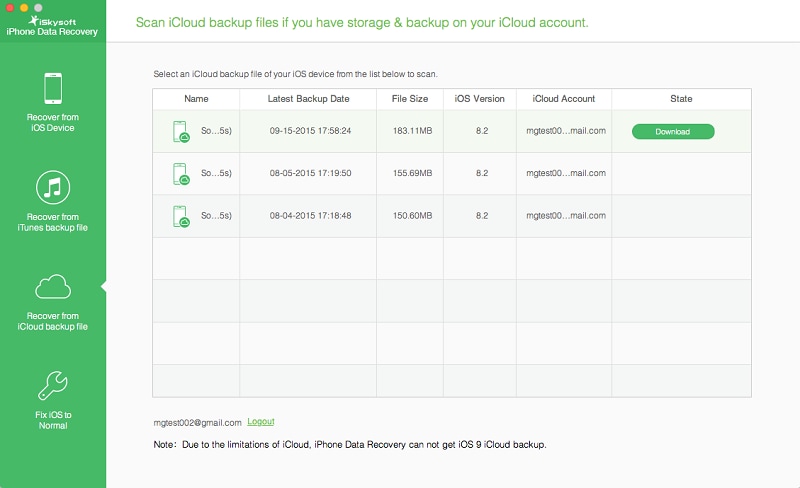 Step 3: Preview & Recover App Documents
The scan will be over within few seconds and then you just need to preview the data in the App documents. You can mark them or simply select all and select "Recover" option to save them in your computer or Mac.
iSkysoft iPhone Data Recovery is awesome, isn't it? Opt for the full version of iSkysoft iPhone Data recovery and enjoy its unlimited benefits.