Just like any other iPhone, iPhone SE can get stuck in the recovery mode loop problem. This problem is so irritating and you will feel like throwing the device away. Your head will spin especially if you are new to using iOS devices and you will be stuck just like your phone. However, there is no need for you to panic as you can restore back you iPhone SE to normal. Read on to learn how to fix this problem.
Part 1. Restore iPhone SE to Normal with iSkysoft iPhone Data Recovery
iSkysoft iPhone SE Data Recovery is not only capable of restoring deleted data but can also be used to restore to normal any iOS device including the new iPhone SE. This program can help you restore 19+ data files. It is fully featured, simple to use and very fast. Below are some of its main features.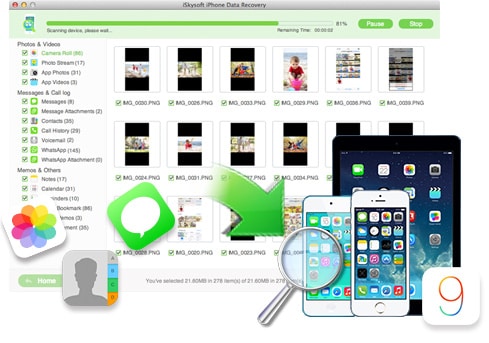 Key Features of iSkysoft iPhone SE Data Recovery
Repair your iPhone's operating system. If you are stuck in the Recovery mode loop such as the black screen or the white apple logo, then iSkysoft iPhone SE Data Recovery will help you recover your iPhone SE's OS.
Use iSkysoft to restore you lost data such as photos, videos, music, apps, app documents, app videos, calendar, camera roll, notes, reminder, call history, contacts, safari bookmarks, and many more.
This app has been designed such that it is compatible with any iDevice such us the Apples new 4-inch phone iPhone SE, iPhone 6s, iPhone 6 Plus, iPhone 6, iPhone 5c, iPhone 4, iPad Pro, iPad Air, iPod touch and more.
It does what iTunes cannot do. It has the ability to pick selectively the kind of data that you need to restore instead of retrieving the whole backup.
With iSkysoft iPhone SE Data Recovery, you have three modes that you can choose from to restore your deleted data. These modes are recovering data directly from your iPhone SE, recovery data with iCloud backup, and recovering data from iTunes backup.
Step-by-step Guide to Restore iPhone SE to Normal with "Fix iOS to Normal" Feature
As stated earlier, iSkysoft iPhone SE Data Recovery is not capable of restoring lost data but can also help you to solve the recovery mode loop problem. This app has been equipped with a recovery feature that helps you to restore your device to normal when it gets stuck in the recovery mode loop or the white screen. When you use the Restore iOS to Normal feature, your iOS will be updated to the latest version and reverse jailbroken device to a non-jailbroken device. You are safe with this feature and you cannot lose even a single piece of data. To restore your iPhone SE to normal, follow the steps given below.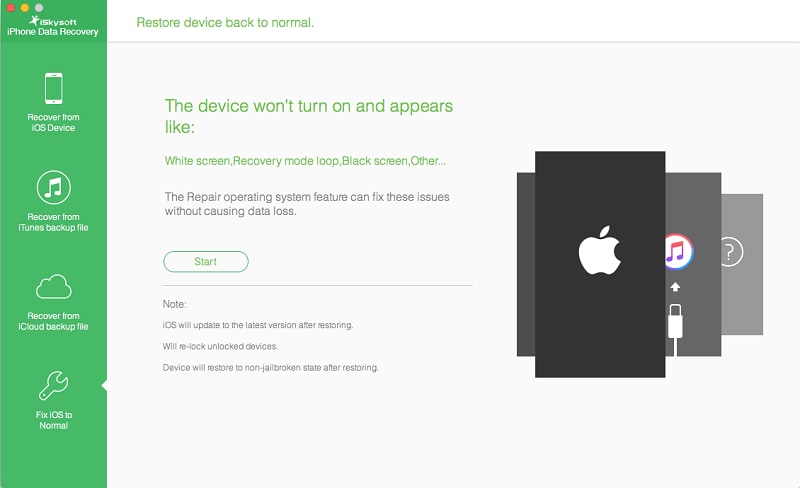 Step 1: Launch the program and connect your iPhone SE to a computer
Once you have connected your device to the computer, click the "Fix iOS to Normal" button. This feature is found on the top of the interface. To proceed to the next step, hit the "Start" button.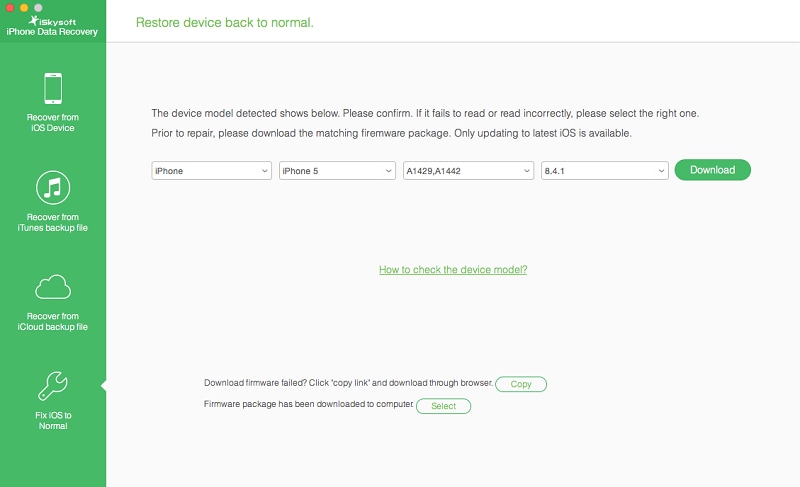 Step 2: Download and select firmware
In this step, you need to manually download the firmware for your iPhone SE. iSkysoft iPhone SE Data recovery will automatically display to you the latest iOS version. Download it by clicking the "Download" command.
Step 3: Fix your iPhone SE
The download will take a few minutes and once it is complete, iSkysoft iPhone SE Data Recovery using its Fix iOS to Normal feature will repair your iPhone SE. This will take some few minutes then the device will restart to normal.
Part 2. Recover Lost Data after Restoring iPhone SE with iTunes/iCloud Backup
iSkysoft iPhone SE Data Recovery is a unique data recovery software that gives you an opportunity to restore your data with different modes depending on which mode best suits you. Recovering data from iTunes backup file and iCloud backup file requires that you should have synced your device with either of the options.
Mode 1. Recover data from iPhone SE with iTunes backup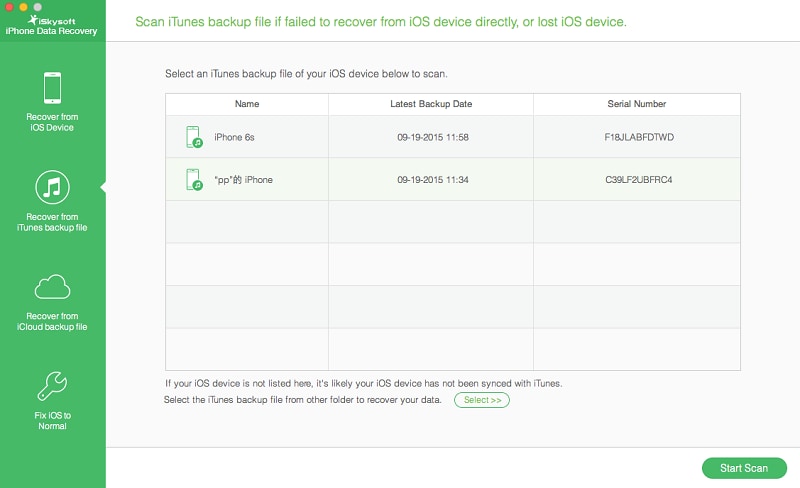 Step 1: Launch iSkysoft iPhone SE Data Recovery program
Select "Recover from iTunes backup file" mode first. The data recovery program will detect your iTunes backup files that you synced in the computer and display all the files in lists. To access the specific file that contains the data that you want to restore, select it and hit "Start Scan" to extract the file.
Mode 2. How to Restore iPhone SE with iCloud Backup
Use iSkysoft iPhone SE Data Recovery to restore from iPhone SE with iCloud backup if you do not want to restore the whole iCloud. This app allows you to pick the particular data that you want and leave the rest.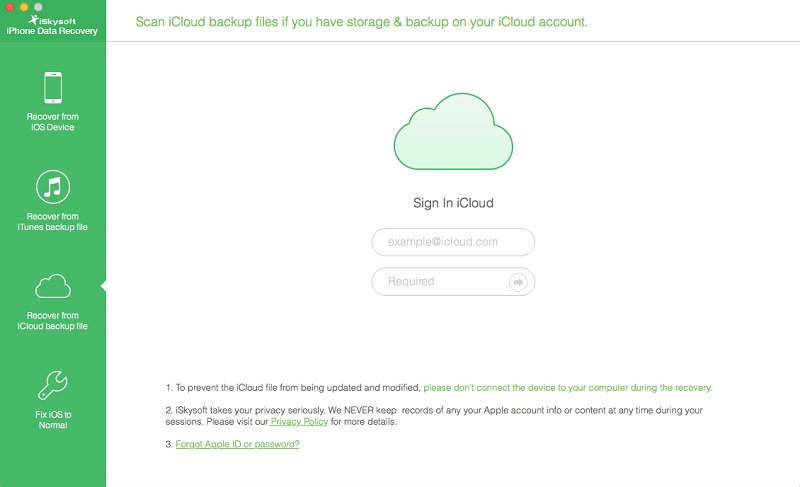 Step 1: Run the program
Run the data recovery app and go to "Recover from iCloud backup file". When prompted, sign in to you iCloud account in order to gain access to your data in the iCloud backup file. This software is safe and secure. So don't hesitate to login.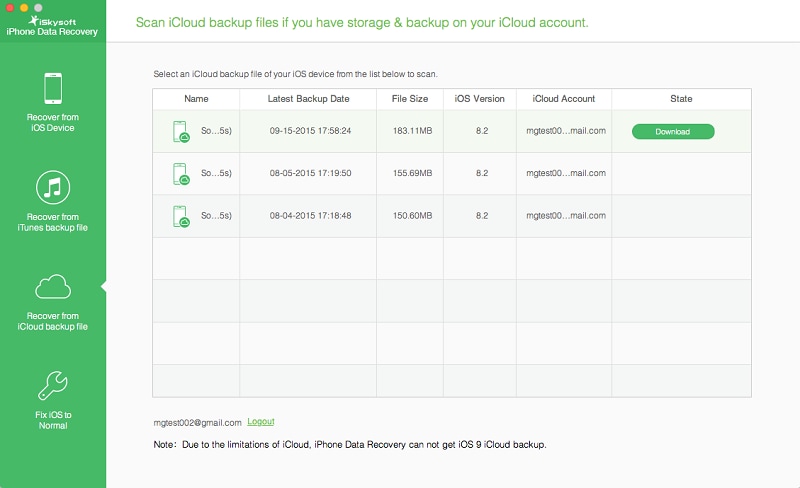 Step 2: Download iCloud backup
Go to the specific backup that contains your data and download it by clicking on "Download" button. Click "Scan Downloaded" to obtain the iCloud that you that you have just downloaded in order to access its content.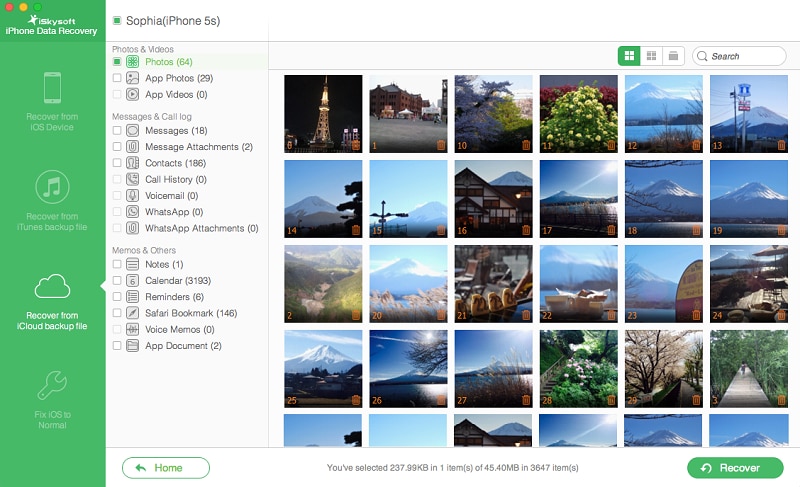 Step 3: Ready to restore iPhone SE
When the scan is complete, check the content to see whether the data that you wanted has been extracted. Save the content to your computer by clicking the "Recover" button.