What is "Soft Reset"?
A soft reset is the easiest and simplest reset method in iOS devices. It entails a power cycle where you simply power off your device and then power it on again. It helps solve minor issues especially when your device has been on for a long time. It can also be used to solve connection problems. To do a soft reset, only the power button is used.
How to Soft Reset iPhone
Step 1: Hold the Power button until the red power off slider appears.
Step 2: Slide the slider with your fingertip to turn your device off.
Step 3: To finish the reset, turn on the iPhone on again by holding the Power button.
The minor issues such as sluggishness will be resolved and your iPhone should operate as usual.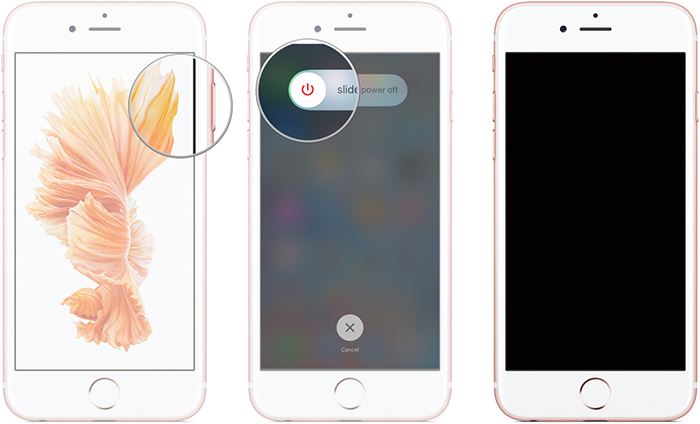 Soft Reset VS Hard Reset
| Soft Reset | Hard Reset |
| --- | --- |
| To do a soft reset you just power your device on and off. | To do a hard reset you restart your device by pressing the home and power button. |
| Only the power button is needed to do a soft reset. | You need both the power and the home button to perform a hard reset. |
| It can resolve an iPhone infected with virus, when there is a serious slowdown while operating your iPhone, fix corrupted software, fix glitches, to revert bad settings, to fix it when it fails to update an app and many more. | Used when the iPhone has some minor issues such as not receiving calls, not connecting to internet, cannot send files, audio issues, minor software related issues, not receiving emails, incorrect settings. |
| To do a soft reset, hold and press the power button until a red slider appears and then slide the slider to turn off your device. | To hard reset your device, you just press the home and the power button simultaneously until the apple logo appears. |
| When performing a soft reset your iPhone is turned off. No power is drawn from the battery during this time and it prevents the battery from draining. | When doing a hard reset, the iPhone remains powered on and the battery charge is consumed during the process. |
| A soft reset takes only a few seconds, about 15 seconds. | A hard reset takes about 20 minutes or more. |
Recommend the Best iPhone Data Recovery Software
iSkysoft iPhone Data Recovery is a software that offers data extraction solutions. It is useful in recovering lost data and it also helps fix the operating system of an iOS device.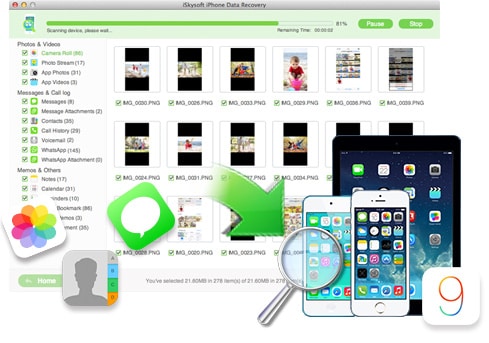 Key Features of iSkysoft iPhone Data Recovery
Recovers data lost under any circumstance. With iSkysoft iPhone Data Recovery you can recover data lost through various circumstances such as, accidentally deleted data, data lost through jailbreak, data lost after losing your device, data lost after putting your device to factory settings and many other circumstances that you my lose your data.
Supports recovery of a wide range of data. You can recover a variety of data depending on the iOS device that you are using.
Supports recovery of data from different devices. You can recover data from all iOS devices such as iPhones, iPads, iPods including iPhone 7(Plus), iPhone SE, iPhone 6s(Plus), iPhone 6 (Plus), iPhone 5c, iPhone 5,iPhone 4s, iPad Pro/mini/Air, etc.
Repair system. iSkysoft iPhone Data Recovery is built with " Fix iOS to Normal" which helps to repair the operating system of your iPhone when it experiences different problems such as when your device is stuck on Apple logo, in recovery mode, when it cannot be used normally or when it cannot exit endless recovery mode loop.
Backup extraction. The software can extract a backup of your data from your device or from iTunes and iCloud backup and save it to your computer for future use.