If you are among those whose phones often seem to bulge out with media like photos, videos, and movies, you must learn to sync iPhone to your Mac or PC. To do that, you do not have to do a wired transfer. Sync iPhone wirelessly can happen automatically every time you connect your iPhone with a power source. Now, you do not have to delete or lose any of your favorite pictures or delete any movie to find space in your phone for new media. And the best part is you do not have to take up too much hassle for it.
There are certain things that you need to consider when sync iPhone over Wi-Fi:
One, you need to ensure that your iOS device is plugged to a source of power.
Two, you need to keep iTunes open in your computer. And, third, you need to consider whether the computer and the phone are in the same Wi-Fi network.
Pros of wireless sync iPhone:
The greatest benefit of syncing iPhone wirelessly is that it covers almost anything in your phone from contacts to photos and from notes to ringtones. So, in case you lose your phone, you do not lose your valuable data.
Another advantage of syncing your phone to your PC is that it works just it would if the phone was connected to your Mac using a USB cable. It basically means that you can change the iTunes settings and other options wirelessly over Wi-Fi.
Connection of your phone with a power source does not affect the Wi-Fi syncing in any way and syncing goes unhindered.
Keeping a backup of your phone data can be done wirelessly.
Cons of wireless sync iPhone:
Remember, the more number of purchased items are there in your phone, the longer the sync takes. So, consider how many books, movies, photos, and music albums you've purchased.
Ironically, for doing wireless syncing you need to plug in your iPhone to your PC at least the first time. This is required to match the settings of iTunes and adjust a few titbits of both the devices to ensure free flow of data and information from one device to another.
You must know that iTunes can be synced only when the phone is connected to a power source.
Another noticeable limitation in Wi-Fi syncing is that if you want to restore your iPhone from a backup in iTunes, it can only be performed via a USB cable.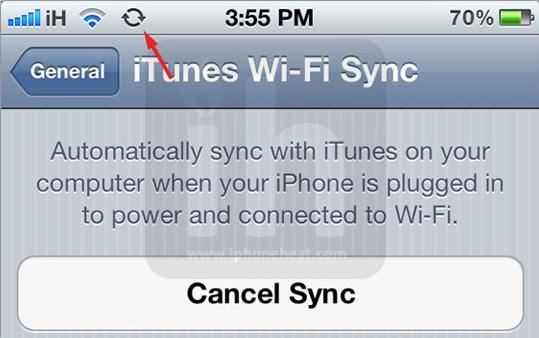 Wireless sync iPhone not working? Fixed!
Problem of syncing with iOS8: You upgraded to iOS 8 and now the Wi-Fi sync capabilities is broken? You are not alone. However, it is an issue with just a few of the iPhone users.
Solution :
• Update both iTunes and iOS: The foremost thing you need to consider is whether you are using the most current version of iOS and iTunes.
• Restart: Restarting your phone and your Mac sometimes may help to get iTunes syncing back on track. You may reboot your Mac and iPhone. It might help.
• Rejoin a Wi-Fi Network: If Wi-Fi sync does not happen as it should you may need to forget and rejoin the network fresh.
• Disable handoff: It's a temporary workaround that some users are finding useful.
• Resetting network settings can help: If nothing seems to work to restore the syncing of your iPhone with Mac, you need to restore the network settings once again. However, remember all your Wi-Fi passwords and Bluetooth settings will be reset.
Problem with duplicate and bad content: Duplicate and bad content in your phone will prevent its syncing. Syncing may get stuck in the middle with "waiting for items to copy", and iTunes will silently stop syncing. Your device loses track of all data present in it and shows everything as "Other" content. Such content in your phone will prevent syncing.
Solution: You need to delete all duplicate and pirated content in your phone and reset your phone to default settings. You can also use applications like Doug Adams' Dupin, the application that finds duplicate data in iTunes.
Movies and music not syncing: Often users face syncing problems when they are transferring movies and music wirelessly. No matter what you do there is always syncing issue when transferring music and movies from your iPhone wirelessly.
Solution: If nothing works, you may have to do a wired syncing of your phone and computer. Most of the times, it is seen that manually managing your data is a more feasible solution to wireless syncing. So, try dragging and dropping your data in iTunes.
Sometimes you may notice sync error notice on the New Tab page on your device. In such a situation you must check whether the sign-in details are up to date. Check whether network connection is properly available.