Do not despair if you have lost your contact list on your iPhone because the device went through a jailbreak, its iOS crashed or because you accidentally deleted an important information from your iPhone. There are plenty of easy-to-use software and applications that will help you quickly recover contacts details that was stored on your iPhone.
Part 1. The Best iPhone Contacts Transfer Software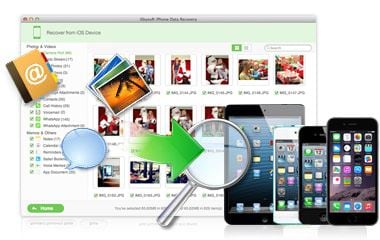 iSkysoft iPhone Data Recovery for Mac/Windows
iSkysoft iPhone Data Recovery for Mac is a tool that helps you selectively recover data from the iTunes and iCloud backup folder, as oppose to fully recover the whole backup. The best feature of this application is that it supports all iOS devices from the iPhone 3GS to the latest iPhone 6, including iPads and iPods. It has a wizard-style interface with images to walk you through the whole recovery process and is compatible will all types of computers. You will also be able to preview and extract other backed-up files including messages, call logs, note, reminders, and calendar, etc.
#1. Transfer contacts from iPhone to Mac/Windows
Step 1. Launch the application and connect your iPhone to your computer. Choose the "Recover from iOS device" option.
Step 2. Simply click the "Start Scan" button to scan for contacts on your iPhone.
Step 3. Once it has finished scanning your iPhone, you will be able find the "Contacts" category to choose which files you want to restore. Click on the "Recover" button to transfer all the contact details you want to your computer.
Note: This iPhone contacts transfer program not only transfer contacts existing on your iPhone to the computer, but also help to find lost contacts from your iPhone and save them to your computer.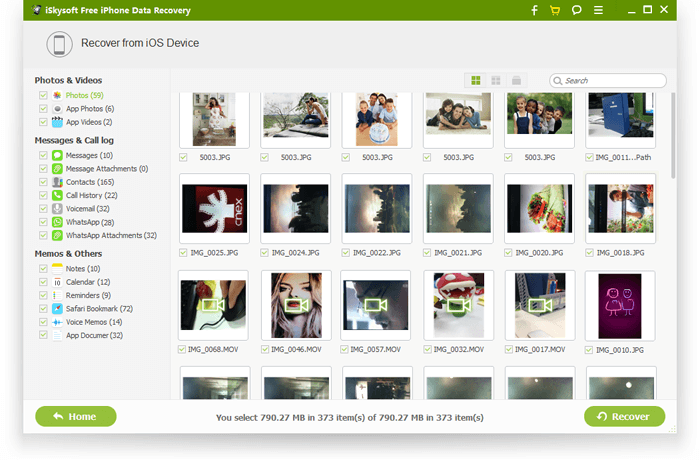 #2. Transfer iPhone contacts from iTunes to Mac/Windows
Step 1. If you have made it a habit to sync your phone with iTunes, it is best to recover lost contacts using this method. Choose the "Recover from iTunes Backup File" option.
Step 2. Choose an iTunes backup file and click "Start Scan" to start the scanning process.
Step 3. Once it has finished scanning your iPhone, preview the details and restore lost contacts from iTunes, backup files under the "Contacts" category. Click "Recover".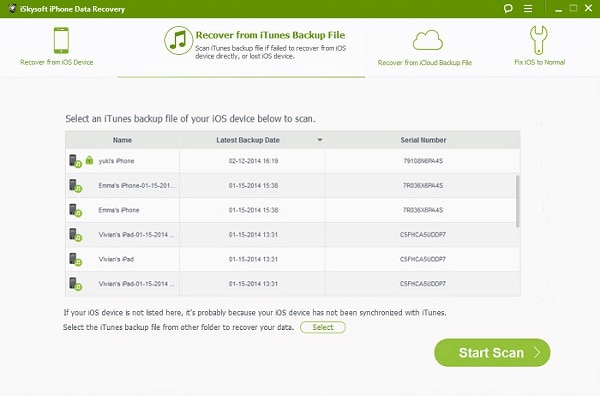 #3. Transfer iPhone contacts from iCloud to Mac
Step 1. After launching the program, choose "Recover from iCloud Backup File" and log in with your iCloud account.
Step 2. Once you're in, choose the backup file and click "Download" to get it on your computer. After it, extract it by clicking "Extract Downloaded" and wait until it's done.
Step 3. Now, you can preview all content in the backup file. Choose "Contacts" to check the detail and tick the items you want to transfer to your Mac. Then click "Recover".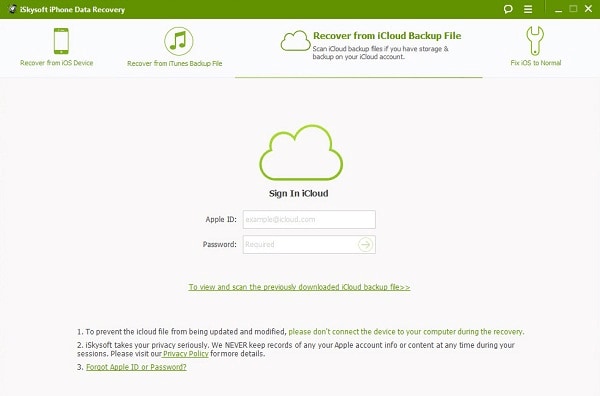 Part 2. Top 5 iPhone Contacts Transfer Apps
At first glance, the IntouchApp seems to be a one-dimensional application, but we believe that it can be more than what it seems. This simple contact manager is able to push updated information from one of your contacts, provided that they too use the app. We foresee that this will be a useful feature once it has gained traction among iPhone (iPad and iPod Touch too) users.
However, what makes it so great is its compatibility with various platforms (iOS, Android, Blackberry OS and Java devices). This would be super useful for people who carries multiple devices. Once you edit a contact on one device, IntouchApp will automatically sync the information to your other devices.
Pros: Able to push updated information about your contacts, compatible with many other platforms and seamless sync between devices.
Cons: Sometimes you experience errors during file transfers.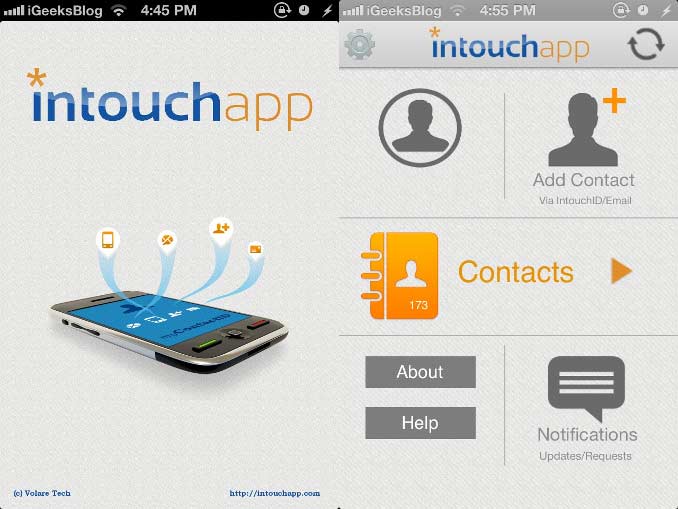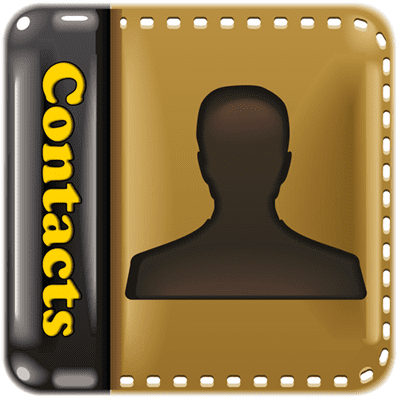 #2 iPhone contact transfer software - iContactsPro+
The app is one of the most comprehensive contact and group management software available for iPhones. With this app, you can easily edit, manage and share your contacts on your iPhone and Gmail account. What we like best about this app is that you will be able to search for anyone in your list not only by entering their names, but also email address or phone number (face it, sometimes the name on your list may not be the same as the sender's name of an email address).
Pros: More flexible way of searching for contact details, quick execution and secure.
Cons: Can only be used between iPhone and Gmail.
This app is able to transfer, backup and restore your contacts without the hassle of syncing your devices. With a tap of a button, Contacts Backup & Transfer Pro will copy your entire contact list into a bundle for you to send to yourself or a friend via an email client. The backup contacts are saved in a vcard format so that you will be able to transfer or import your contacts on any phone, PC or Mac any time. The app is also able to delete any duplicates, if any.
Pros: Saved in a vcard (.vcf) format that is universally recognised and there is no backup size limit.
Cons: Cannot readily transfer contacts to other devices, may not be compatible with older phone models and installed with ads.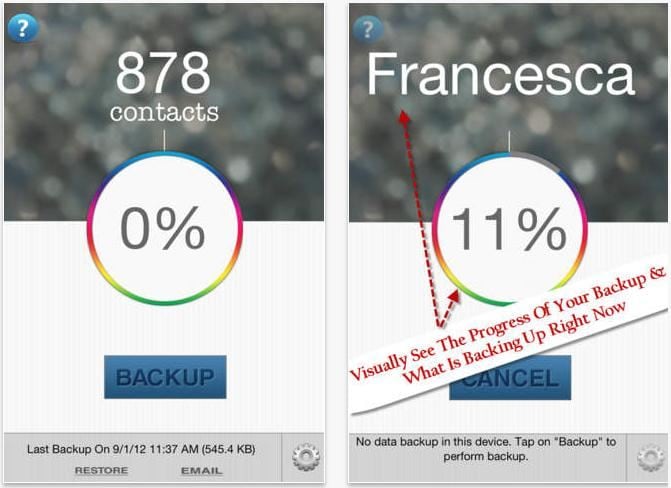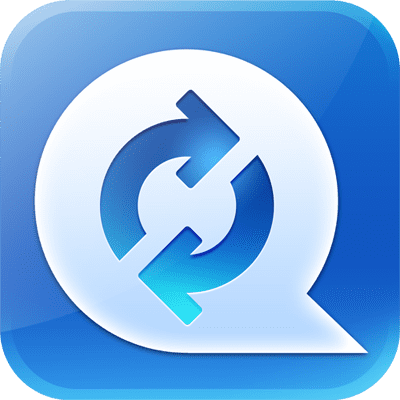 #4 iPhone contact transfer software - NQ Contacts Sync
The NQ Contacts Sync offers user with the solution to transfer, backup and restore contacts. The app will work on different operating systems – iOS, Android, BlackBerry and Nokia. Once you have installed the app, it will prompt you to create a free account with NQ so that the app can store your contacts in the encrypted NQ cloud. You will then be able to manage your contact lists online and transfer your contacts to another device linked to the cloud.
Pros: Compatible with various platforms and able to manage your contacts online.
Cons: Does not support older iPhones and iPad.
#5 iPhone contact transfer software - PhoneSwappr
between two devices of different operating platforms. It currently supports iOS, Android and Windows phones. Upon successful upload of your contacts to the cloud, you will be given a PIN for which you will need to decrypt your data when you are transferring the contacts to the second device. The uploaded contacts and PIN will expire after 7 days and deleted from the PhoneSwappr server.
Pros: Very secure transfer process as you will need a PIN to decrypt the data and supports multiple platforms.
Cons: Does not support Blackberry OS and if you delete the app, the downloaded data will be deleted as well.