Top 10 Alternative to Senuti for Mac
It is certainly be a pain that you cannot transfer any music from the iPod to iTunes on Mac/Windows PC. The application Senuti was developed to solve that problem. It allowed Mac users the ability to upload music from their iPod in a streamlined library to their Macs. Of course, one of the downsides of Senuti is that it is only available for Mac users. It also recently turned into a paid application. If you do not want to use Senuti or are incapable of using Senuti, then there are plenty of alternatives to Senuti for Mac and Senuti for Windows available that allow you to upload your music library from your iPod to a computer. We'll talk about a few of them below.
* dr.fone (Mac)
dr.fone for Mac could be the best Senuti alternative Mac, which allows you to transfer music, videos, playlists and more from iPhone, iPad, iPod, and Android devices to Mac or iTunes, and vice versa. With dr.fone, you do not need to run iTunes as Senuti does. This alternative to Senuti for Mac can automatically detect the differnences of media files between iDevice and iTunes library and support one click to backup or transfer music to iTunes or Mac without any duplicate contents. And to transfer media files from Mac or iTunes library to iPhone/iPod/iPad is also supported by this Senuti alternative. You can free download dr.fone trial version and it comes with the function of media files transfer between iDevice and Mac or iTunes.
Main Features of dr.fone
Transfer all media files from iPhone, iPad, iPod and Android phones to iTunes Library to rebuild iTunes Library if your iTunes Library crashed or you need to create a new one.
Transfer media files from iTunes Library to iPhone, iPad, iPod and Android phone without erasing the existing files.
1 click to backup photos from iPhone, iPad, iPod and Android device to Mac/Windows PC.
Transfer files between 2 devices: iPhone, iPad, iPod, Android devices are full supported
Let's download dr.fone trial version now!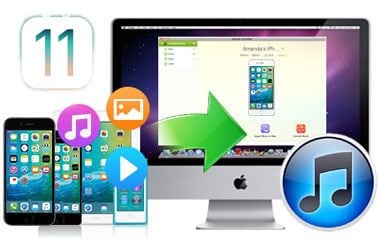 ---
Guide for transferring files from iPhone/iPad/iPod to Mac with dr.fone
Step 1: Run dr.fone for Mac on your Mac. You can download from the buttons below. Then use a USB cable to connect your iPhone to the Mac. From the main window of dr.fone, you can find file tabs on the top menus. For example, if you want to transfer music, you can click the "Music" tab to enter the music trnasferring interface.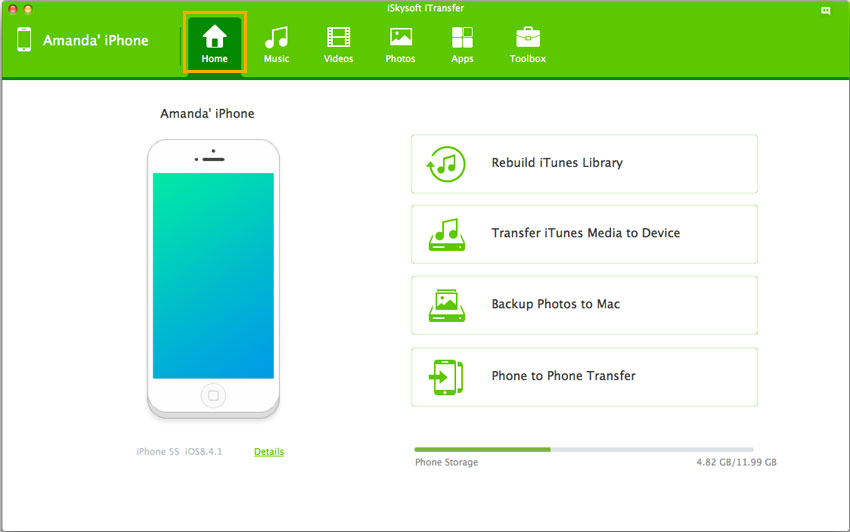 Step 2: After you enter the Music interface, you can see the program shows the music from your iPhone by categories. Now you can just find the music you want to transfer to Mac, click them and hit the "Export" option. It will get you save the chosen files on your computer.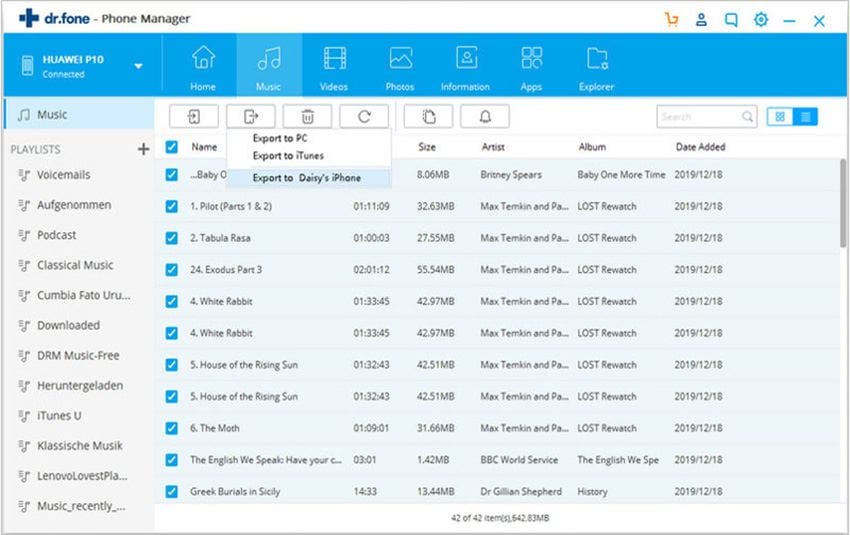 ---
* iRip (Mac and Windows)
When iRip was first developed, it was called "iPodRip," so that should give you an idea as to what this software is used for. iRip is one of the most robust software programs for uploading content from your iPod to your computer. It is also available for both Windows and Mac. You can tranfer media contents like videos, playlists, movies, podcasts, TV shows, and others to iTunes or Mac with a single click.
How to Use iRip
•Download and install iRip. When you run iRip, you will get prompt saying "Automatic Recovery" or "Manual Import".
•If you select "Automatic Recovery," the program will import all of your songs, playlists, videos, and other media. Choosing "Manual Import" allows you to decide what you want to import.
•Simply select the content you want to import and then press "Import." It's as easy as that.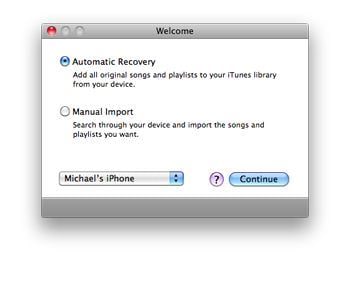 ---
* iTunesFS (Mac)
iTunesFS is a little different than programs like Senuti or iRip, but it still provides the same basic features. It is essentially code that allows you to browse all of the files from your iTunes and iPod in the Finder on your Mac. That is to say, all of your content will be available from the Finder. You need to download the MacFUSE tool prior to using the iTunesFS application. Even so, this feature allows you to import and copy playlists and music from your iPod and iTunes so that you have much more flexibility.
How to Use iTunesFS
•In order for this to work, you must first download MacFUSE. Then, you can download iTunesFS.
•You need to mount your iPod or iPhone with iTunesFS in order for the transfer to work. Make sure the device is in "Disk Mode" before doing this.
•Once the device is connected, you will be able to browse through and import any of the music by looking at the column on the right.

---
* iExplorer (Windows and Mac)
iExplorer is another Senuti alternative application that gives you everything you need to take your music files from your iPod, iPad, or iPhone and put them onto your computer. It can also transfer everything from playlists and podcasts to videos and text messages. It has a diverse feature set that gives you ample access to all the content on your device. It's also very user-friendly with an intuitive design that looks a lot like iTunes itself. iExplorer ensures that you won't ever lose the content from your device even if your computer crashes.
How to Use iExplorer
•To transfer music files, you simply have to open iExplorer on your computer and then plug-in your device. Avoid syncing the device with iTunes as it may result in a loss of all your data.
•In the main interface, select the "Media Library" tab in the left navigational panel and then select "Music." You will then see a list of music on your device. The blue plus sign to the left of the track indicates that it is on your device but not on iTunes. A green check will indicate that it is already on iTunes (and doesn't need transferring).
•Select the music files you want and you can click on the "Transfer from iPhone" button. Then choose "Transfer Selected to iTunes." The selected tracks will automatically be transferred to your iTunes library and you won't have to do anything else.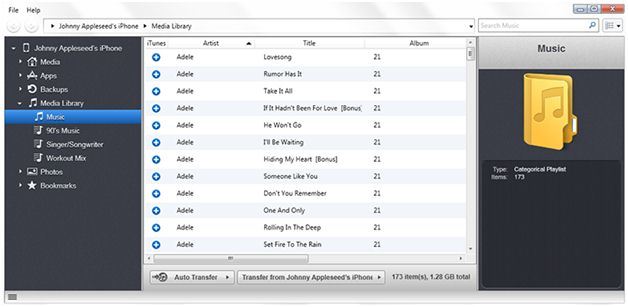 ---
* DeTune (Mac)
DeTune is an Senuti for Mac alternative that allows you to transfer your music from your Apple device back to your computer. It also has the benefit of being completely free to download and use. The open-source software is simple, and the user interface is similar to iTunes itself. You can listen to music or watch videos on DeTune. You can easily take files to and from the file system of your iPod.
How to Use DeTune
•To transfer files, simply open DeTune and connect your iPod. It will recognize your device and display the media contents.
•From the media files list, you merely have to select the tracks you want to copy back to your Mac.
•Once you've selected them, you can drag them anywhere and to any file folder you want (for instance, the Finder). It's that easy.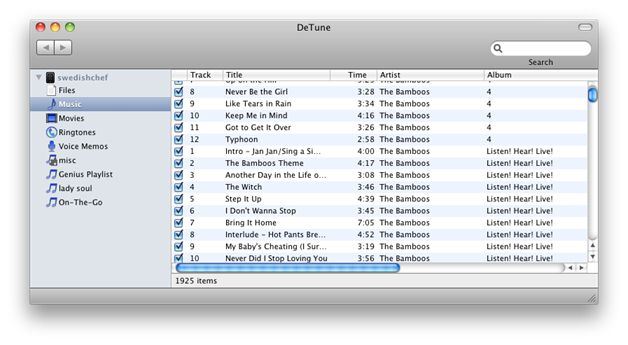 ---
* YamiPod (Windows and Mac)
YamiPod is an Senuti free alternative that is similar in design to DeTune. The only difference is that YamiPod provides support for both Mac and Windows. The software does not require a download, and it can help you take your mp3 and AAC files from your iPod to your computer with relative ease. You can also listen to music, import and export playlists, and synchronize your iPod with the program.
How to Use YamiPod
•To transfer files, simply open YamiPod and plug in your device. YamiPod will automatically recognize your music library.
•Then all you have to do is select which files you want to save and right-click (for PC) or control-click (for Mac) to reveal a drop down menu.
•Select "Copy to" and then indicate where you want the files to be saved. The files will then be saved on your computer.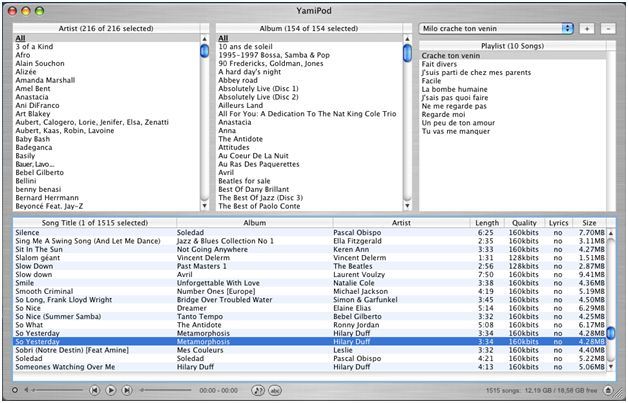 ---
* AnyTrans (Windows and Mac)
AnyTrans is an unique file transferring system that allows you to send your music from your Apple device to your PC or Mac. You can also send your music between Apple devices. For instance, if you wanted to send an album to a friend's iPhone, you could do so with your iPod. You can also select different apps to send to and from your devices. If you want to send an app from your iPhone to your iPod, then you can do so with ease.
How to Use AnyTrans
•Open AnyTrans and plug in your device. AnyTrans will automatically read the contents of your device and display them in the main interface.
•You can select the contents and then easily click where you want the destination to be (iTunes, computer, or device). You can also right-click or control-click on the content to reveal a similar drop down menu.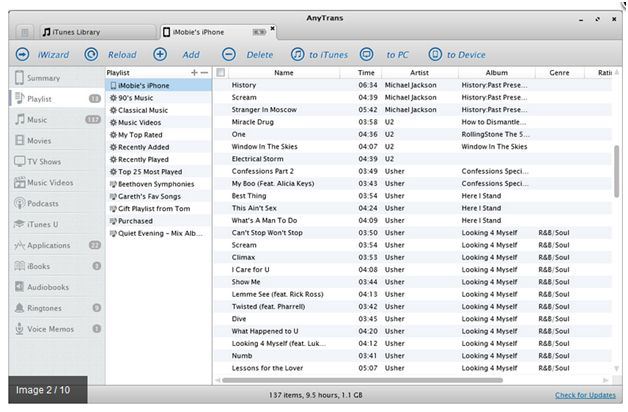 ---
* DiskAid (Windows and Mac)
DiskAid is a very simple Senuti alternative that provides solutions for backing up, restoring or cloning of devices. This is really important when the user get upgraded to a new iPhone if any special data is to be reset to the device itself. With just a few clicks restoration can be achieved. Diskaid can be used with any device. However, it does not have involvement of iCloud, iTunes sync or iTunes. It also has a separate version for Windows 6.7.6 as well.
How to use DiskAid:
•Launch the Application.
•Connect your iPhone, iPad or iPod Using the USB Cable.
•Access the music files you want to transfer and select the music, and then click "Copy to iTunes" to start transfer music from iDevice to iTunes.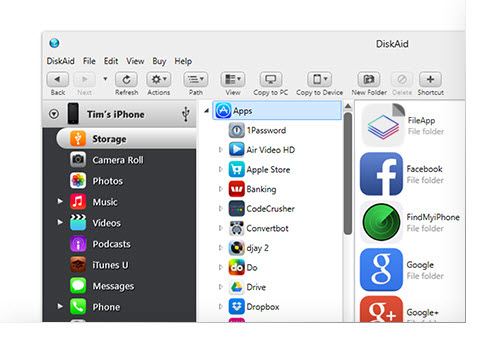 ---
* Touch copy (Windows and Mac)
TouchCopy helps the retrieve any lost iTune data either by corruption or by replacement of any device. It can retrieve any music, playlists, photos and videos in any Apple device and restores the iTune library. It is available for both windows and Mac OS X.
How to use Touchcopy:
•Download and Install TouchCopy.
•Start up TouchCopy by double-clicking the TouchCopy icon on your desktop.
•Connect your iPod to your computer. Select songs that needs to copy into iTunes and copy in to iTunes.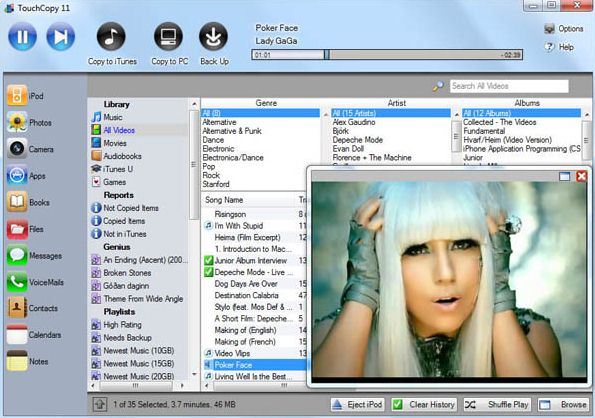 ---
* iCopybot (Windows and Mac)
iCopyBot is another Senuti alternative that used in data transfer and enables sharing, saving and transferring the files in iPod to a computer folder or into the iTunes library. iCopyBot can be used to reinstall the system or iTunes library whenever necessary. It retrieves files from iPod and save them to the computer;
How to Use iCopybot:
•Open iCopyBot.
•Connect your iPod to computer.
•Select the music, videos, photos and playlists you want to copy and transfer.
•Click "Copy to iTunes" or "Copy to Folder".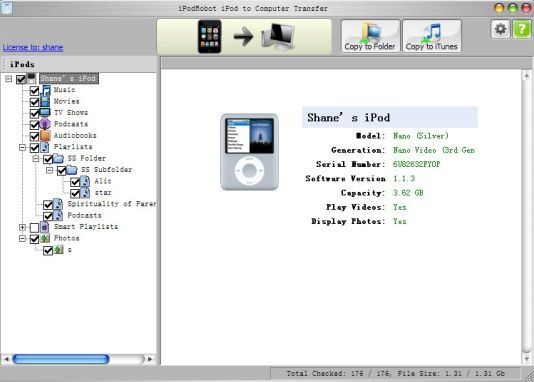 ---
Comparison of the 10 Alternatives to Senuti
| Name | Supported OS | Price | Download virus | Transfer Music to Mac | Support transfer from devices to Mac | Support transfer contents from Mac to devices | Support convert formats to devices |
| --- | --- | --- | --- | --- | --- | --- | --- |
| dr.fone (Mac) | Mac | $39.95 | Free | Yes | playlists, videos, photos, Music, Movies, voicememo, Audio books, TV shows | Yes | Yes |
| iRip | Mac, Windows | $24.95 | Free | Yes | videos, playlists, movies, podcasts, TV shows | No | No |
| iTunesFS | Mac | Free | Free | Yes | Music | No | No |
| iExplorer | Mac | $39.95 | Free | Yes | Photos, SMS, Voice mail, Reminders, any file | No | No |
| DeTune | Mac | Free | Free | Yes | Songs, movies, TV shows, Books | No | No |
| YamiPod | Mac, Windows | Free | Free | Yes | Songs, Playlists | No | No |
| AnyTrans | Mac, Windows | $39.94 | Free | Yes | Music, Playlist, Photos, SMS, Contacts, etc | Yes | Yes |
| DiskAid | Mac, Windows | $29.90 | Free | Yes | playlists, videos, photos, Music, Movies, voicememo, Audio books, TV shows | Yes | No |
| Touch copy | Mac, Windows | $29.99 | Free | Yes | playlists, videos, photos, Music, Movies, voicememo, Audio books, TV shows | No | No |
| iCopybot | Mac, Windows | $19.95 | Free | Yes | music, videos, e-Books, ringtones and photos | No | No |