If you are an iPhone user, the odds are high that you must click too many pictures and videos because the camera for most iPhone models is top notch and offer you great clarity. It is very easy to capture videos from your iPhone, but often we find the need to add the right music to it so that you can have a complete video which will be worth viewing.
There is plenty of different software which can be found that will help you add music to your videos. However, it is important that you choose software which has a lot of useful details to offer and is packed with a string of useful features. We are going to discuss about one such software which is used by a lot of people for the sake of making compelling videos with great music.
The Software for Editing Your Video
Filmora Video Editor is one of the top rated software which is very popular among users. It comes packed with multiple features, some of which are as follows.
It offers plenty of different options for easy editing of videos.
There are color correction tools to improve the viewing quality of your video.
There are as many as 10 templates that allow you to add animated and funny captions over the videos.
There are as many as 59 transition effects to choose from and you can also add transition effects in between photos to give it a professional video look.
You can add a plethora of sound effects to make a cutting edge movie quality video.
It supports a lot of different file formats some of which are as follows: MP4, AVI, FLV, DAT, WMV, 3GP, MOV, MPG, ASF and more.
Apart from this, it also supports a lot of audio formats which include the likes of MP3, AAC, WAV, M4A, AC3, WMA and more.
Even when it comes to pictures, this software supports a lot of files which include: PNG, JPG, TIF, BMP, GIF,
You can easily export the videos to your PC and you can also upload it to YouTube/Facebook and other social sites as well.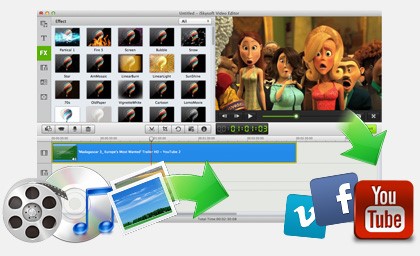 These are some of the top features which this software has to offer. Let us now take a look as to how you can add music to your videos and make them compelling and attractive.
Step 1. Download Filmora video editor and launch it. Open the project window and import the video which you want to edit. You can either drag the video clip or alternately you can use the import button and upload the video you want to edit. You can add more than one video by simply dragging it on to the same project.
Step 2. In order to add background music, head to the toolbars on the left and click on the 'media' button. Under the media button, hover over to the audio tab and you will be able to access the iTunes library. Browse the collection to spot the music which you want to use. Alternately, you can also simply drag the audio files to your project.
Step 3. You can choose to split, trim, crop or even merge the different audio files so that you get the perfect final audio output. Right click on the audio file for getting a lot of options which can customize and configure the files. You can choose 'trim to playhead' to ensure that the audio file will last as long as the video does.
Step 4. You can also choose to adjust the volume to ensure that the audio file is exactly how you want it to be. When you are done editing, save your video project and hit publish.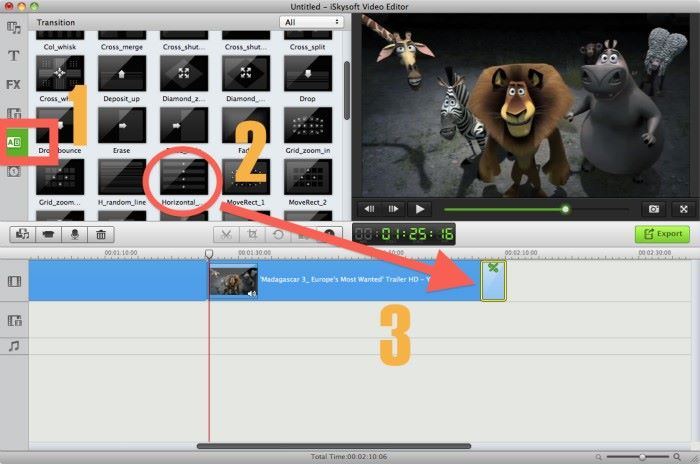 These are the easy steps which will allow you to make your videos captivating by adding the right touch of music to it. This software is used extensively by people to make their videos a lot more professional and top notch. Play with the different editing options and you are sure to succeed in making a great video.