Mail is one of the few features that were present in the very first iPhone and has been evolving since then. Sending attachments on iPhone is still an issue, like Emailing a single photo or up to five photos on iPhone is as easy as it seems go to photos app, select the photo and mail it, but if you want to send more than five photos via Email, things will get pesky. You can't go to Photos app and select more than five photos to Email to someone else but you will have to follow a different procedure. Moreover, if you want to send a large photo via mail app, you won't be able to send files directly via mail. Here are some tips on how to mail photos from an iPhone, iPod Touch or iPad.
Part 1. How to Email 1-5 Photos on iPhone?
Go to "Photos" app on your iPhone, open the photo that you want to send via Email on iPhone. Tap on the Options Menu at bottom left Corner. You can select up to 5 photos to Email. Tap on "Next" button at top right corner. Now, Tap on Mail to send the Photo via Email, Add the Address, subject, details and hit the send button.
That's it! However, if you have a large library of photos to Email, you won't be able to do that by following the procedure mentioned above. You can follow the procedure given below to send more than five photos.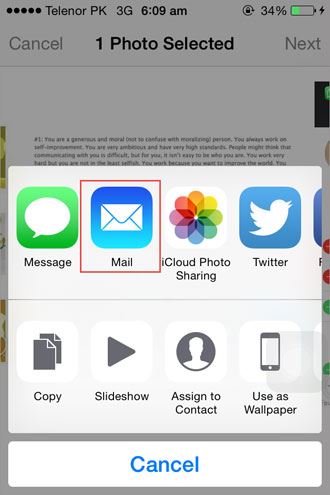 Part 2. How to Mail More Than 5 Photos on iPhone?
Open Photos and tap on select button in the top right corner. Select more than five photos that you want to send via Mail. And tap the options button in bottom left corner. Here's you will find different options, Tap on Copy. Go to main screen and open the "Mail" application. Tap on Compose mail button in bottom right corner. Add the details to whom you want to send the photos. Tap and hold in the message box, until you see the "Paste" option. That's it! It will copy all the photos that you want to send, hit the "Send" button and you are good to go.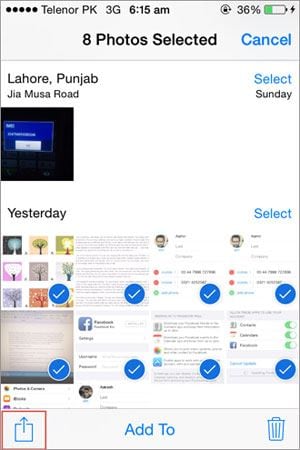 Sometimes, the photos you are trying to send via Email are so large that when you hit the send button, Mail application will give you an error, saying the photo is too larger to send. Don't worry, there is an alternative solution to fix that problem. You can use any cloud based services to fix this problem such as Dropbox, Box, Google Drive or any other. We are using Dropbox in this tutorial. It is absolutely free to download, simply download, make an account and transfer the photos to Dropbox. Here's how you can do that.
Part 3. Troubleshooting Tips for Can't Email Photos from iPhone
1) How to Solve "Photos are too large to send" Error?
2) Can't Send Photos on Gmail Account via Native Mail Application on iPhone?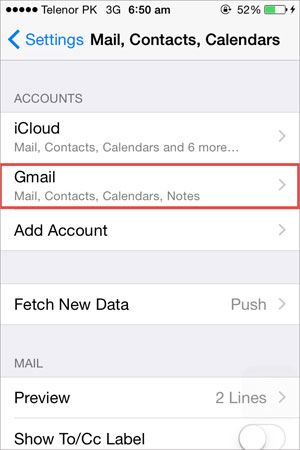 Some users are posting that they can't send photos directly by using the Gmail account on the native mail application. Here's how you can fix this issue.
Go to settings, Scroll down and Tap on "Mail, Contacts and Calendars". Select the Gmail Account. Tap on "Delete Account". After deleting account, restart your iPhone and add Gmail account again. This will surely help you.
3) Can't Send Message or Email Photos from iPhone?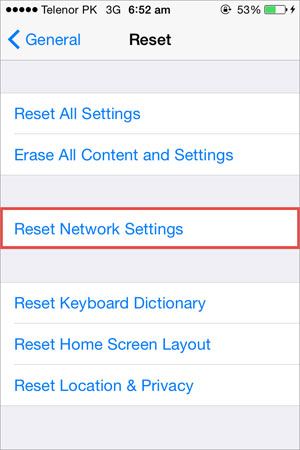 This problem is most likely associated with the network connection on your iPhone. The best way to fix this problem is via "Reset network Settings".
Go to settings and Tap on General. Scroll down and Tap on "Reset". Tap on "Reset Network Settings". Connect with Wi-Fi or cellular and try send photos again, it should work now.
4) Can I Send Photos Directly from the Mail App on iPhone?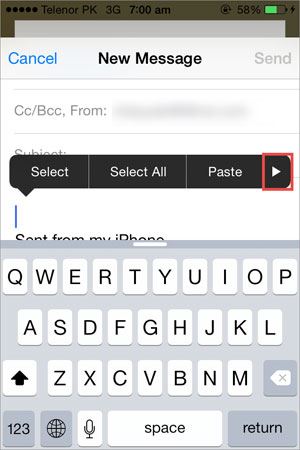 Yes, you can easily send photos directly from mail app without going to camera roll or copying the image. Open the mail app and Compose new Email. After adding Email address and subject, tap and hold in the message area, Tap on "Arrow" button right next to the paste. Now, select, Insert Photos and Videos and select the photos that you want to send. Boom! It works perfectly on any iPhone running even older version of iOS.
Part 4. Transfer Photos between Any iPhone/iPad/Android Phone
iSkysoft iTransfer is an all-in-one great tool that integrates all the features you need for managing music, videos, photos, contacts and even text messages on iPhone: export files on iPhone to computer/iTunes, delete files on iPhone, transfer files between iPhone, iPad and Android devices.
Transfer music, videos, playlists and more from iPhone to iTunes Library/PC/Mac.
Backup photos from iPhone, iPad and Android photo to Mac/PC.
Transfer music, video, photos and more between 2 devices: iPhone, iPad, iPod and Android phone.
Fix "iPhone, iPad, iPod won't connect to computer" issues.