With an increased usage of iPhone or other phones, increased is the dependence on messages these days. To put it simply, we mostly rely on messages rather than calls since sometimes we are busy to receive or place calls so we prefer messages instead. This way, the busy person will also be able to get the information we wanted to communicate on call. Now, when so many messages are there in the iPhone, each of them become important that we find ourselves not prepared for any message loss scenario. So, the suggested way for this is to save them in your PC. In this article, we take delight in explaining you how to upload text messages from iPhone to computer in an easy way with a perfect method.
The most fruitful way to import text messages from iphone to computer will be using dr.fone. With the amazing productivity, this software gladly offers no complications or any hassle while performing. More than this, dual compatibility is also provided by this which implies this software can be used for Mac as well as Windows computer effortlessly. Not just transferring, this tool can act as a powerful and skillful phone manager. You can manage your contacts in many ways which include editing or deleting them. Same goes with other types of data as well. The results are guaranteed when use this tool for any purpose.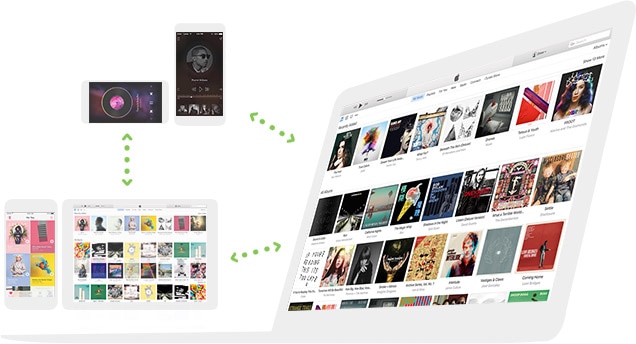 With dr.fone, one can simply manage their music tracks by de-duplicating or filtering them and in more different ways. More types of files can also be managed this way.
The supported data types include your photos, contacts, music, call history, videos and more which can be easily transferred via dr.fone.
There is a toolbox that comes with different benefits. One of which is getting root access in your Android device.
Another surprising feature includes creating interesting GIFs out of your photos and videos.
The users will hold the power of making backup of their various data with the help of this professional tool.
How to upload text messages from iPhone to computer via dr.fone
Here is how you can import text messages from iphone to computer
Step 1. Run iTansfer and Connect iPhone to PC
The importing process begins when you download the software in your computer. Just visit the official website in your browser for this. After downloading, install dr.fone and launch it. When this is done, attach your iPhone to the computer using a USB cable.
Step 2: Continue by Checking Messages
Now, select the "Information" icon from navigation bar and wait until the SMS gets loaded. Now, you will see "SMS" option in the left side. Click on it to get all the messages on PC screen. Select those messages you want to transfer or click "Content" if you want all.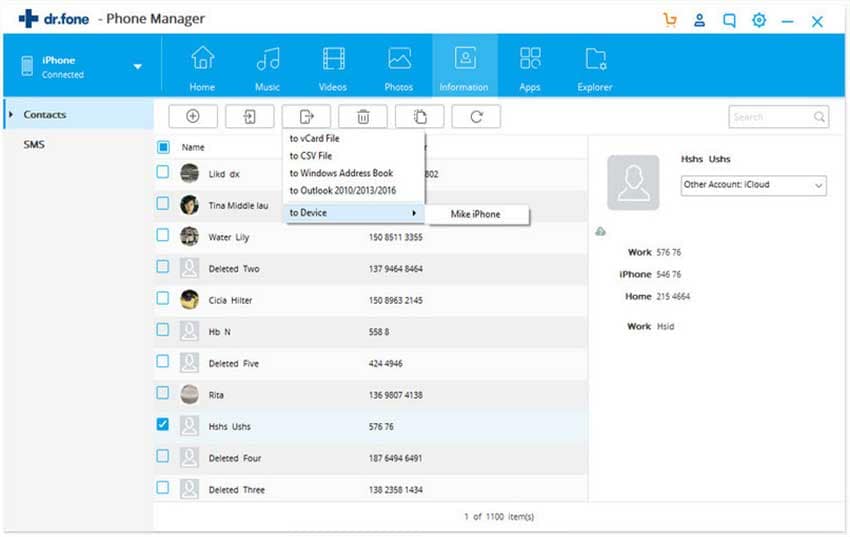 Step 3: Import messages
After selecting messages, click on "Export" and choose "Export to CSV" from the two options in order to import text messages from iPhone to computer. Lastly, browse the folder where you want to import and click on "OK" button. To complete the process, hit "OK". If you want to preview your saved texts, you can go to "Open Folder" button and fulfill your wish.