Are you trying to sleep while listening music, podcast of Audiobook on your iPhone or watching a movie or TV show on your iPhone or iPad? If you will sleep while listening to Podcast, music or Audio or watching that video, it will drain the battery of your iPhone till you wake up and stop that song, Podcast or Audiobook. Well, the good news is that you can set the timer for music app for some time, so when you sleep, it will automatically stop the music in the background and in turn it will help you to save the battery of your iPhone. You can set any timer from 1 minute to 23 hours and 59 minutes. Another great feature of this sleep timer is that it works with most of the media apps such as Spotify, YouTube and Dailymotion and soundcloud.
Natively, the sleep timer for iPhone is not present where it should be, like it should have been embedded in the music app of iPhone but it resides in the Timer of Clock application. So, you will have to go to the Clock and set sleep timer to stop music, podcast or Audio book after certain time. You can follow these steps to set a sleep timer for iPhone Music.
How to Set Sleep Timer for Music App on iPhone?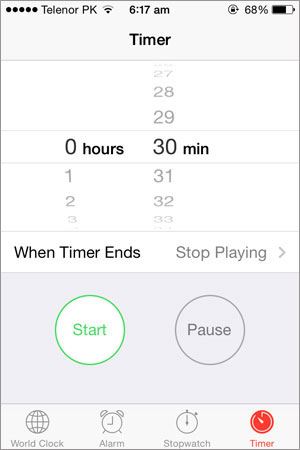 Step 1: When the music is playing in the background, go to the main screen and tap on Clock app. In Clock app, Tap on the bottom left corner on "Timer"First set the sleep timer for music application. Normally, it can be anywhere between 1 minute to 23 hours and 59 minutes.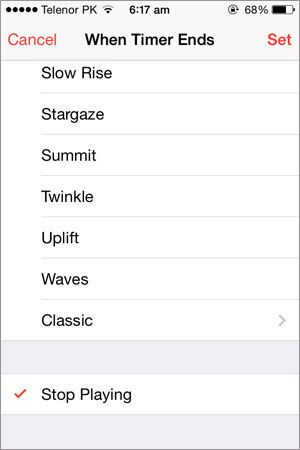 Step 2: Once you have set the time, tap on "When Timer Ends". Instead of selecting a ringtone, scroll down to the bottom of screen.Select "Stop Playing" and hit that "Set" button.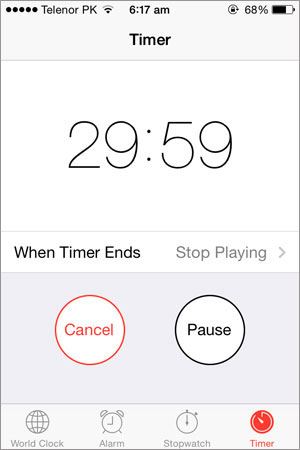 Step 3: Now, the timer has been set, Tap on "Start" button and Sleep Timer for iPhone will be started. You can minimize it and keep listening to your music.
When the Time limit is reached, it will automatically turn off the music in the background. However, if you still want to listen your music, podcast or Audio book, you can simple Tap on the Play button on the lock screen to play it right from where it stopped.