SHAREit is, no doubt, used by thousands of Smartphone users these days with the purpose of sharing files or data between two devices. And the app is fair enough for its high-speed transferring quality and wireless benefit that makes most of the users to prefer this app. However, a fair amount of issues or we can say flaws also come with this app. For instance, one needs to reopen the connection when they want to transfer a second file or the app eats a great deal of memory of the device. Therefore, here we are presenting you the best SHAREit alternative that you can use without any issue. So, if you are looking for an alternative to SHAREit, this article is just for you.
dr.fone for Mac (for Windows) is the top alternative to SHAREit which works not for just transferring but it is a multipurpose software. Being a versatile software, it carries a higher success rate and achieved a great response from the users without any complaints till now. The best thing about this SHAREit alternative is that it supports devices that runs on Android and iOS o[erating systems. You can use this software for sharing the data among phones, computer and iTunes library. Let us now get what the features are.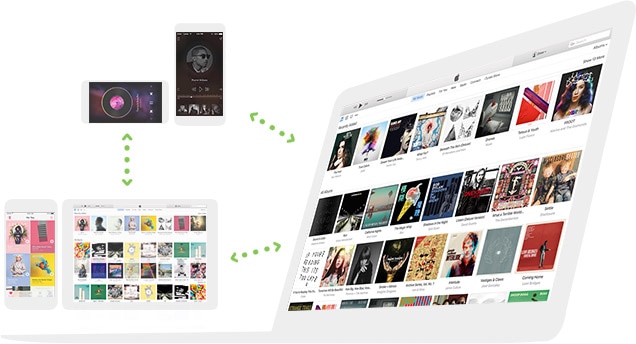 It is capable of making the transfer music, oictures, contacts etc in a very easy manner.
It helps you transfer iTunes media to phones and vice versa.
An interesting feature include GIF maker which lets the users to create funny and amazing GIFs.
Like music, contacts can also be manages in the same way by de-duplicating or adding/deleting them.
You can make backup of your photos, contacts etc. also with this superb software.
You can also do phone to phone transferring with this software.
What's more, when Android stops working, you can use this software in order to send a direct SMS from computer.
Step Guides for dr.fone – Best SHAREit alternative
Here in this part, we'll discover how to use dr.fone which is the best alternative to SHAREit for various purposes. The best part of dr.fone is its One-Click transfer feature that not just makes it the best known alternative to SHAREit but also makes it even better than that.
Part 1: Transfer photo, music, video and more from Android Phone to iPhone (vice versa)
Step 1: Download and install the software. Launch dr.fone on your PC and connect both the Android and iOS devices to your computer. Now, select the source device in the upper left top corner and hit "Phone to Phone transfer".
Step 2: Next, choose the target device from the drop down list under the target device's phone image and hit "Next".
Note: You can either choose your iPhone as your source device and your Android device as your target device or vice-versa. Or, you can choose to transfer data between both iPhones or between both Android devices.
Step 3: Select the data that you wish to transfer from your source device to target device like Photos, Videos, Music, Playlists and Contacts. Also, make sure to either check or uncheck the "Delete contents on target device then transfer" depending upon your preference and then hit "Transfer".
Step 4: Make sure that the devices stay connected during the process and upon process completion hit "OK".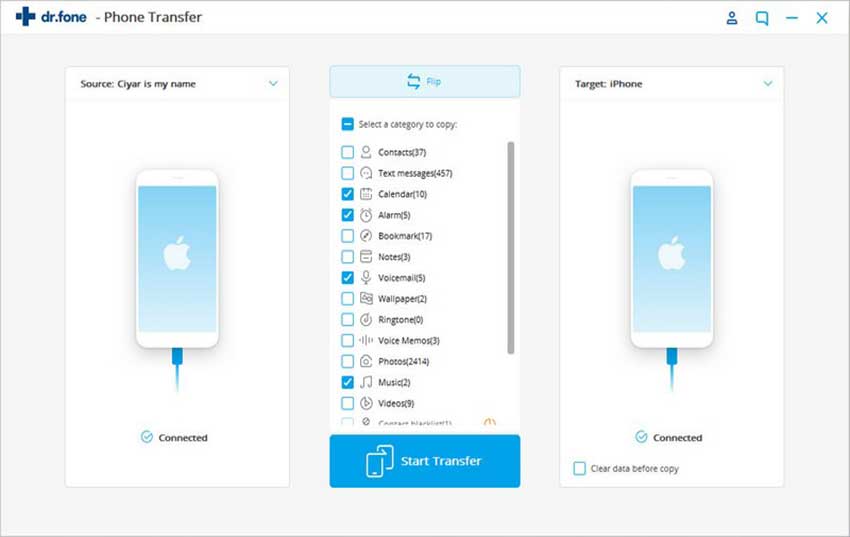 Part 2: How to export photo, music, video and more from phone to computer
Step 1: Launch the software once you get it downloaded and installed on your PC. Now, on the navigation bar, hit on "Photos". (If you want to transfer other file types, just go for the corresponding tabs)
Step 2: Next, either select the photos one by one that you wish to export to your PC and after making selection, right click on any selected file and then hit "Export to PC". Or, simply just right click on the album listed on the left panel and hit "Export to PC".
Step 3: Now, set the destination folder and hit OK to start to export the photos to the PC from your device. And, within fraction or seconds your photos will be exported to your PC without a hitch.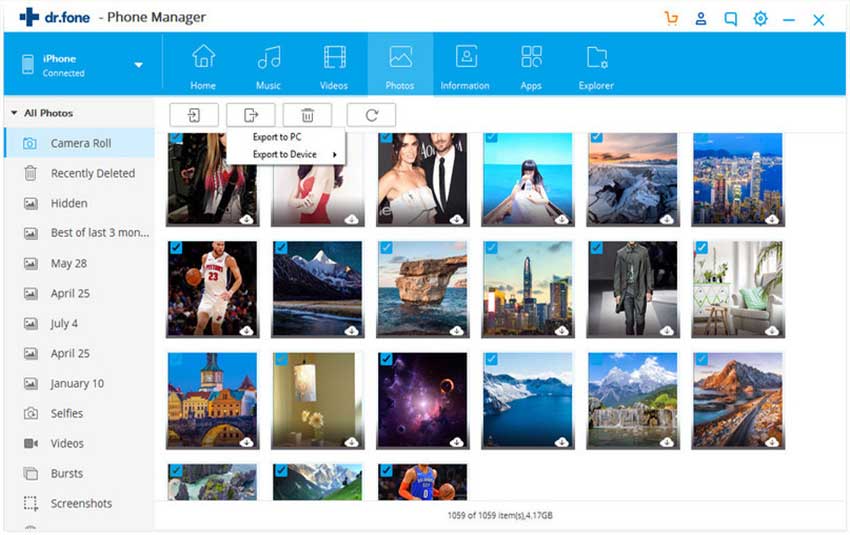 Part 3: How to import photo, music, video and more from computer to phones
Step 1: Start by launching the software after you've installed it on your PC. Connect your device to PC, and hit the Photos tab in the navigation bar or any other tabs to import their corresponding data types.
Step 2: Now, to import the photos, hit the "Add" button available under the navigation bar and browse the files which you wish to import. Click "Open" and you're done!
Or either, just simply drag drop files into the interface of their corresponding data type tabs.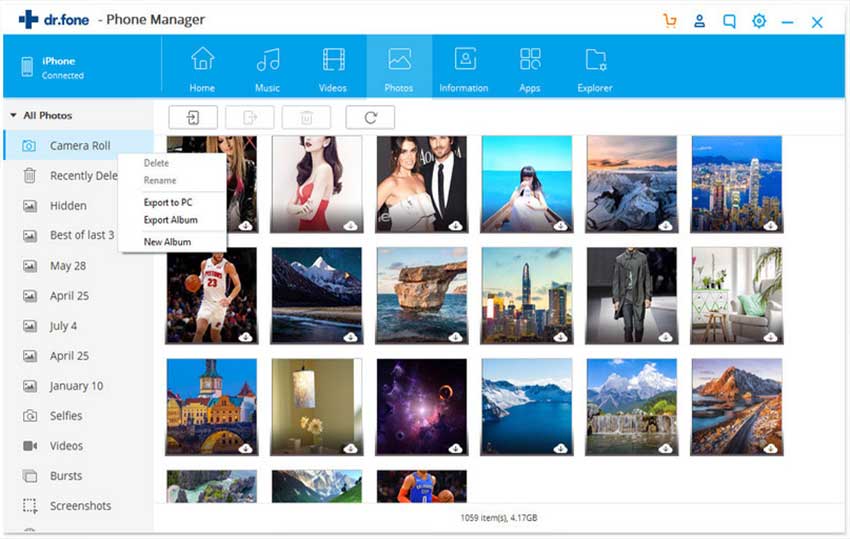 Part 4: How to 1 click transfer data to iTunes
Step 1: Connect your device to your PC and initiate the iSkysoft dr.fone software. Now, in the main interface, hit "Rebuild iTunes Library" to transfer data to iTunes with the One-Click Transfer Feature.
Step 2: On the upcoming window, hit the "Start" button to proceed with analyzing data on your device (iOS or Android).
Step 3: Choose the data types that you wish to transfer to iTunes and hit "Start" to initiate the transfer.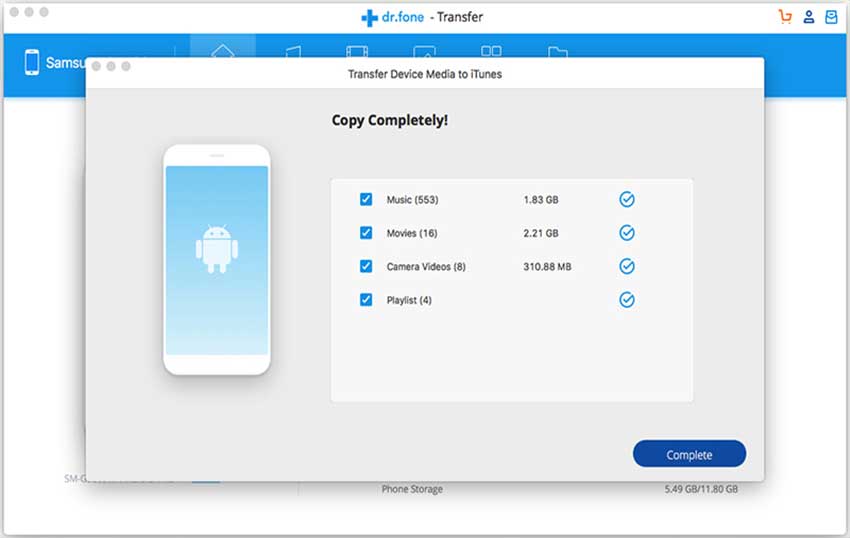 Part 5: How to transfer data from iTunes to phone (Android Devices included)
Step 1: Initiate the iSkysoft dr.fone software on your PC and connect your iOS or Android device with your PC. Now, in the mainscreen window, tap on "Transfer iTunes Media to Device".
Step 2: dr.fone will load up entire data on your iTunes on its interface screen. Uncheck the data that you do not wish to transfer.
Step 3: Hit "Transfer" to initiate the transmission. The files any of the files are already present in iDevice or Android device, dr.fone will automatically skip it and transfer rest of the files.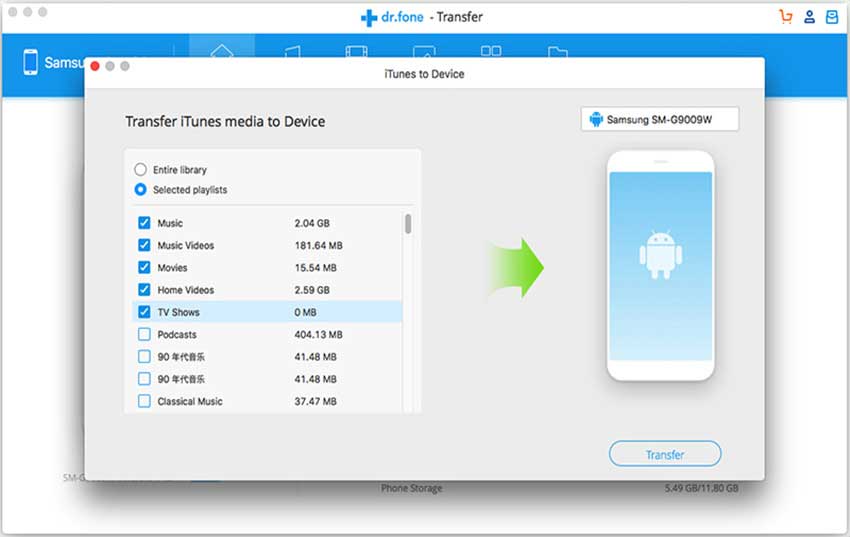 That was all about SHAREit alternative which shows great versatility and yes different tutorials for your different purposes are also mentioned. Hope your search for an effective alternative to SHAREit should have come to an end now. Just download iSkysoft iTrasnfer now!