SuperBeam can be said an easy way to transfer or share the important files between Android devices. It comes with QR code scanner function. Nowadays, where we live in the Smartphone era, we keep many files in our devices. When we want to share those or transfer on switching to the new device, we always prefer the fastest and easiest way. Of course, not Bluetooth that offers quite slow process making everyone annoyed. So, we are here to present some SuperBeam alternatives in this article to give you better quality and speed of transferring.
#1. dr.fone
The best and most recommended SuperBeam alternative is dr.fone for Mac (for Windows) for being a quality software to transfer data. The software offers many more facilities which set a standard among all other software or apps. dr.fone makes the transferring process extremely easy with its easy interface and steps. Plus, it saves users' time since the steps are not time-consuming.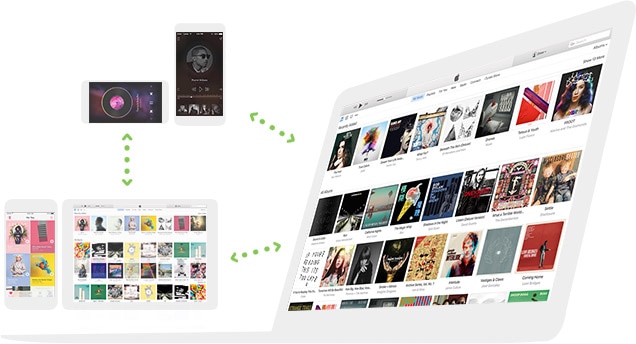 dr.fone is a smart tool that supports transferring as well as managing of different types of data which include your contacts, photos, music, messages and more.
The tool supports Windows and Mac operating systems.
One can easily backup their contents in the device without any loss of quality.
You can make interesting GIFs with the help of this tool.
You can carry out phone to phone transfer with this tool. It can transfer data among iOS and Android devices, computer and iTunes.
Not only this, one can rebuild iTunes Library as well as transfer iTunes media to the device effortlessly.
How to transfer data between two phones
Step 1. Boot dr.fone
Initiate the dr.fone program and plug both the source device and target device into the PC.Choose the source device in the upper left corner from the main screen.
Step 2: Select the Desired Files
From the navigation bar on the top, hit on the data type you wish to transfer, say "Music", and choose the desired music files.
Step 3: Initiate File Transfer
Next, right click on any selected file afterwards and from the appearing drop down menu, tap on "Export" and then hit the option which says "Export to Target_Device_Name".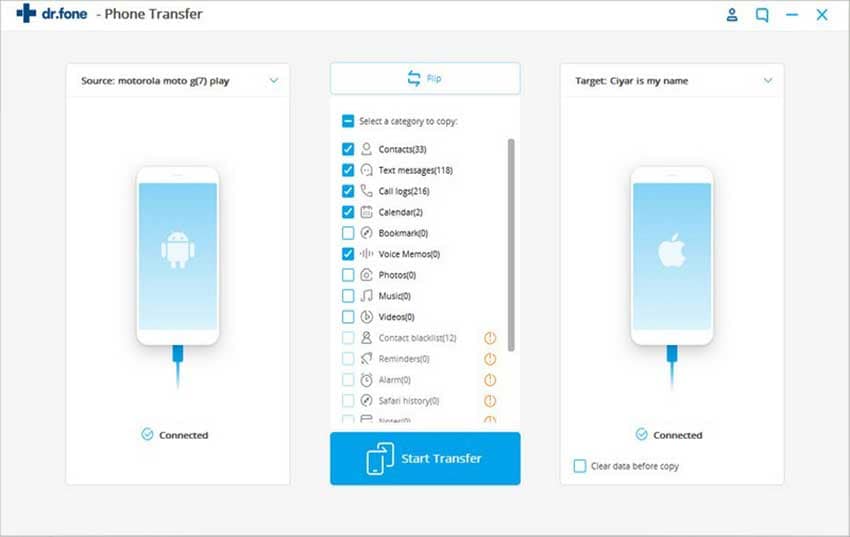 If, instead, you wish to transfer files from your phone to computer follow the listed step. After selection, hit the right click button on any selected file and tap on "Export" from the appearing drop down menu. Lastly, hit "Export to PC", that's it.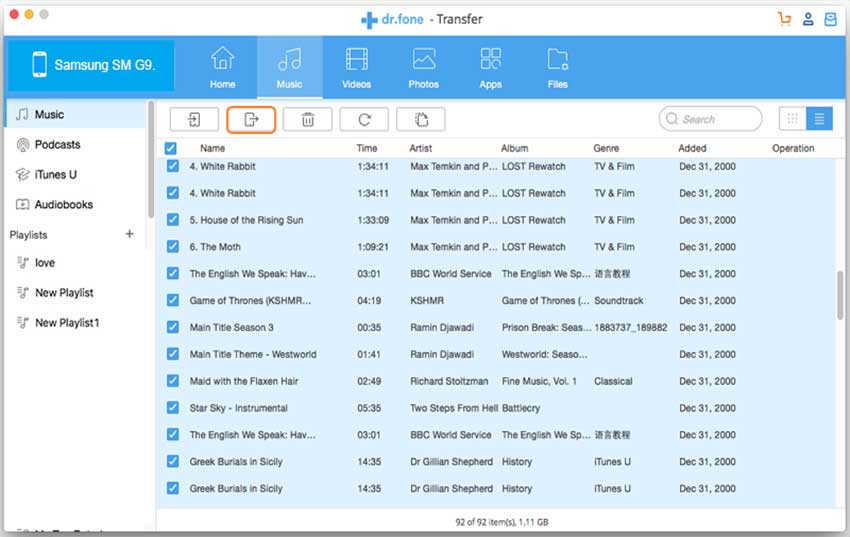 #2. dr.fone - Phone Transfer
Here is another alternative to SuperBeam which also comes from. This software is named as MobileTrans (Windows). As the name says phone transfer, the quality of this software is that it is able to support Android, Windows, iOS or Blackberry devices. Another amazing quality this software holds is its capability of 1 click transfer of contents from your device to another. Yes, you can just transfer in a single click without harming your data in any way.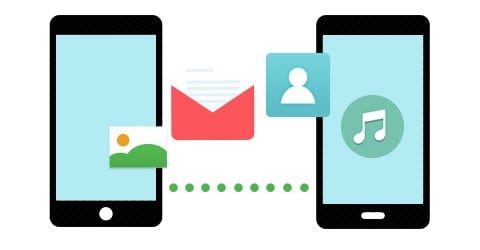 This software can help you to transfer your contacts, messages, call logs, photos and many more.
You can simply backup your important contents via this software.
In addition, one can avail its 1 click restoring feature anytime.
The transfer can be done between iOS, Android, Windows or Blackberry devices.
You can transfer iTunes to your device and retrieve from iCloud backup while using this software.
How to transfer data between different smartphones
Step 1. Get the dr.fone software
Download the dr.fone, the best alternative to SuperBeam, install it and then launch it. Now, plug in both the source and target devices to your PC. Set the source device from the top left corner and then push the "Phone to Phone transfer" from the main screen.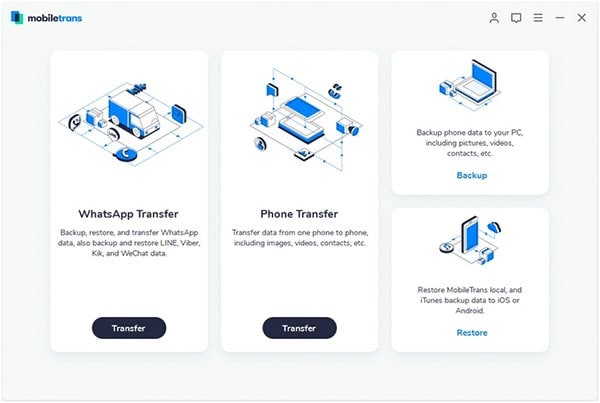 Step 2: Set the Target device & Select the Desired Files
Now, you're required to set the Target device and push "Next". Make sure to choose every preferred data (Photos, Videos, Music, Playlists and Contacts) you wish to transfer.
Step 3: Initiate File Transfer
Remember to check or uncheck, depending on your preference, the "Delete contents on target device then transfer" option and finally hit "Transfer". You're done, your data will then be transferred to the target device in a few moments.
#3. Binfer
Binfer, in early days of its inception, was widely accepted by the users due to the ease of use and quick file sharing features. Binfer, an alternative to SuperBeam, was designed in a way to directly transfer data and files between different devices without uploading them to any cloud server and that's what makes it a good SuperBeam alternative. But due to the limitations of the programs for free users, it soon started experiencing the downfall in the users' base. With Binfer, users can easily share huge or small files between the two devices over the internet with an AES 256 bit encryption to protect the users' data privacy. Binfer provides a wide range of features listed below:
File sharing: Send or receive HD videos, photos, music documents etc. between to two devices easily over the internet.
Web Drop: Send or receive huge files from anyone via web browser.
Sync: Replicate and share data between multiple devices.
Private Cloud: A private space over the cloud to exchange information and data safely.
OTR Chat: Communicate with other binfer contacts with 100% privacy.
Rating: 3.9 stars out of 5
Pros:
AES 256 bit encrypted file transfer between user to user.
Send or receive files irrespective of the file size due to no size related restrictions.
Cons:
The program requires an active internet connection to avail its services. Failing to have one makes this program futile.
File Transfer speed only depends on the internet speed of both senders' and receivers'.
Users can only transfer only up to 2 GB of data per month using a Free Account.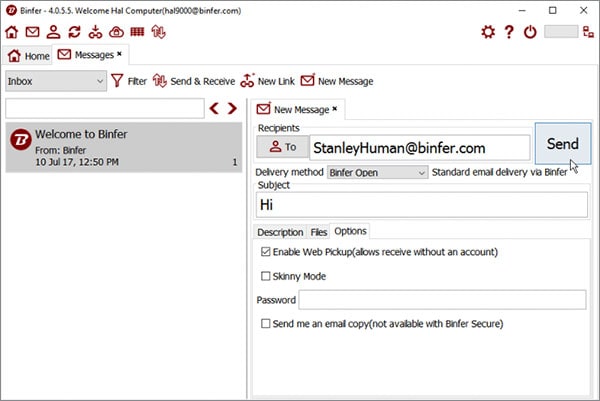 #4. Feem
Designed and Developed by an African startup, Feem is yet another alternative to SuperBeam file sharing app which is not just available for Android or iOS devices but is also available for Windows smartphones and for all types of computers, be it Windows or Mac or Linux. With Feem users can easily share files between cross platform devices but this doesn't means that it is not devoid of shortcomings. We'll be discussing its short comings in the later part of Pros and Cons.
Feem does provide 50 times fast file transfer than Bluetooth and its installation is also quite easy and straight forward. This SuperBeam alternative is not just a file sharing app but is also packed with a similar interface to popular instant messaging platform like WhatsApp due to which also supports Chat feature between the Feem contacts.
Rating: 4 stars out of 5
Pros:
Biggest advantage of this app is that it is available for almost all platforms.
No interception chances as it supports direct device to device connection.
Cons:
Free version of this app has a lot of restrictions, for instance, extremely low priority support and also you are restricted from changing the destination path of the file you're attempting to receive.
Apart from restrictions, you may end up in frustration due to the annoying ads that frequently pop up on the screen and are also always present in the bottom of the screen. In turn, users would have to pay for an ad free version.
You may also experience relatively slow connectivity when making connection to other available devices.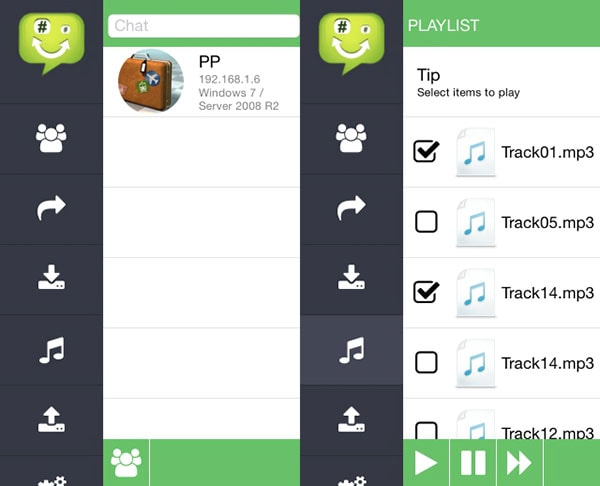 #5. Filedrop
Lastly, we have Filedrop on our list of recommended SuperBeam alternatives that is despite being a tiny app, is very effective when it comes to sending or receiving files between the cross platform devices within the same network. The easy to use interface and drag and drop method for file sharing makes it more user friendly and a pretty good alternative of SuperBeam. This application works on multiple cross platforms like Windows or Mac computers, iOS and Android devices to share files between any of these. The app is well built with a unique feature to Stream the music files, for instance you can easily play or change the music track on the target device.
Rating: 3.7 stars out of 5
Pros:
Extremely easy to use and straight forward setup.
Faster transfer of files within the same Wi-Fi network.
Cons:
The app is devoid of storing or remembering the devices with which you have already connected.
After every launch, it has to re-scan and freshly connect to the device again.