What is HEIF?
HEIF stands for High Efficiency Image File Format, is the new image format on iOS 11. HEIF offers better quality than the traditional JPEG format.
Although, it was introduced by Apple, this format is in no way a creation of Apple itself. HEIF is a standard formulated by Moving Picture Experts Group(MPEG) for storage and sharing of images and image sequences. Technically speaking, unlike JPEG that can carry the data for only a single image, HEIF can't be labeled as a mere format; instead it can be addressed as a sort of "container" for images, audio, depth of field information, image thumbnails and other details. Imagine your larder filled with individual bottles of condiments with not an ant's place left. This is exactly how JPEG works. Apple upgraded their "larder" with a new format, is all.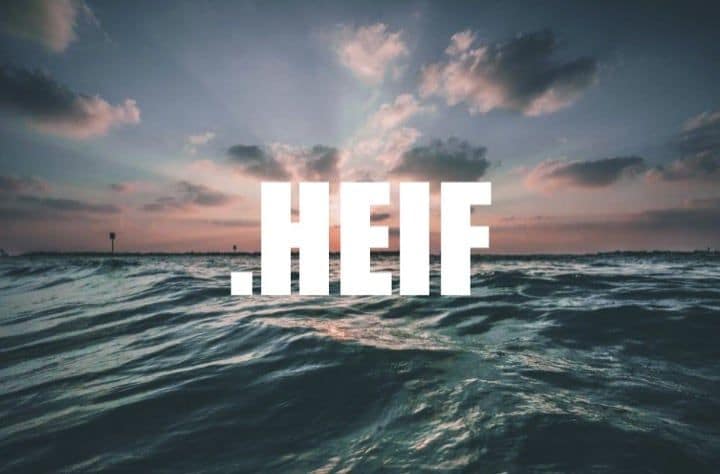 Must-Know Tips on New HEIF Image Formats
Apple has defined HEIF format's use will be to store still images. This will work especially well with Live Photos, as multiple images can be saved in the HEIF container. The same applies for dual camera images captured on the iPhone 7Plus and the gossip golem, iPhone 8. A HEIF file would be an image saved in the High Efficiency Image Format, a lossy compressed format. It may include still images, image collections, image bursts and image sequences. HEIF files are mentioned to store metadata that describes each image.
The key features of HEIF comprises of the following.
Storage is solely advocated to widely recognised ISO Base Media File Format (ISOBMFF)
Assists efficient storage of image bursts and cinemagraphs
Assists computational photography use scenarios
Assists both lossy and lossless image data storage
A far more preferred method to distribute still images, image collections and related metadata
Let us now take a look at the five aspects of HEIF that makes it more special than ordinary JPEG
The camera in the iPhone 7 can capture 10-bit color information but the sad JPEG format can only capture color in 8-bit. Now you know why your friend's "selfie" or "pic" looks better than yours!
HEIF format assists transparency and can handle images in 16-bit.
HEIF is smaller than the same image saved by JPEG format by around 50 percent. That compressed image means you should be able to store twice as many images on your iPhone or other iOS device.
are supported by Apple Photos (macOS High Sierra and later) and iOS Photos (iOS 11 and later). They can also be opened in Windows using Zoner Photo Studio X.
HEIF are more commonly seen as .HEIC files.
Another point to learn today about HEIF - if an iPhone user shares an image file with non - iPhone users or to a social site, the HEIF is converted to a JPEG image. This explains, how the brightness of your smile dims when it comes from your friend's iPhone 7 to your poor outcast of a phone. Oh, the wonders of Internet! If you want to view HEIF on Windows or Android devices, then we recommend dr.fone to transfer HEIF formats as JPEG formats.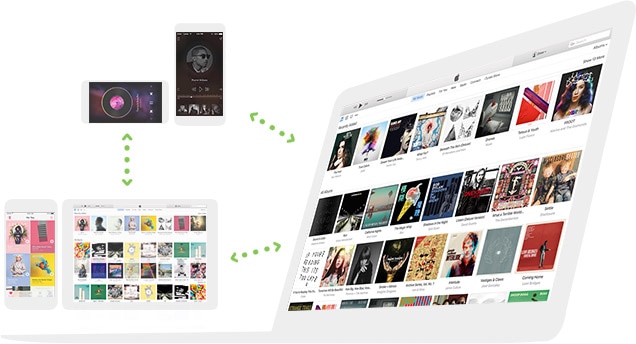 dr.fone for Mac (for Windows) is the ultimate and all-in-one phone manager. Although iOS 11 is capable of converting HEIF image format to JPEG, dr.fone, as a multi-platform supports multimedia transfer efficiently. It allows you to transfer music, photos, contacts and SMS and more without iTunes on any supported iOS devices, Android devices and PC or MAC will be synchronized in one application. Phone to phone transfer has never been easier given that dr.fone is beneath your fingertips. Let us take a look at their user-friendly interface.
Guides on how to share HEIF to other phones
Step 1: Firstly you will have to download dr.fone on your computer. Open it and connect your iPhone and the other phone what you want to transfer to. Choose the iPhone to show on the left top corner.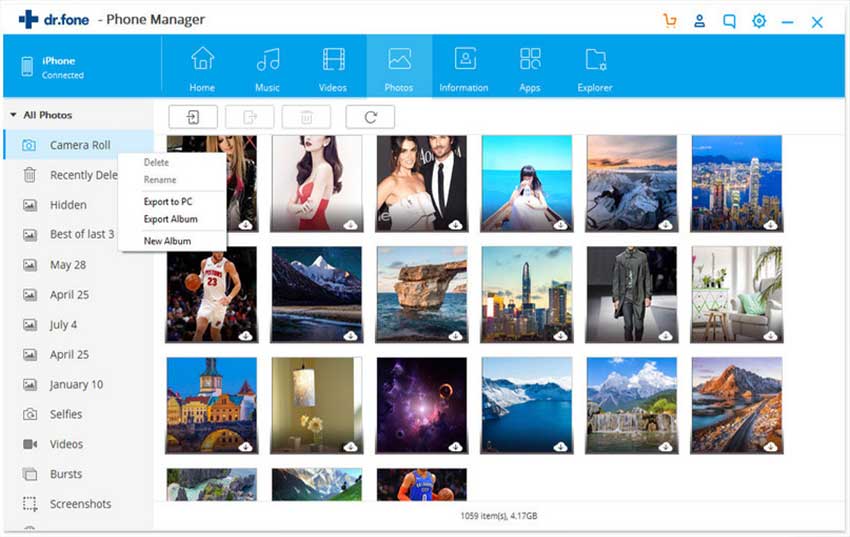 Step 2: Click the "Photo" tab. The images on your iPhone will be shown including the HEIF. Choose the HEIF images that you want to transfer to the other phone and click on "Export". They will be shared to others!