iPhoneographers unite! With the latest release of the iPhone 6 and the iPhone 6 Plus, you now have a mobile camera that can capture professional grade photos which can then be edited, filtered, cropped, enhanced and shared all in the palm of your hand. The capabilities of the iPhone's high quality camera and the seemingly endless list of available photo editing apps are essentially eliminating the need for the excess photography equipment once needed to create dazzling images for the world to see.
The greatest part about having these tools is that they are user friendly across the board. Everyone from the photo-taking professional to the amateur selfie enthusiast is able to create high quality, visually appealing images at the touch of a button. On that note we have rounded up a list of the best photo editing apps for the iPhone that include simple features like red-eye reduction and one-click photo enhancement, to tone curve tweaking and color spotting. Without further ado, let's get into it!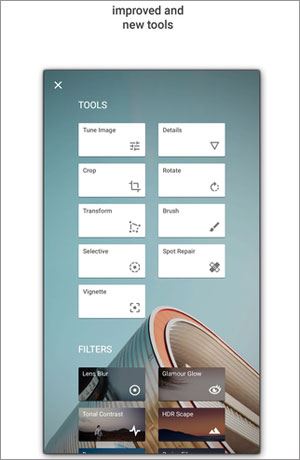 1. Snapseed
Price: Free
Rating: ★★★★
The Snapseed photo editing app allows users to quickly enhance their photos with a touch of a button. The app has a variety of filters and adjustment tools that can transform an ordinary image into an aesthetically pleasing masterpiece. Snapseed also highlights a feature called "Stacks" that allows you to manage and save your photo edits. This feature gives you the tools needed to edit a provided filter and keep that edit in a library for you to use on other images later. Photo editing in a snap! Get it?
---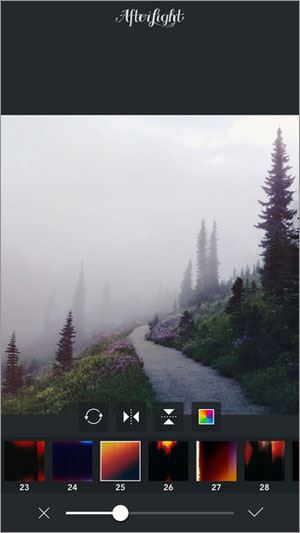 2. Afterlight
Price: $0.99
Rating: ★★★★½
Afterlight is a popular photo editing app most commonly associated and used with the highly popular social media platform, Instagram. Afterlight provides users with a number of easy to use adjustment tools, more than 70 filters, and even more frames and textured overlays that can all be enabled at the touch of a button. The app is cleanly designed and has a fluid interface that gives users the feel of the familiar Instagram with more powerful editing tools.
---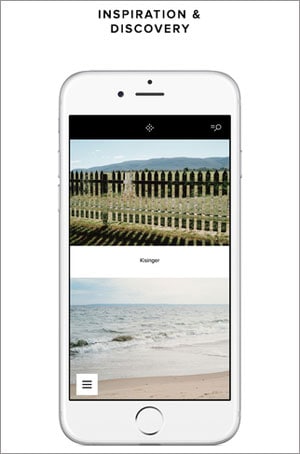 3. VSCO Cam
Price: Free
Rating: ★★★★
VSCO Cam comes from the professional creatives at Visual Supply Company. Their app allows you to upload your previously taken photos to edit, or you can use the app itself as a camera platform to take photos and store them directly in your VSCO library. Once your photos are taken or uploaded into the library you then have the option to enhance, adjust, filter and share your images. Their tools and preset filters are all professional grade and the app's beautifully minimalistic interface creates a pleasing photo editing experience that is simultaneously easy to use. Another interesting feature of VSCO Cam is the ability to publish sets of your photos (example: vacation albums) and written articles corresponding to these sets of photos into the VSCO Journal to share with the app's creative community, respectfully sharing and gaining inspiration.
---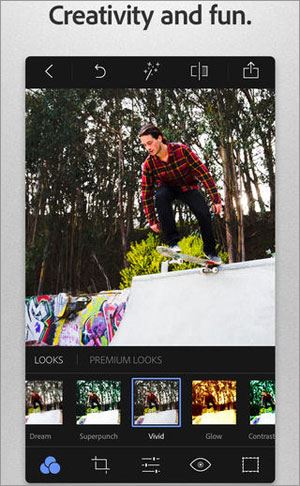 4. Adobe Photoshop Express
Price: Free
Rating: ★★★★½
Adobe Photoshop Express gives you many of the features you love about the traditional Adobe Photoshop Desktop Edition all tied into one easy to use iOS application. It contains the basic necessities of in-app filters (called "Looks"), red-eye and blemish removal, noise reduction, and the capability to share your retouched photos across all platforms. Adobe Photoshop Express also comes with the option of upgrading to a premium account that will give you access to more in-depth features and even allows you to use your Adobe ID for more personalized photo editing.
---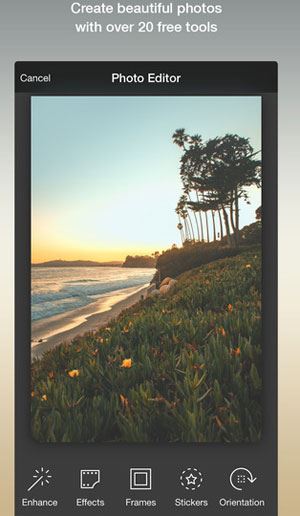 5. Photo Editor by Aviary
Price: Free
Rating: ★★★★½
Aviary is a photo editing app that ties fun and simplicity into its usability. It is similar to the previously mentioned apps in that it lets you fine tune your images using basic adjustment tools such as brightness, contrast, sharpening, cropping, blemish removal and more. Aviary also allows you to stylize your images with stickers, frames, teeth whitening, meme-creating capabilities, and over 100 pre-set filters (some only available after purchase). Created photos are easily sharable across many social media platforms.
---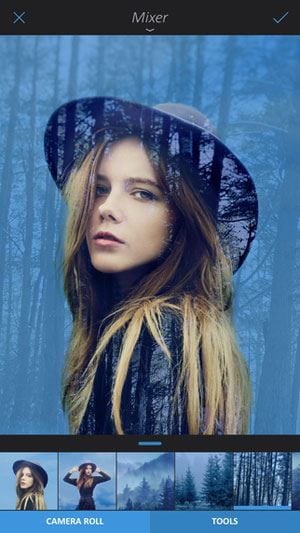 6. Enlight
Price: $4.99
Rating: ★★★★½
From the developers at Lightricks Limited comes Enlight. This app is probably the most well-rounded mobile photo-editor app that is capable of the largest array of editing functions. This is an app used by many professional photographers because it takes away the need to use multiple apps to turn ordinary images into stunning photographs in one fairly easy to use mobile app. The highlighted feature of Enlight is "Image Perfection" which takes the basic image enhancing techniques and blows them out of the water by correcting tones, colors and many other aspects of the image to ensure that it turns out as polished as possible. This app proves to be well worth the price if professional photography on the go is your game.
---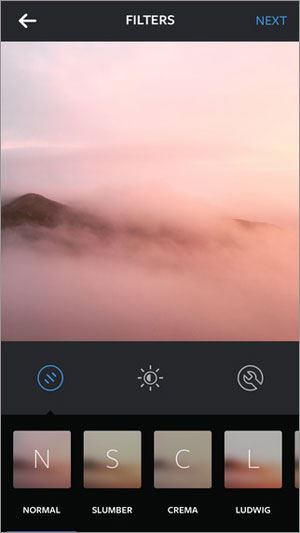 7. Instagram
Price: Free
Rating: ★★★★½
Instagram has made its place on the iTunes App Store top charts because of its addicting photo-sharing aspects, but it lands at number seven on this list because it proves to have a little more than the bare minimum when it comes to its actual photo-editing capabilities. Instagram has upped its game since past updates, now allowing for the modification of intensities of the preset filters, as well as the option for users to make the common adjustments, such as, brightness, contrast, saturation, vignette, and more. All in all, Instagram is a social media anomaly because of its simplistic usability and its capacity to connect people across the globe through pictures.
---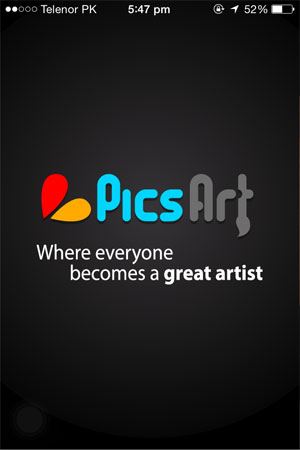 8. PicsArt Photo Studio
Price: Free (In-App Purchases)
Rating: ★★★★½
PicsArt Photo Studio can be most closely compared to VSCO Cam in that it is more than just a photo editing app. It has become a home for many creatives that use the app's features for image editing as well as a sharing platform with others in their field. Much like VSCO Cam it also has an in-app camera feature, and a browse-able list of image galleries to follow and gain creative inspiration from. Some other features of this app include the "Collage Maker" that allows users to piece their favorite images together as one, and the "Drawing Suite" where users can actually create intricate drawings using artistic layers and a number of different brushes that are available by purchase.
---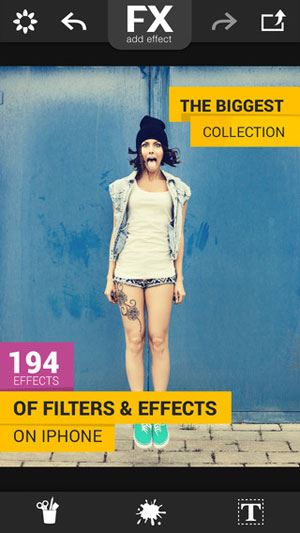 9. FX Photo Studio
Price: Free
Rating: ★★★★½
With an extensive selection of effect options and color splashing capabilities, FX Photo Studio gives users a platform to do more with their images than would be capable only through the iPhone's editing software. Some downsides to FX Photo Studio include a more confusing interface than needed and no live preview to see your photo- editing progress. Like the other apps FX Photo Studio allows you to share your created photos on many different social media platforms, and if you're guilty of turning the camera on yourself, this app claims that it has the tools to perfect your selfie game!
---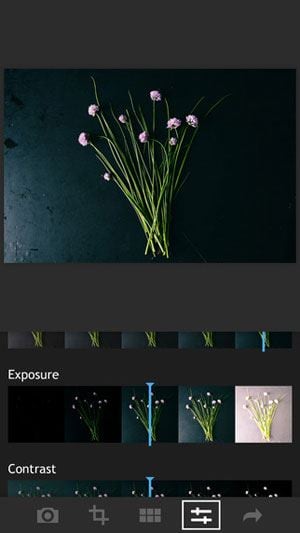 10. Fotograf
Price: Free (In-App Purchases)
Rating: ★★★★
Fotograf is the odd man out on this list because it is the only app that attempts to bring all that film has to offer to the mobile photo editing world. Its preset filters are film-based and the basic adjustment capabilities give limitless possibilities to create alluring images that reflect the characteristics of film. With an in-app purchase of Fotograf's desktop app, CameraBag, you can expand these options by designing and importing filters of your own.
Many photo editing apps include similar features and functions. The differences come in the app's interface, usability, filter options, and of course, personal preference. Some cater more towards the photography professional, while others can be used by everyone, but no matter which app you choose, it is sure to provide you with the tools necessary to create breathtaking pictures that you'll be proud to show off.