Are you one of those people who are continually bothered by a large number of contacts they have in their phone? You are constantly looking for ways to organize it. Often, a lot of us save contacts in a hurry and become too busy to manage and transfer outlook contacts. Thus, realizing how important phone contacts are it is best to export them to excel or CSV files via a good third party application. The generated list can be easily transferred to another phone, shared through outlook, and stored on laptop or PC.
dr.fone is a perfect application that helps you handle your contacts efficiently. It lets you manage your phone data and transfer outlook contacts to iPhone or any android device. The software offers a complete package that converts contacts in excel/CSV format and exports them to outlook. The resultant file is edit and print compatible. dr.fone not only solves all your outlook contacts issues but also has a solution for all your concerns regarding phone data.
The software works with MAC as well as Windows PC. Everything right from installation to transfer can be done effortlessly within a few minutes. Moreover, you do not have to worry that your files, sensitive data, or photographs will be corrupted. Your data stays completely safe in this software, and you can choose to transfer it to any device at any time possible. Therefore, whenever you want to manage your data just open dr.fone. You can also contact the full-time technical support in case of any issues.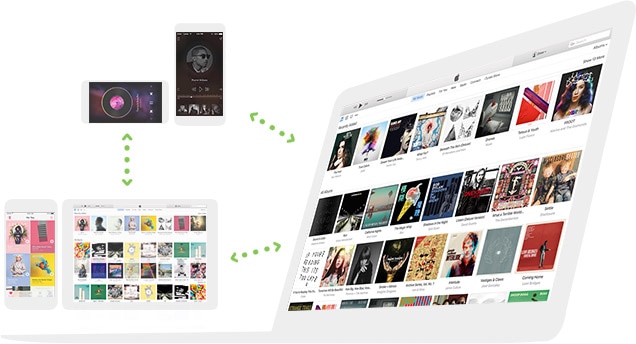 Manage Contacts - dr.fone not only lets you handle contacts but also you can take backup of contacts in Vcard or CSV format.
Reduce Redundancy - this software removes duplicates and only copies the data that is not already present.
Transfer data from one phone to another - with this easy-to-use software, you get a cross-platform transfer option, wherein you can transfer photos, music, contacts, etc. to another phone.
iPhone and Android phone data - we rarely get an efficient software that works with both iPhone and Android phones. Most of the times we keep juggling between the tools. However, is compatible with both iOS and Android.
How to transfer outlook contacts to iPhone or Android phone?
Step 1: Download and install dr.fone. Connect your iPhone or Android device to the software. Go to 'Information' tab on the top, fifth from the left. It will display all the contacts currently present in your device.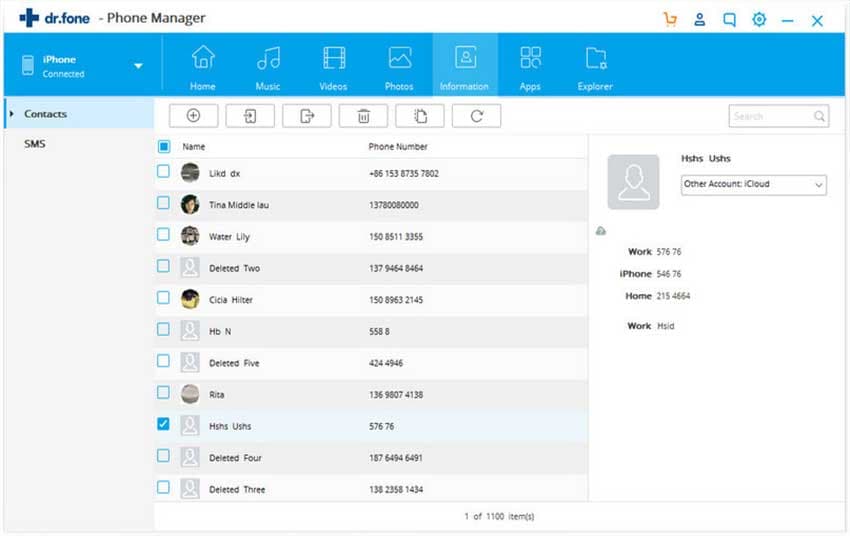 Step 2: Now, click on the import option and choose 'from Outlook 2010/2013/2016' to transfer outlook contacts. A dialogue will pop-up saying 'Reading outlook contacts and preparing'. A few second later, the software will ask you to 'Choose profile' and then you can connect to your outlook. Select a 'contact account' and click 'Import'.
Step 3: After these steps, your contacts will be successfully transferred to your phone. This way you can transfer outlook contacts to iPhone or Android phone in barely a few minutes.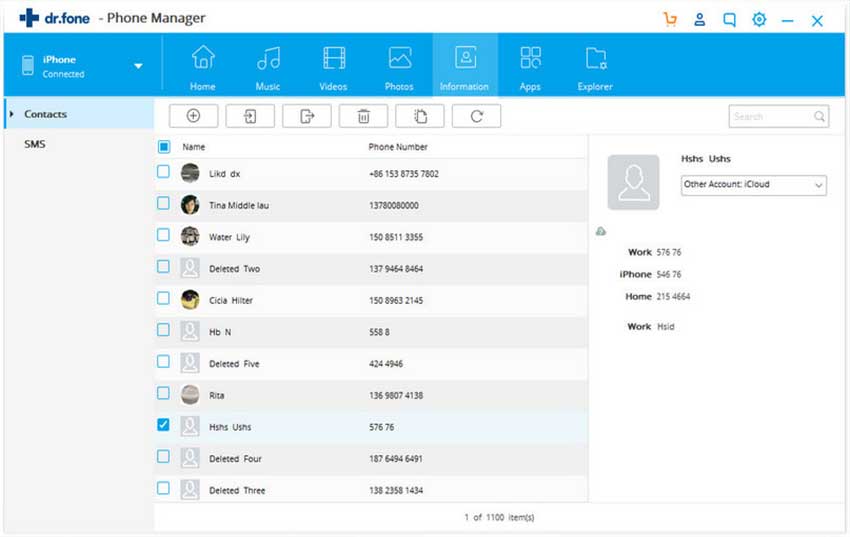 How to transfer contacts from IPhone or Android phone to outlook?
Step 1: Just like import function connect your iPhone or Android phone to iSkysoft dr.fone and go to 'Information' tab on the top, fifth from the left.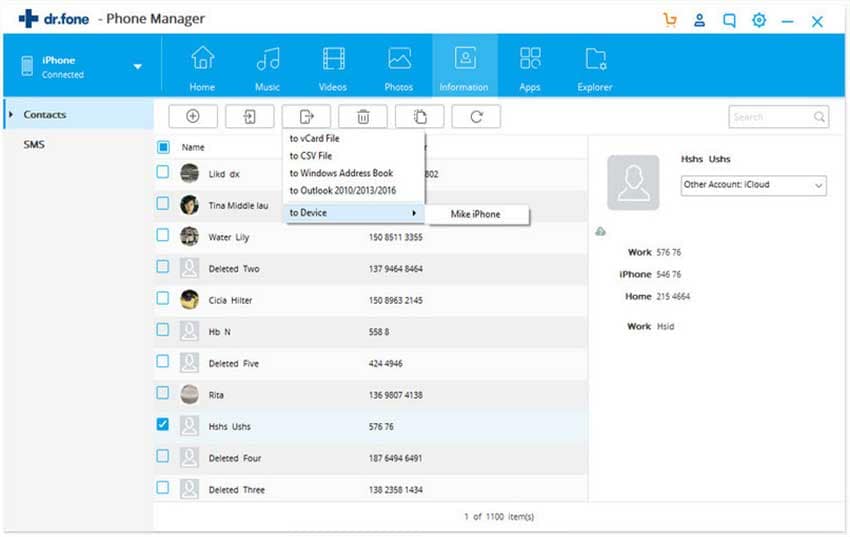 Step 2: Now, tick the contacts that you want to transfer to your outlook and click on the export option. Choose 'to Outlook 2010/2013/2016' from the drop down menu.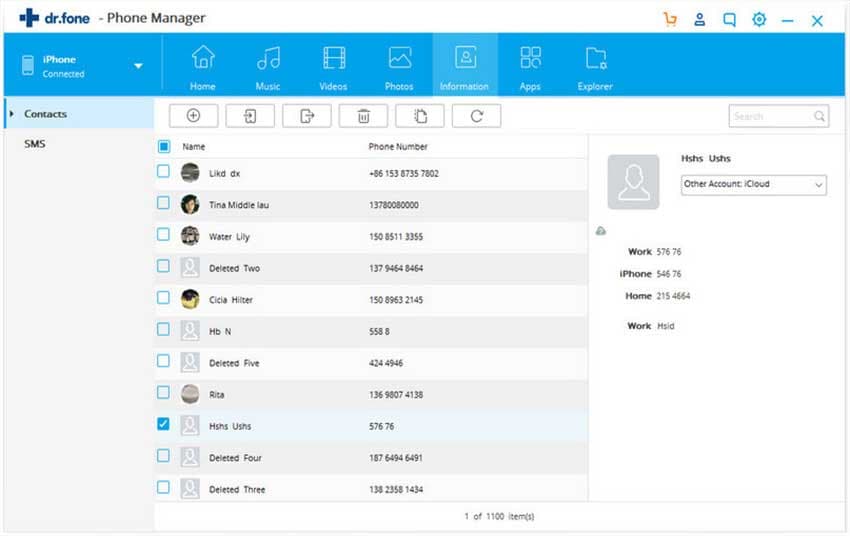 Step 3: Your contacts will be transferred in a few seconds if your outlook is already connected to iSkysoft dr.fone. You will see a message 'Export Successfully'. And your contacts will be immediately reflected in outlook.