Want to transfer some songs from iPhone to computer, Mac or Windows PC? To tell the truth, it seems that you can't do it as you wished, because of copyrights, Apple doesn't allow you to unless all the songs are iTunes store purchased. Keep your shirts on! Here are the solutions: if you want to copy non iTunes purchased songs, including songs imported from CD or downloaded on the Internet, from your iPhone to computer, try the way in part 1. If all the songs are once purchased from iTunes Store, try part 2.
Part 1: Best solution to transfer music from iPhone to Mac/PC
dr.fone allows you to manage and transfer your songs, videos, actually all your media files from iPhone to computer. More than that, this software copies your songs and playlists with rating and play counts. dr.fone can be used for all iOS devices like iPhone, iPad, and iPod touch. Supported Apple devices are with iOS 5 up to iOS 8, including iPhone 3G and 3GS, iPhone 4 and 4s, iPhone 5c/5s, iPhone 6 and iPhone 6 Plus. In order to use dr.fone, your operating system must be at least OS 10.7, or the next higher versions such as OS 10.15.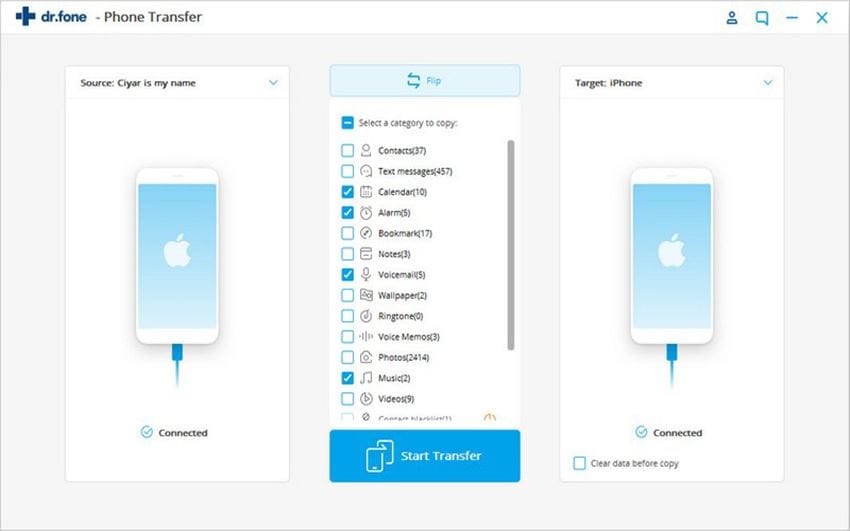 Intelligently Transfer iPhone Music to Mac
Copy music from iPhone to computer without duplicate.
1 click to transfer all iPhone songs to computer/iTunes.
Simple and easy to use!
Copy playlists with rating and play counts to iTunes.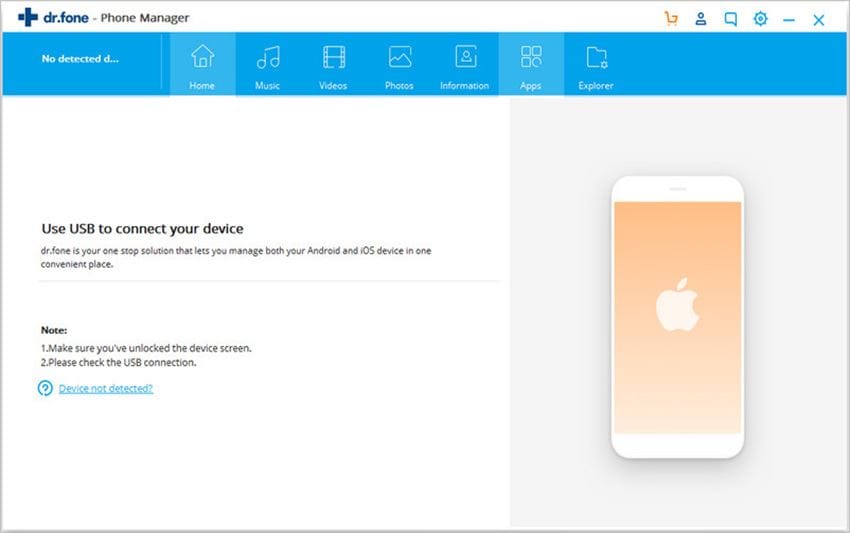 Step 1. Make a physical connection between your Mac and your iPhone
Download dr.fone and install it on your computer. Your iPhone must to be connected with a USB cable to your Mac. After you have completed this process, launch dr.fone to see whether it has detected your iPhone or not.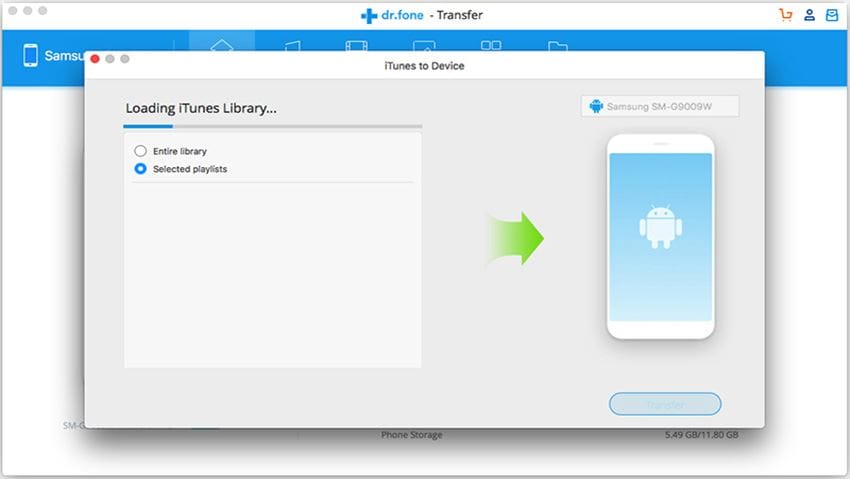 Step 2. Transfer music from iPhone to computer
You can directly click the "Name" button at the top of the song list, and click "Export to Mac". This smart application will intelligently transfer all the songs to your Mac. Alternatively, you can click the "Music" menu and select the music you want, and then click the "Export to Mac" button on top of the primary window to start transferring.
Part 2: Transfer purchased music from iPhone to computer
Important: to try this way, please ensure the songs you're going to transfer to your computer are iTunes Store purchased ones. Otherwise, it doesn't work.
All your purchased songs can be transferred from your iPhone to your computer via Tunes. Before doing it, make sure you've installed the latest iTunes and the latest iOS on your iPhone.
1. Connect your iPhone to your computer
Take your USB cable and make a physical connection between your iPhone and your computer. Launch iTunes. After this step, go to "File" and choose "Devices" in iTunes. You should see the icon to appear in iTunes.
2. Choose "Transfer Purchases" from your iPhone
Select the songs you want to transfer from iPhone to computer > right click to enable the menu "transfer Purchases".Click it to export music from iPhone to computer.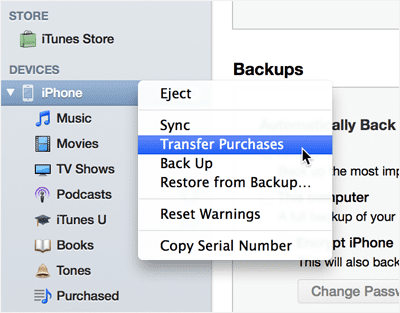 Part 3: Popular free music download websites
#1. Sotify.com
Spotify is free to use and you have access to a world of music. You can listen various artists and albums, or create your own playlist.
Pros: There are many languages, like English, Arabic, Dutch, French, German, Greek, Indonesian, Italian, Japanese, Malay, Polish, Portuguese, Russian, Spanish, Thai, Traditional Chinese, Turkish
Cons: It is not available in some countries.
#2. Beemp3s.com
It is a website where you can find different genre of music and download it. When you wish to search a song, you can view also Top Downloads. You can share, download and listen online any music that you want.
Pros: You will enjoy a clear sound. There is a desktop and a mobile version.
Cons: You need to sign up for a free trial.
#3. Promodj.com
You can download music for free, especially club and tehno music. There are details about your prefered songs and you can share them on different social media networks. It is not necessary to sign up. But if you wish to receive news with favorite music, then it is better for you to do it.
Pros: Download very quick (a 5 minutes song length, downloaded in 2 seconds)
Cons: It is one of the best websites for tehno music, but for another songs genres it is limited.