You are proud of your new iPhone 8 and you really need to get your music on the device and enjoy your favorite tunes. There are several ways in which you can do this; you could import your music from an old iPhone, a computer or your iTunes account. dr.fone (formerly Wondershare TunesOver), is a wonderful tool that allows you to transfer music to iPhone 8 or iPhone X.
Part 1: How to Transfer Music from PC/Mac to iPhone 8 or iPhone X
dr.fone for Mac (for Windows) is a great tool for the management of your music files. You can bring files from any phone, irrespective of the operating system to your new iPhone 8. You can also import music from iTunes and your computer.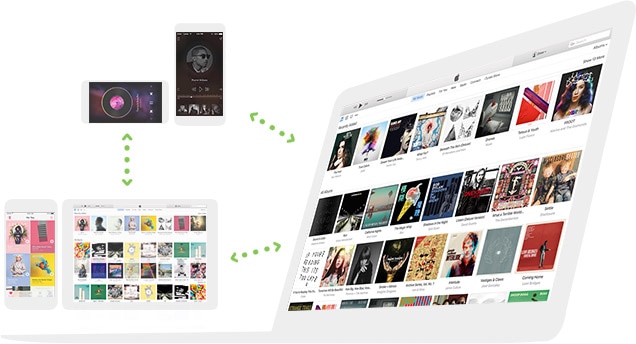 Full management of your media files – you can now manage your video and music files with ease. Transfer from computer, other smartphone or iTunes account.
Contacts and SMS management – you can easily import and export contacts and SMS to and from your computer, Outlook, Online accounts and other mobile devices
Convert, Backup and Transfer photos – this tool allows you to enhance photos and then save them on your computer, iCloud or iTunes accounts. You can also transfer them to a new iPhone 8.
Phone to Phone transfer – cross platform transfer of any data from an old phone to your new iPhone 8, irrespective of the operating system.
Rooting of Android phones – if you want to get access to the root section of your device, you can do so using dr.fone. This will give you more control over the basic functions of the device. You can tweak the device to have a longer battery life, perform faster and also decide which apps should actually be allowed on your device.
Use device as external hard drive – dr.fone allows you to use any smartphone as an external hard drive. This means that you can access parts of your phone on your computer that you would not if you used the File Manager on the device.
Step-by-step guide to transfer music to iPhone 8 from computer using dr.fone
Step 1: After launching dr.fone, connect the iPhone 8 to the computer using the USB cable that came with it. Click the "Music" tab on the top menus. The software will show you the music on your iPhone 8.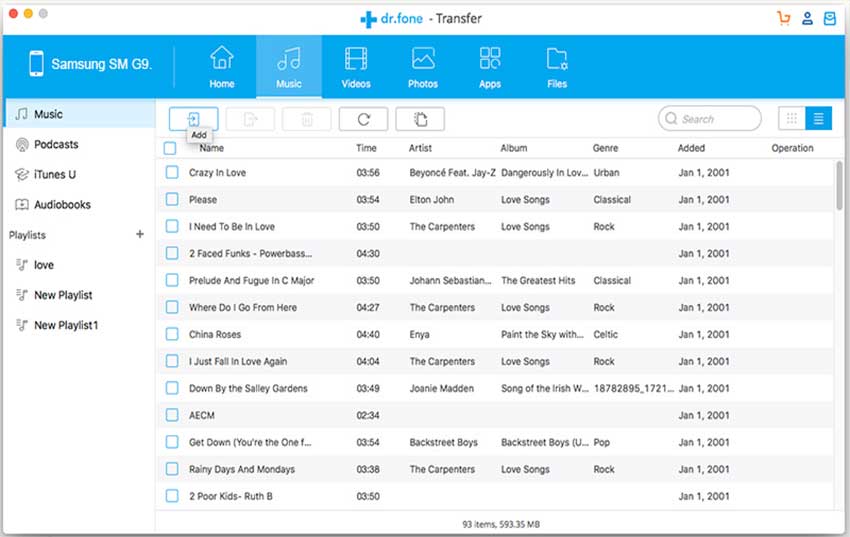 Step 2: Go to Add>Add file or Add Folder. You will then get a list of all your music files on the computer. You can select multiple or single files. Then you should click on "Open" and all music will be added to the new iPhone 8. Optional, you can drag the wanted music into the music list in dr.fone. Download the software and try yourself!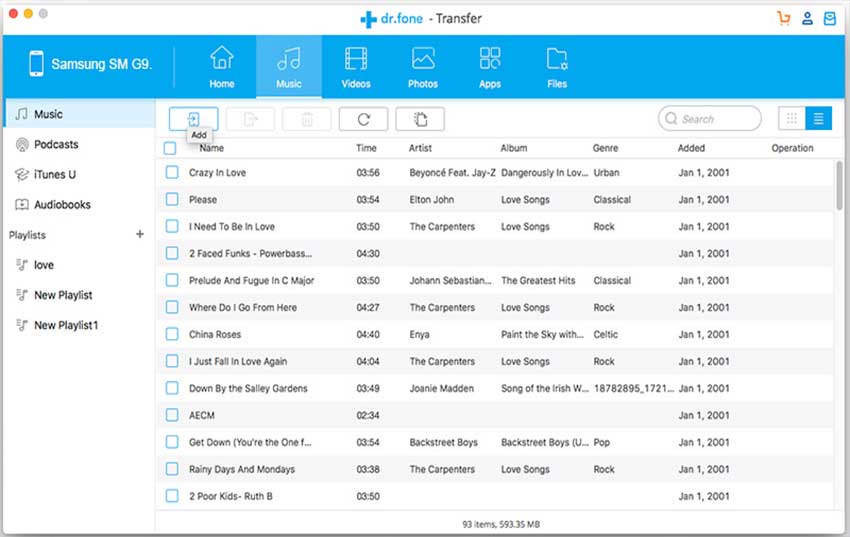 Part 2: How to Transfer Music from Old Phone to iPhone 8 or iPhone X
Step 1: Once you have launched dr.fone, connect the two devices using the USB cables that came in their respective boxes. Select the source device and then click "Phone to Phone Transfer".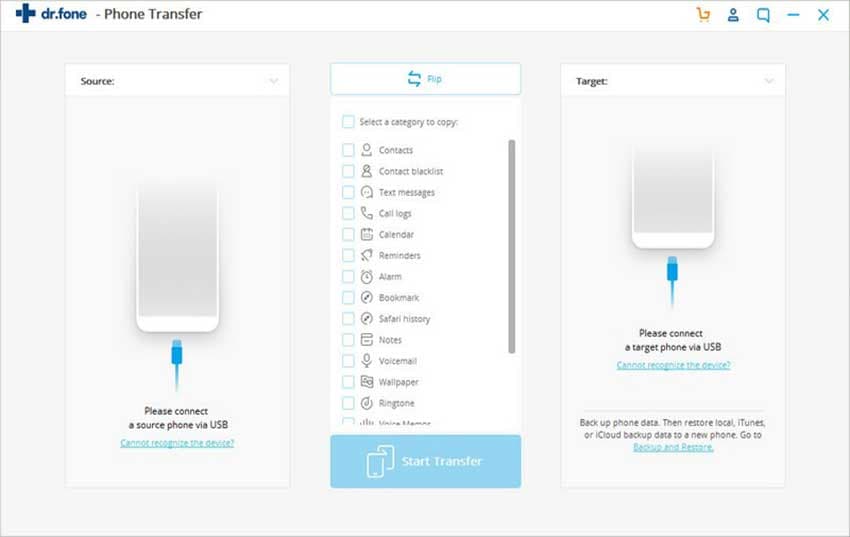 Step 2: Start off by selecting the target device, and then choosing the music files you want. By default, all content on the device will be selected, so simply deselect the rest and leave the music selected. Once you have finished selecting the music, simply click on the "Transfer" button to start the transfer.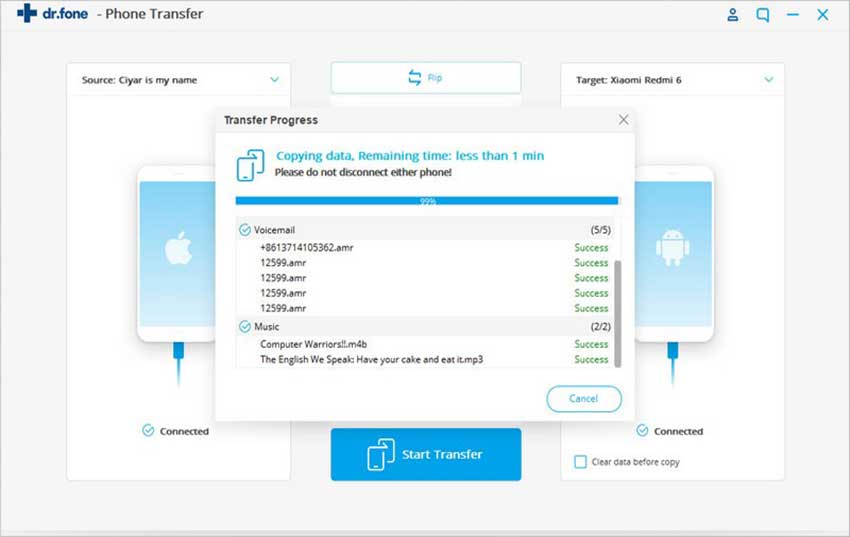 Part 3: How to Import Music to iPhone 8 or iPhone X by iTunes Sync
iTunes is an online account where you keep all music that you have bought from iTunes. This library can be moved to your iPhone 8, so you can listen to it when you are on the move. It is a great way of having a copy of your music stored on an online account that is cloud-based. With iTunes, you can always get the latest music to your online account, and then add it to your iPhone whenever you need it. This way, you get your favorite runes on your iPhone and still get to keep a safe copy of the not-so-favorite tunes. This is how you go about transferring music from your iTunes account to your new iPhone 8:
Step 1: After connecting the new iPhone 8 to your computer using a USB cable, click on the icon of the device, once it has been recognized in iTunes.

Step 2: Under settings on the left side of your iTunes window, select the Music tab. After you are satisfied with your selection, click on the "Sync" button and wait for your music to be transferred to the iPhone 8.

Disadvantages of using the iTunes sync method
• It takes a lot of time – this process will take a lot of time, especially if your music library is very large.
• Requires an Internet connection – This method will only work if you have an Internet connection for you to sync your iTunes library with your device.
• Uses a lot of memory – With the sync method, you do not get to choose the music you want. You will have to sync the entire music library. This will take up a lot of storage space on your new iPhone 8.