It is September 2017 and iPhone 8 is hitting the market very soon. It is a completely radical design change to the iPhone series till now. It has been marketed as a thinner and lesser power consuming iPhone series. Are the features luring you to pocket the new iPhone 8 or iPhone X? Go ahead Apple is introducing some groundbreaking features along with it. If you are bothered about the data transfer, you need not worry. With much third party software available, data transfer has become a hassle free and reliable process. If you are a music lover your iTunes must be having your choicest collection that's precious to you. The software assists you to transfer the music, videos, and entire playlists from iTunes to iPhone8.
Here I recommend dr.fone as an ultimate phone manager. It allows you a quick transfer of Music, videos, contacts and more data from your old phone to new phone without using iTunes. dr.fone for Mac ( for Windows) can be called an All-in-one Phone manager. With its supreme phone management capability, it has become number one choice for iPhone 8 data transfer. dr.fone gives you a one point control of all your data independent of iTunes. It supports a cross platform data transfer from iTunes to iPhones/iPads/Android devices/Computers and vice versa.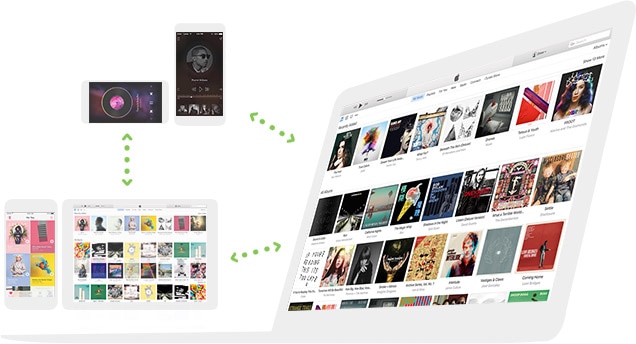 A one stop solution for all types of data transfer problems. You can transfer Music, photos, contacts, and SMS.
One click transfer of data in batch or for the selective files.
One can create Gif from the images and videos.
Backup, import and transfer contacts. You can add or delete contacts and remove duplicate contacts.
dr.fone can send SMS, saving your time to use an Android phone.
Direct phone to phone transfer of music, video, photos, movies, and playlists.
Guide to transfer music and videos from iTunes to iPhone 8 or iPhone X using dr.fone:
Transfer your music and videos from iTunes to iDevice without worrying of overwriting the actual content on your iDevice. Keeps all your present data intact and creates a new copy while transferring.
Step 1: Download the free version of dr.fone on your computer. Open the dr.fone software and connect your iPhone 8 to the computer via a USB cable. On the home tab click the "Transfer iTunes Media to Device button"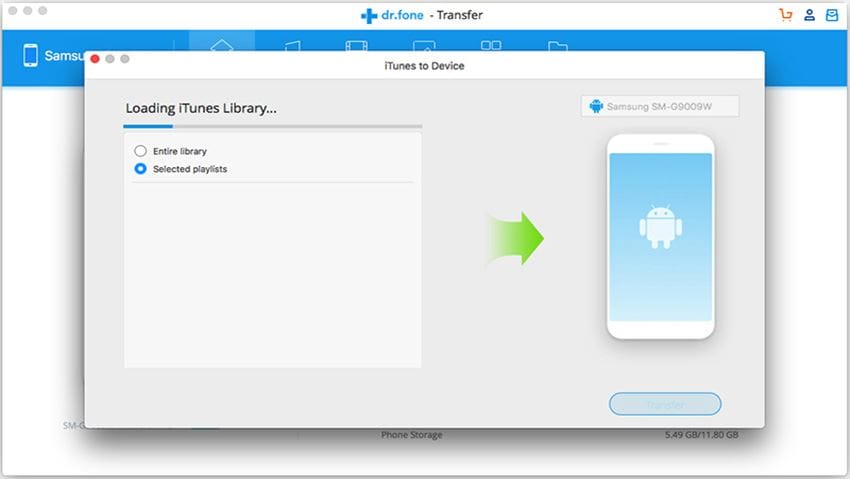 Step 2: dr.fone will automatically scan all the data in your iTunes library. It will show the entire library on left side of the screen. All the files in your iTunes library will be tick marked. Now you have an option if you want to transfer all your data or only selective data. Keep the automatic check mark as it is if you want a complete data transfer. For selective transfer just uncheck the files that you do not want to transfer.
On the same screen click "Transfer" on the bottom right of the screen. This will start the transfer process of selected files. dr.fone will not transfer the duplicate copies. Click 'OK' to complete the transfer process of selected files.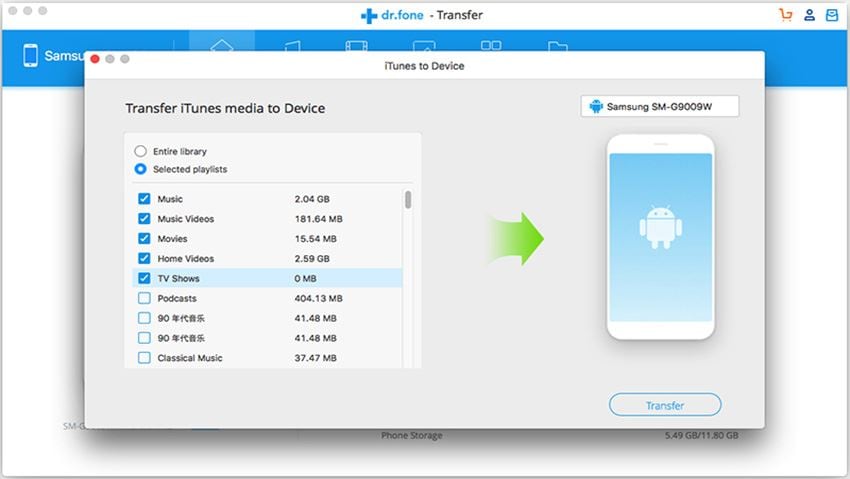 Guide to transfer your music or videos from iTunes to iPhone 8 using iTunes
Note: Using iTunes is a complex process and is quite time-consuming too. When you automatically sync the data from iTunes to iPhone it replaces the existing content.
Method 1:
Step 1: Connect your iPhone 8 to your computer with a USB cable. Launch the latest version of iTunes on your computer. Locate your iPhone 8 in iTunes.

Step 2: Click 'Summary' tab on the left side and choose options.

Step 3: Check the box of 'Manually manage music and videos' and click apply. Go back to the 'Songs' folder and select the files you want to transfer.

Step 4: Drag and drop them on your device.

Method 2:
Quick automatic way to transfer music to the iPhone by using iTunes
Step 1: Make sure your iTunes on the computer is the latest version. At the home page of iTunes click on the Music tab at the left top of the screen. The check box next to the Sync Music option should be enabled. If it is not checked, then check it.
Step 2: Transfer all of your music by clicking the button next to the Entire music Library. For the selected transfer of songs and videos tick the button next to them. Click the "Apply Button" to automatically sync music to your iPhone