Do you agree if we say that data transferring, be it music, photos, contacts etc. using a high-speed app or software has become essential nowadays? We guess, all of you will agree. There are countless file sharing apps and software available in the market. Zapya is one of them and you may have come across with it. Developed by DewMobile, Inc. this app can be used for multiple data transfer. However, with the help of this article, we are going to introduce you the best Zapya alternative which will help you sharing the data among Android, iOS, Windows Phone and computers. Well, there are 2 alternatives we have come up with. So, if you are bored using Zapya or if there's some issue using it, check out these amazing alternatives to Zapya file transfer app.
Zapya Alternative 1: 1 Click Transfer Data - Phone Transfer
The first in the list of Zapya alternatives is MobileTrans (Windows). This is a safe, smart and quick file sharing tool and fully takes care of any malware intrusion while performing. The beauty of this software is it makes easy for every OS user to transfer data. Putting it simply, the tool can support different phone like Android, iOS, Symbian or Blackberry which helps the users to transport their data easily with few simple clicks. In addition, it performs exceptionally fast that makes it an ideal software for those who want everything done quickly. It embraces a lot of more features which we are going to discuss now. Moreover, we will provide you the step guide on how you can use this Zapya file transfer app's alternative to transfer between two phones.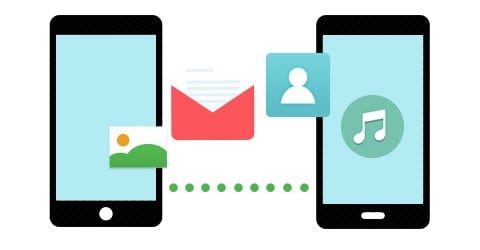 The tool is fully risk-free and has a free trial version to benefit users.
Various data types are supported to transfer with this software like photos, contacts, SMS, videos, music, call logs and many more.
Supporting different phones such as Android, iOS etc. is the best thing about dr.fone - Phone Transfer.
Along with being the best Zapya alternative as a file transfer tool,

dr.fone -

Phone Transfer can also be used to backup and restore data with just one click.
It allows retrieving the data to your device easily.
With this tool, the users also become able to retrieve data from iCloud backup.
Also, this software helps in transferring data from iTunes to your phone.
How to Transfer Data using
dr.fone -

Phone Transfer

We are taking Android and iPhone as an example where Android device will be the source device and the target one would be iPhone.

Step 1. Install the Program

Firstly, dr.fone - Phone Transfer from the Free Download buttons. Then launch it and proceed to choose one solution from the main screen. There would be three different panels. You need to click on "Phone to Phone Transfer".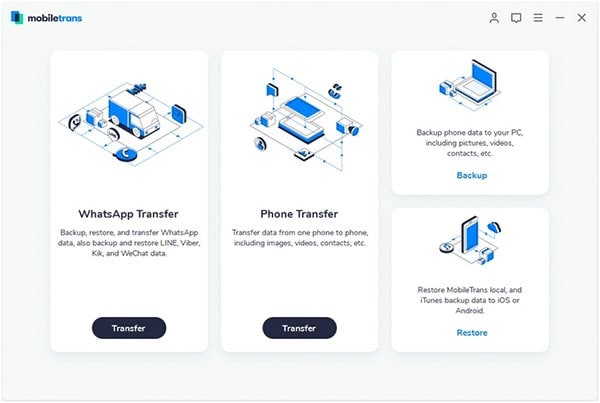 Step 2: Connect Devices to PC
Now, take your iPhone and Android phone and connect them to computer using respective USB cables. On successful connection, your Android device will be scanned deeply.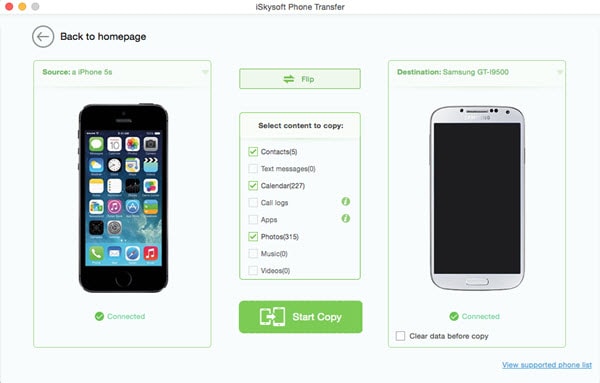 Step 3: Transfer Data
Your file types will be on the screen in a list form. Just select which file you want to transfer. After this, click on "Start Copy" and your data will be transferred quickly with this Zapya file transfer alternative.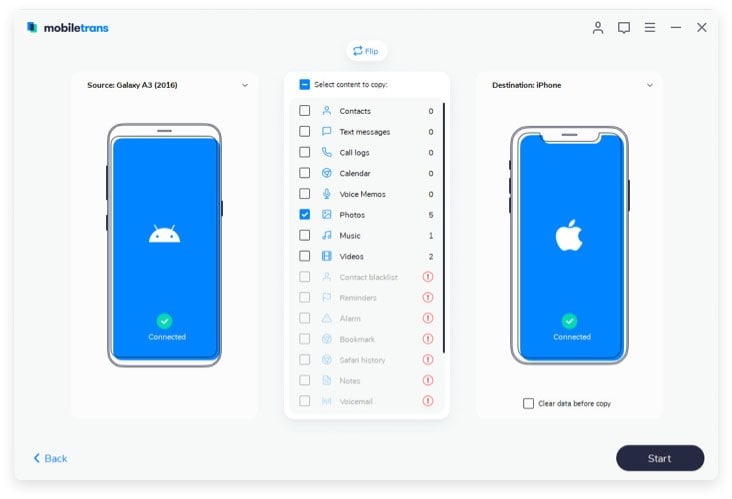 Zapya Alternative 2: All-in-one Phone Transfer Tool - dr.fone
Another Zapya alternative is also an innovation by Wondershare which is named as dr.fone for mac. This is the most intelligent tool among any other as a great quantity of features comes with it. Also, it is a true all-in-one phone manager tool which lets the users to manage their data in plenty ways. The most interesting part is it is capable of making transfer between mobile devices and Mac/PC. So, this can be considered a superior Zapya alternative. Let us move to its features.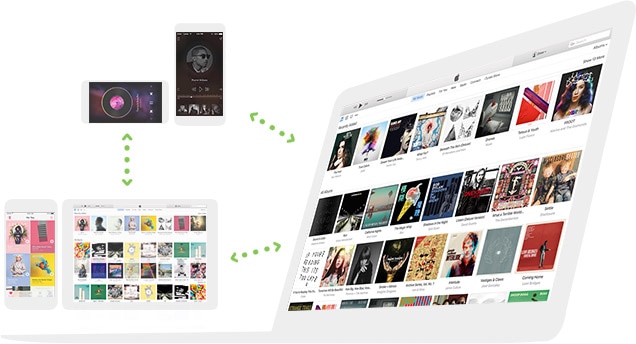 It is a tool which can be used for various purposes one of which is managing music. With the help of this, all the users will be able to manage music such as de-duplicating, adding or exporting of musin in a batch, editing playlists or more.
In the same way, dr.fone can help in managing videos, contacts and more.
This Zapya file transfer app alternative lets you to transfer music, contacts, photos and many more types of data.
You can root your Android device with this tool as well.
Plus, it can be used in rebuilding iTunes Library, transferring iTunes media to device, making backup of the data.
Another interesting thing is it allows the users to create personalized GIFs with this amazing tool.
With this tool, the data can be transfer from iTunes to iOS device/Android device and vice versa, computer to iOS/Android devices and vice versa and iOS to Android or Android to iOS devices.
Transfer data via dr.fone – Best Alternative to Zapya file transfer sharing application
Here is the detailed step by step tutorial to use dr.fone, the best known alternative to Zapya file transfer sharing application, to help you transfer your data from Phone to computer (and vice versa) in the hassle free way.
Step 1: Run the dr.fone tool after installing it on your PC and connect your iPhone to it.
Step 2: Transfer data from phone to computer
To transfer music (for example) from phone to computer, please click the "Music" tab from the top menus. Then the software will detect and show the music on your phone. Now you can select the music than you want to transfer to computer and click "Export" >> "Export to PC".
Similarly, you can export videos, photos, contacts, messages and more from iPhone or Android phones to computer!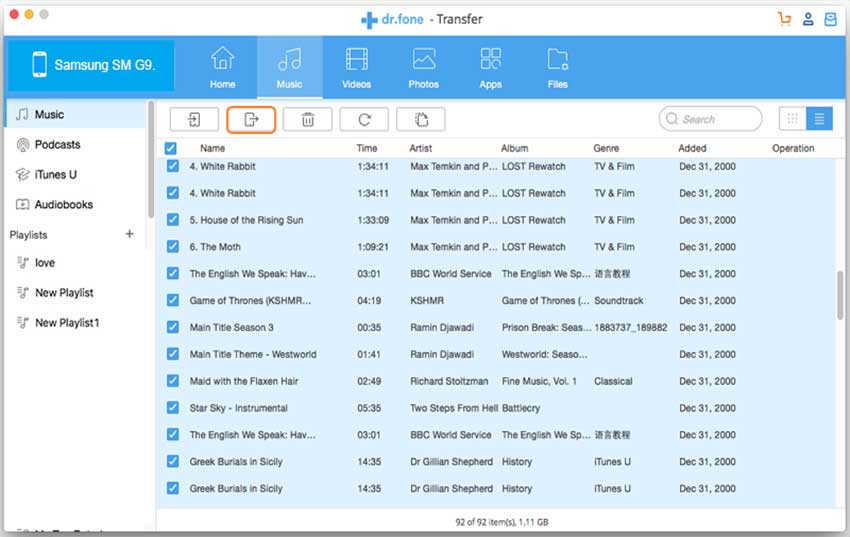 Step 2: Transfer data from computer to phone
If you want to transfer files from computer to your phone, also go for the "Music" tab. Click the "Add" from the submenus. Then choose the music on your computer that you want to trasnfer to your phone. That's it!
Similarly, you can add videos, photos, contacts, messages, apps and more from computer to iPhone or Android phones! Just download and try!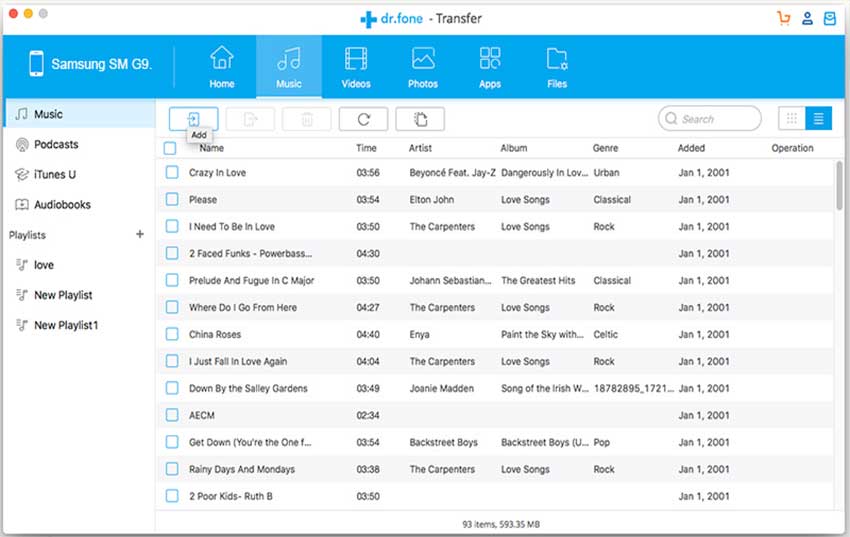 Via such simple and effective method of dr.fone, the recommended alternative to Zapya file transfer sharing software, you can avoid the hassles of compatibility issues or connectivity related issues you may, unfortunately, experience with Zapya file transfer sharing software while transferring data from iPhone to iPhone.