The process to switch the system for text messages from iPhone to Mac isn't that complicated. To know how to get text messages on Mac, refer to this article for two simple and quick methods to do so.
Method 1: Using the Text Messages Forwarding Feature on iPhone
When iMessage is unavailable on your phone, and then to receive simple text messages or SMS on your Mac device, turn on the Text Message Forwarding setting in your iPhone. If you are syncing your iMessages with your Mac, then you might have to carry out some steps before you do anything on your phone. Launch messages on your Mac, and sign in using your Apple ID and password. Then, click on the messages option in the menu bar, select Preferences> Accounts> iMessages, and then add your Apple ID and password.
Step 1. Open settings in your iPhone.
Step 2. Swipe downwards and select the message option.
Step 3. Then tap on the text message forwarding option. Further settings will open up.
Step 4. Then toggle the option green if it is not.
Step 5. You are now ready to send and receive messages in your Mac device.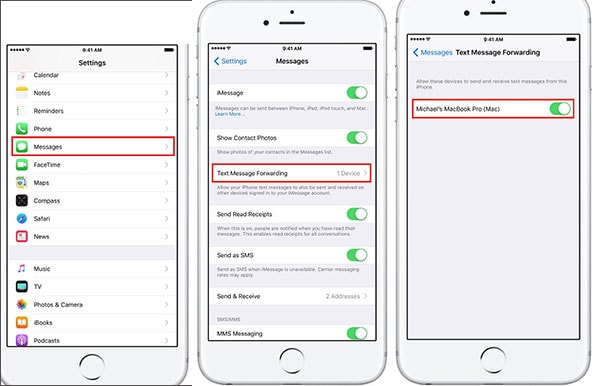 ---
Method 2: Simplest Way to Get Messages from iPhone to Mac
iSkysoft Phone Transfer is another tool that can be used to transfer any kind of data from iPhone to Mac. It provides an efficient sharing environment for the customers. The main features of the iSkysoft Phone Transfer include:
• The iSkysoft Phone Transfer offers a full-scale data transfer from one device to another. The data can be anything, photos, videos, music files, documents, messages, contacts, etc.
• It provides an anytime and anywhere backup option so that you can store your phone's data in some other device without loss.
• It supports all the operating systems, i.e. Android, iOS, Blackberry, Symbian, Mac and Windows. If you stored the data from one device to another then, you can also retrieve the data from that device.
[Guide] 3 Steps to Get iPhone Messages on Mac with iSkysoft Toolbox
You might have to download the iSkysoft Phone Transfer on your Mac. After you download the program file, drag it to the Application icon on your Mac to transfer it there. Now, you simply launch the program by double click on the icon. Before connecting any phone to the Mac, you have to authorize it first to further allow the access.
Step 1: Open the iSkysoft Phone transfer on your Mac, and connect your iPhone to it. You will be able to see the device information. Select the Backup option on the bottom of the screen.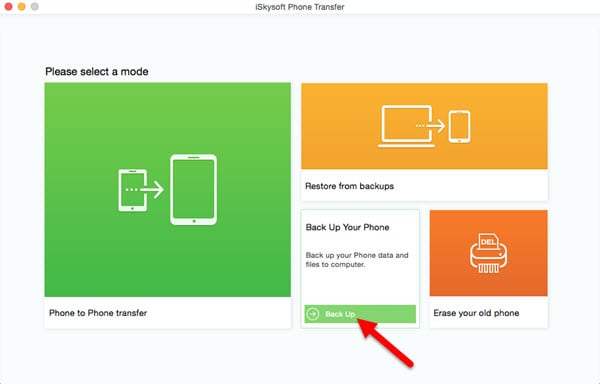 Step 2: In the next window, select the Text Message option from the various data types. You can select multiple files and folder for transfer. Then click on the Start Copy option and it will start the process.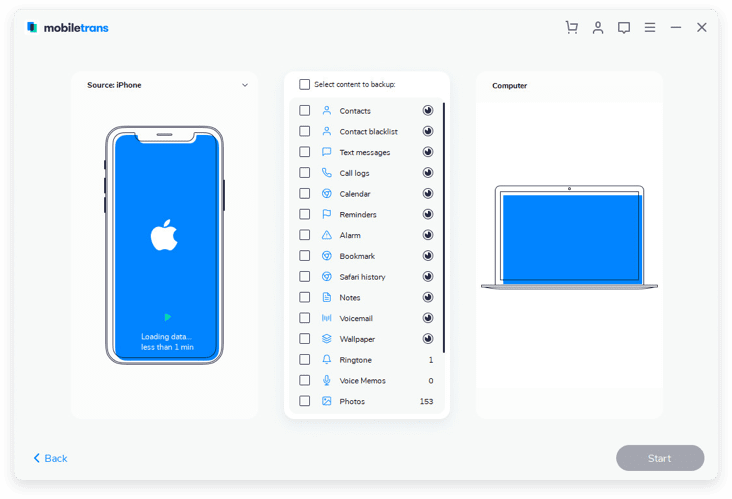 Step 3: After the process is complete, you will get your iPhone messages on your Mac.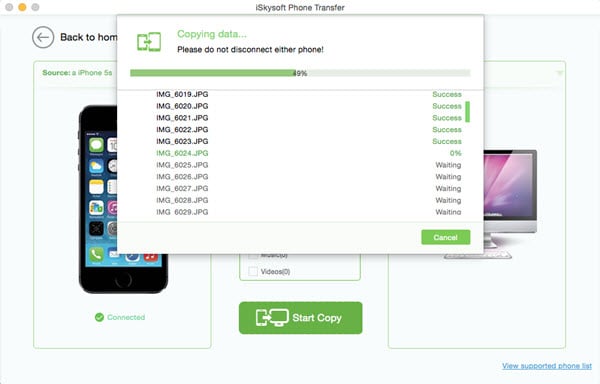 So, now you know two ways that let tells you how to get text messages on Mac. Both of ways are effective and quick and will surely let you receive and send your text messages via Mac.
If you have any queries regarding the topic, or you feel that there are some points that can be added to the above-mentioned method of backup up text messages, please feel free to leave comments in the below section.