Many of us would like to store data on their iPhone. There might be time that you want to share your photos, music, videos or other files with your friends who own iPhone. Or you might switch from an old iPhone to a new iPhone, and search for a way to transfer all the data to the new phone. If so, you will be lucky to fins this guide that help you to connect iPhone to iPhone for sharing files easily.
Technology is changing everything and making everything easier for us, however, it's important to stay abreast of how to use it, and how to allow it to help our lives progress. Also, when you are choosing to upgrade from one iPhone to another iPhone, it's important to transfer your data or files between the two iPhones. Phone Transfer makes it easier to transfer and save files from iPhone to iPhone, these files
How to Connect iPhone to iPhone for Sharing Files Easily
MobileTrans for Mac (or MobileTrans for Windows) software is an excellent method for transferring iPhone to iPhone data for your multimedia, personal, and business needs. This software is currently used by more than 3000000 users world wide. It was created in order to provide solutions for easy data transfer, including contacts, messages, photos, music, videos, calendar, etc., and just to help make the digital marketplace more accessible and easier to use. It is also a great way to backup or restore your iPhone data.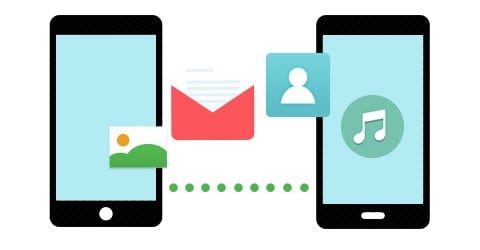 The Key Features of Phone Transfer
One click to transfer various data of contacts, messages, photos, music, videos, calendar, etc from one iPhone to another iPhone.
Allow you to transfer data between iPhone, Android, Blackberry and other devices.
You can backup to your Mac or Windows PC to secure the data.
It lets you to restore data from iTunes or iCloud backup.
How to Connect iPhone to iPhone for Sharing Files with Phone Transfer
Step 1: Download and run the software
Firstly, to share files between two iPhones, you need to download the phone transfer software. Then run it on your computer.
Step 2: Connect the two iPhones via USB data cable
Next, go to the the main page and select "Phone to Phone transfer" mode. Then connect the two iPhones to your computer via data cable. On the interface you will see your phones and the data source of the data transferring phone on the interface.