Anyone who has used an iPhone (iPhone 8) will find themselves in a new Android world are bound to encounter some challenges and struggle through some teething problems. These two mobile devices functions and features are different from each other. An initial challenge that you will encounter and have to deal with is the challenge of moving your contacts. This simple task can look very tricky and technical. However, this article will demystify this issue of phone data transfer and provide a practical and easy app and process that will help you to transfer your contacts from an iOS to Android phone.
How to Transfer Contacts from iOS to Android
MobileTrans for Mac (or MobileTrans for Windows) is a phone data transfer app for Windows or Mac makes it simple and easy to transfer all types of data; contacts, apps, text messages, photos, calendars, call logs and music with a single click. This app will also help you in phone data restoration. It easy and practical transfer data between over 3500 phones including Andoid, iOS (iOS 11), Symbian OS and Blackberry. This is the perfect app to use when you want to transfer data and info. Especially when the data transfer concerns your contacts.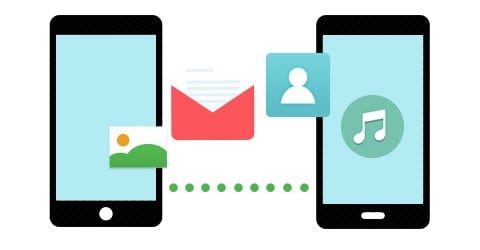 Key Features of Phone Transfer
Not only does this app help you in move data to one phone from another, but is also a backup tool that you can use to back up your phone data in Mac or PC.
You can also use this data to shear off any unnecessary from your phone.
Using this tool guarantees you that no phone contacts will be lost during the process of transferring or restoring.
The quality of the original data is retained to perfection.
This tool can support over 3500 phones and is compatible with all major global networks making it a ready tool to use anywhere in the world.
Steps for How to Transfer Contacts from iOS to Android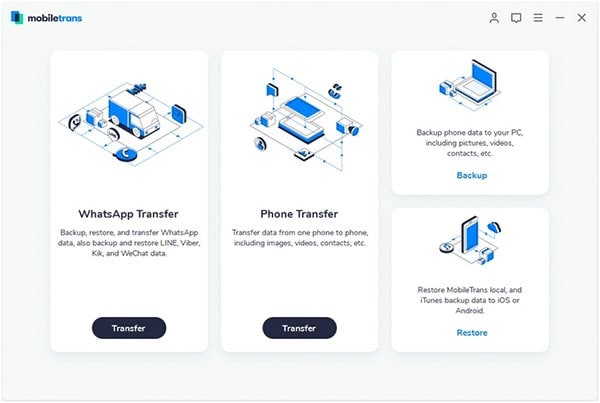 Step 1: Install and run the program
First, you will need to install the app to a Mac or Windows laptop or PC. Once you have installed the program, go to the data transfer window.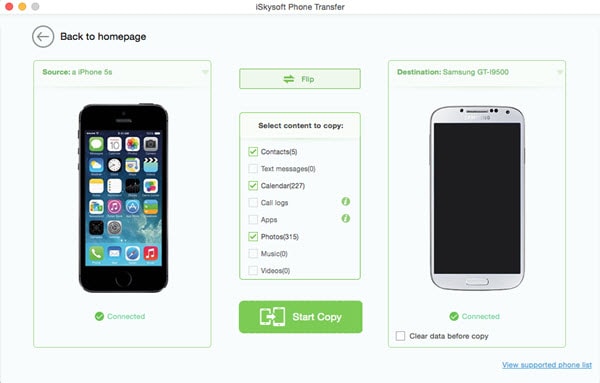 Step 2: Connect two devices and select the contact transfer option
Using a USB cable, connect the source phone (iOS 11) and the destination phone (Android) to the Mac or Windows laptop or PC you are using. Kindly note that you have to choose the source and destination phone correctly in the program. The phone transfer program will present several transfers options available. Choose the 'Contacts' options in this case. Note that you if you wish to transfer any other type of data like call logs, text messages or photos, you will need to select them individually.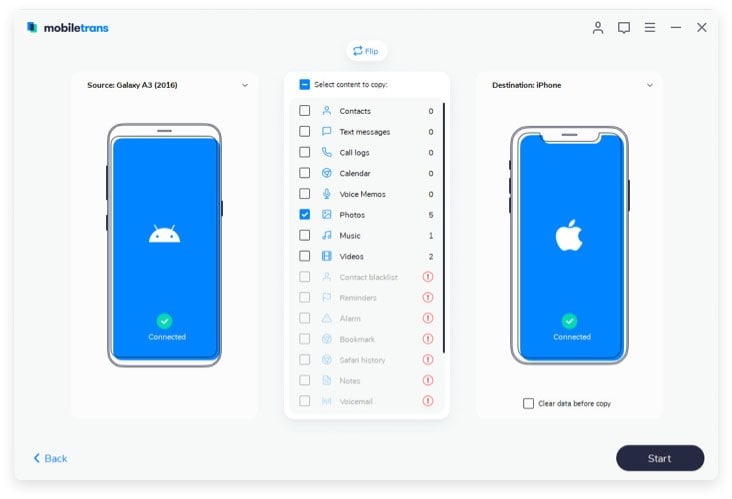 Step 3: Start the data transfer process
Click on the "Start Copy" button and the program will automatically start copying. When the process is complete, close the phone data transfer program and confirm that the contacts have been transferred to your Android phone and have been backed up on iCloud by log in to your iCloud.
This phone data transfer program is user friendly, practical and will provide within itself all what you need to transfer your phone data from an iOS to Android phone. Considering its applicability, availability and ease of use anywhere on earth and its comprehensive solution for phone data transfer, this is clearly a 5 star app.