Loads of folks are excited to get the iPhone 8 and iPhone X and dying to break up with the old Windows or other phones to acquire the possession of the new iPhone. Although it's a break up but this will indeed never hurt. Agree? On the other hand, a little thing can perhaps bother you and that is the question of transferring data from Windows phone to iPhone 8 or iPhone X. We've come here for all those who are in the same situation and need a little guidance on this. While reading this article, you'll be learning 3 ways by which you can execute this process. Focus on the next section now.
Part 1: One Click to Transfer Data from Windows to iPhone 8 or iPhone X
The best and most effective way to transfer different kinds of files from Windows phone to iPhone 8/iPhone X is using a powerful and high-quality third party tool which is MobileTrans for Mac / for Windows. It holds a great success rate, impressive features, and a great response from users as well. Not just this, the tool thinks for the customers' convenience and provides them a free trial to make them satisfy.
It's a must have tool since the quality doesn't compromise using this tool.
With this tool, you are also going to have a facility of backup and restore your important data.
It can easily transfer between Symbian, Windows, iOS or Android devices.
You will also be able to get the data from iCloud backup with the help of this tool.
There's a version available for Mac as well as Windows users with 30 day money return promise.
The software is perfectly clean and the service is amazingly fast.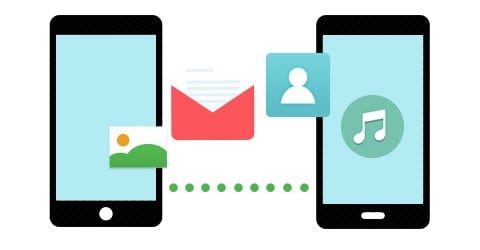 How to do data transfer from Windows phone to iPhone 8 using MobileTrans
Step 1 – Launch MobileTrans
Please ensure to download the tool using its official website and install it once downloaded. Next, open the tool and go to "Phone to Phone Transfer" option.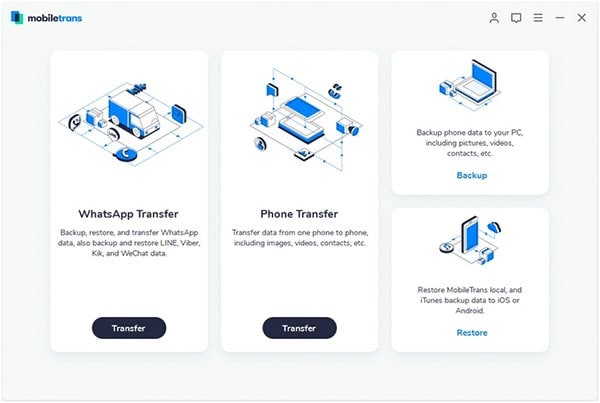 Step 2 – Make the Devices' Connection
Now, take your Windows phone and new iPhone and connect both of them with the computer. Let the tool detect both the devices and read the information stored in your Windows phone.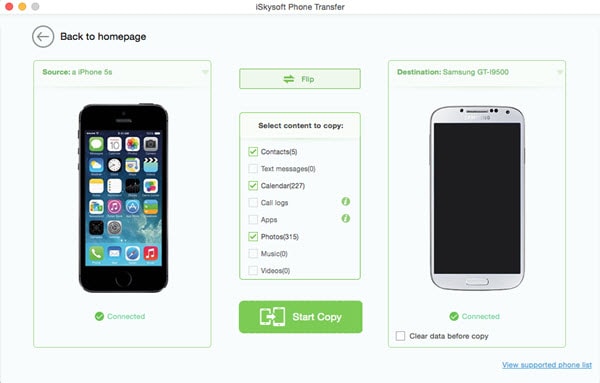 Step 3 – Let the data transfer from Windows phone to iPhone 8
All your data will present on the screen. You are required to select the content you need to transfer. Just click on "Start Copy" button now and your data will successfully start copying on the new phone.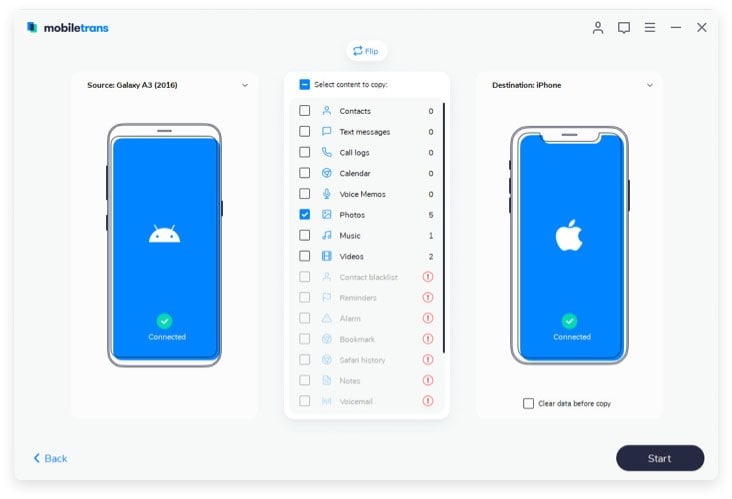 Part 2: Transfer Data from Windows Phone to iPhone 8 With Microsoft Account
You can transfer data from Windows phone to iPhone 8 with the help of Microsoft account also. This will positively transfer your contacts to the new iPhone. It's good if you have synced your contacts to Microsoft account for example, Outlook.com or Hotmail.com. But if you've not, we will describe the whole process of syncing and transferring. Let's begin.
Step 1 – Go to "People" app on your Windows phone and tap on the three horizontal dots at the bottom. From there, go to "Settings".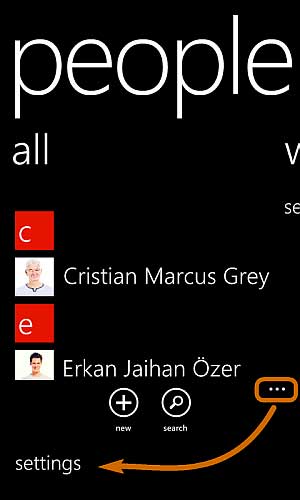 Step 2 – Tap "Accounts" and then "add an account". Tap "Microsoft account" and sign in by typing in your Hotmail or Outlook email address and password. Your contacts will sync automatically in Microsoft account.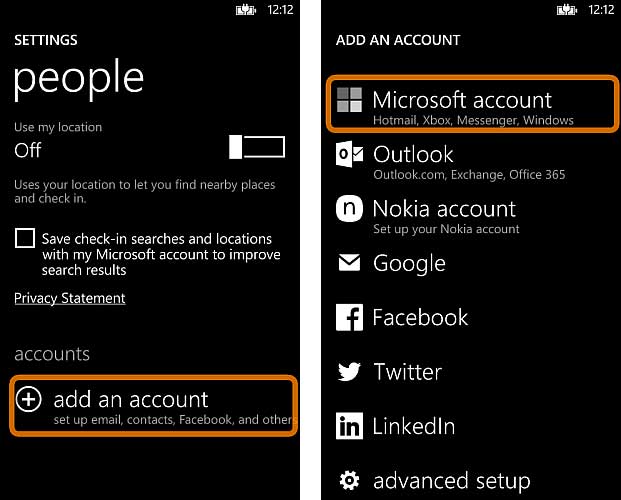 Step 3 – Now, take your iPhone 8 and go to "Settings" > "Mail, Contacts, Calendars" > "Add Account" and choose "Outlook.com".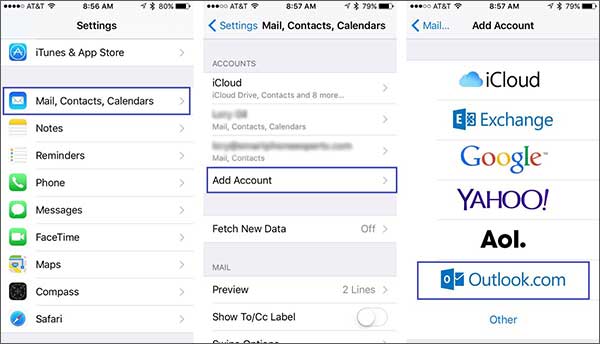 Part 3: Transfer Data from Windows Phone to iPhone 8 With OneDrive
OneDrive is a Microsoft's app that can also help to transfer data from Windows phone to iPhone 8. This app is compatible with Windows, iOS and Android devices. The steps for transferring data are below.
Step 1 – Launch OneDrive and tick the box next to each item you want to save in it. Select "OK" now.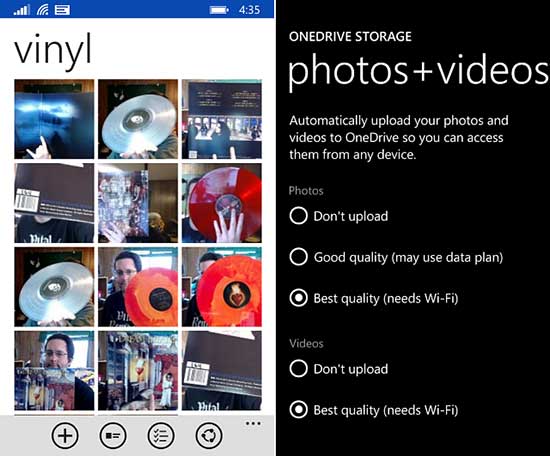 Step 2 – Select the quality to upload and all your files/documents will be backed up to OneDrive now. Next, you need to install it on your iPhone now to retrieve the files back.
Step 3 – Go to "App Store" on your new iPhone and hit "Search". Type "OneDrive" and hit "Search" again.
Step 4 – Touch on "Get and Install" now and open the app.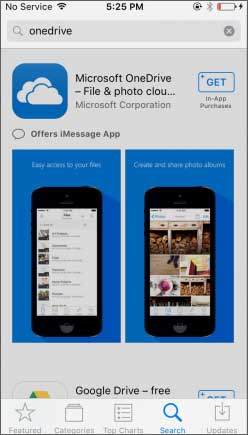 Step 5 – Proceed by entering the Microsoft account ID and then hit "Go". Enter password and hit "Sign in". Click on "OK"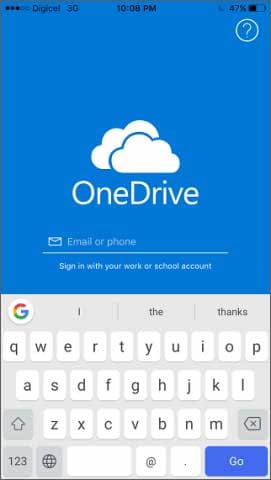 Step 6 – All your files and folders which were saved in OneDrive in the steps earlier will now appear on your app screen. Tap on any folder to open it and then tap on any file to preview it.
Part 4: Comparison Among the 3 Methods
| | MobileTrans | Microsoft Account | OneDrive |
| --- | --- | --- | --- |
| Types of files supported | Almost all data types like contacts, photos, videos, music, call logs, SMS, apps etc. | Contacts, photos, videos, music, calendars and documents. | Photos, videos, contacts, voice memos, notes, music, apps (apk file) and documents. |
| Internet connection | Not needed | Internet connection required | Internet connection required |
| Complexity | No difficulty in using, very easy to operate. | High complexity and requires much time. | Medium complexity and time consuming as well. |
| Backup Data Size | Unlimited | 25 GB Storage Limit | 5 GB Storage Limit |