Have you clicked an adorable photo and want to make it cuter? While clicking a selfie, do you wish for a more attractive photo or a photo with kawaii stickers? There are so many editing and sticker apps to choose from, but not everyone is the best kawaii photo editor. The best kawaii photo editor app must have the cutest stickers available for their users and of course, make them look cutest as possible. All you have to do with these apps in bend your head a little, smile and click the cutest picture you desire with lots of cute stickers. But many of these apps have a lot of problems to face. Some may not look perfect to you; some apps will feel too lighten up on you. So which app is the one for you? Will the app be able to fulfill all your cute requirements? No need to worry because here is the list of top 5 kawaii sticker photo editor which will make you unbelievably attractive.
These apps present you a lot of stickers to choose from and enjoy with. Some of the apps also let you send these awesome pics directly to your contacts and let them have their share of a laugh as well. The Filters of all these apps are downright excellent, and beautification provides more edge to the editing of these pics which not only lessen the extra work but also make you shine more. Just open your play store and download these apps to enjoy!
Part 1. Top 5 Kawaii Photo Editor with Cute Stickers
#1. Filmora Video Editor
Filmora Video Editor is the best kawaii photo editor. With this photo editor you can not only edit your photos and videos fabulously but you also add cute stickers and filters to your photos anytime you want to. It is absolutely free to use and can handled even by a novice. It is the best photo, slideshow and video editor that use incredible filters, effects and stickers to increase the cuteness and beauty factor of the image in no time. Its users love all of this Photo editor kawaii application and are the best option if you want to have an adorable selfie and want to beautify it a little, you can do so.
Pros:
There is an advanced mode which is customizable.
Can provide a lot of cute stickers with remarkable beauty effect.
You can also prepare the slideshow of your photos with royalty free music in the background.
Excellent user interface with impressive tools.
A not too girlish app which a lot of people complain, it has adorable stickers which can be used by both genders.
You can directly export it to your friend or contact after editing which makes it a lot more convenient.
The beautification tool is optional, and the images will not be beautified automatically which gives a higher hand to the user.
Cons: No cons observed so far.
---
#2. Snow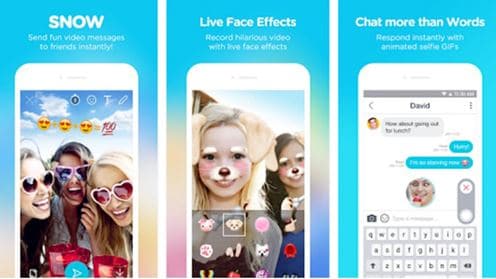 Snow is almost similar to snapchat but of course with a cuter sticker. There are a lot of filters in the kawaii photo editor app to choose from which can make you look adorable or attractive. There are tons kawaii stickers to choose from in this app which is not only cute but will make you look more beautiful. All of us are not born with a cute or kawaii face, so it's not a crime to install the app and enjoy being a little sweeter once in a while.
Pros:
It is very engaging and is fun to use.
Slims, beautify and lighten the face to make you look cuter.
You can also create videos with these cute stickers in the app.
Cons:
It drains the battery a lot.
Some people may find the filters too much beautifying.
It uses a lot of space on the phone.
Learn more >>
---
#3. Camera 360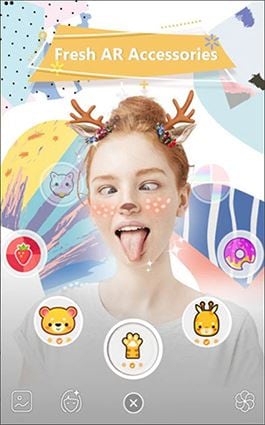 It is not as great as the kawaii photo editor in the matter of editing the pictures, but it offers a certain amount of facial stickers which have excellent face recognition technology. It gives animation type effect to the face which is very cute for its users. You just have to hold out your hand forward and pose; the impressive facial feature technology will do its job efficiently.
Pros:
Snapchat like awesome facial recognition.
It has beautiful filters with funny stickers.
It is not much girlish; boys can also have fun with this animated stickers.
Cons:
For some people, the stickers may seem too much cartoonish or childish.
There is an insufficient amount of filters to apply in this application.
There may be a lot of beautification option for your photos, but for videos, only specific filters will help you in face smoothening.
Learn more >>
---
#4. Cymera Editor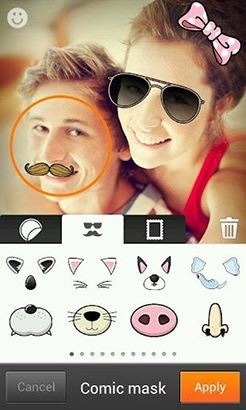 Cymera allows its users to have a sculpted jaw with extremely kawaii face and big anime eyes which make your cuteness to overload. You can quickly touch up your selfie pics, create memes and photo collages. It also has features like a facial blur, shadows, highlights and many other tools you can use.
Pros:
Right beautification tool and sticker tool which will make your blemishes go away in no time and also contour your face for modification.
The user can create collages and can buy more impressive filters from the store.
Cons:
Too many unusable tools and too much beautification which makes it more fake than cute for some people.
It may not be liked by the male users.
Learn more >>
---
#5. BeautyPlus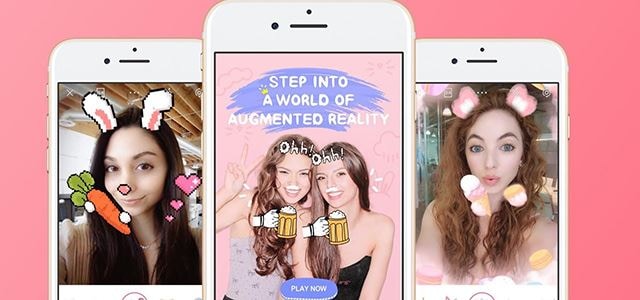 BeautyPlus is an old app which is very famous worldwide because of its real-time beautification tool. The kawaii stickers of this app are very interesting makes people love it.
Pros:
The photos are fantastic, and it can make regular pics look fantastic.
It can comfortably fit on stickers without any hassle due to great facial recognition.
Even after you have clicked a selfie, you can still edit it more which the touch-up tool and adjust the amount of touch which is required by you.
Cons:
Unlike the selfie camera, the video camera is not that great.
It focuses more on the beautification part even if the stickers are high in this kawaii photo editor app.
Mostly girls use it as the stickers and filters appear more lass like.
Learn more >>