You've snapped a photo but even after adjusting the lighting, location and even the device's orientation, you still don't like what it looks like. The good news is you can fix the photo with a photo editor. Most Android photo editing apps come with numerous features that can allow you to alter the photo anyway you want. In this article we take a look at some of the best photo editor for Android phones and tablets.
Part 1. Top 5 Best Photo Editor for Android Phones and Tablets
#1. Photoshop Express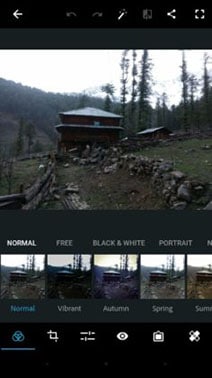 Photoshop Express is a photo editor for Android that created by the king of photo editing Adobe Photoshop Express doesn't disappoint in the features department. Like its parent desktop app, this Android app comes with powerful photo editing features including the ability to crop, rotate, straighten and even flip photos. The best Android photo editor also has filters, effects, the ability to add frames and colors among other great features. It minimalistic design makes it one of the easiest advanced photo editing tools to use.
Pros:
It comes with an Image Rendering Engine that can be used to edit large panoramic photos.
It has a minimalist design that makes it very easy to use.
It is free to download and also ad-free.
Allows you to share photos via Facebook and Twitter.
Cons:
It lacks some of the more advanced features you will find with the Adobe Photoshop desktop app.
Despite the fact that it has fewer features, there is a learning curve especially for the beginner user.
---
#2. PicsArt Photo Studio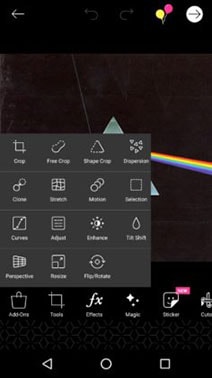 With well over 100 million downloads, this Android photo editor surpasses Photoshop Express as one of the best photo editing Apps for Android. One of the main reasons why it is so popular is because of its numerous editing options. It is in fact one of the most feature-rich photo editing apps out there with more ways to customize your photo than any other app. It also comes with a built-in camera that can make it easy for uses to share photos on social media.
Pros:
Has lots of editing options including the ability to collage, draw, add a frame to an existing photo and even add stickers.
It is free to download.
The built-in camera means that you can take a photo right on the app and begin editing almost immediately.
Cons:
There are some in-app purchases if you want more advanced editing features.
The app does come with quite a few ads.
It lacks more advanced features that can help you comprehensively edit your photos.
---
#3. Aviary Photo Editor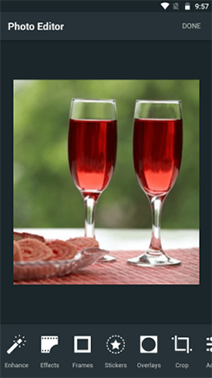 Aviary Photo Editor is one of the best photo editor App for Android by Adobe. This one like its many cousins is designed by the best and therefore can offer users the best in terms of features. Aviary photo editor has an incredible user-interface that not just makes it easy to use but also quite enjoyable. It is one of those photo editing apps that makes it easy for you to get lost in the world of design. And the features will turn your photo into a work of art, thanks to its numerous features that include the ability to crop, filer and adjust the color on the photo. It also comes with more advanced features like the ability to tweak vignette, focus and lighting.
Pros:
It simple user interface makes it very easy to use even for the beginner.
It is offers a lot of functionality and more advanced features as compared to other photo-editors of its kind.
Downloading the app is free.
Cons:
It does come with some in-app purchases.
Some features are a lot more advanced and may take some getting used to.
It has ads and some advanced features can't be accessed for free.
---
#4. Snapseed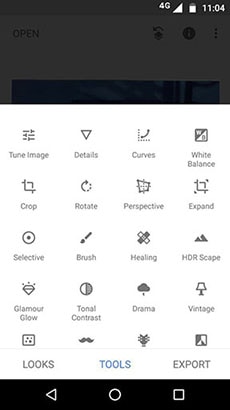 If you are looking for a free, easy to use and ad-free photo editor for Android, Snapseed is one of the most reliable ones. Its user-interface seamlessly integrates ease-of-use and functionality to make it one of the best photo editor apps in the business. It offers a variety of tools to edit your photo including the basic crop, resize and rotate tools as well as a number of other more advanced tools. It also makes it very easy for you to export, share or save the photo once the photo is fully edited.
Pros:
It is easy to use yet with more advanced features that provide a comprehensive photo editing experience.
It is free to download and use and also ad-free.
You can use it to export photos or share them after editing.
Cons:
Its 28 photo editing tools can be overwhelming at first although the easy to use interface makes it easy to learn.
---
#5. AirBrush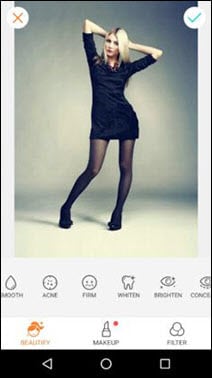 If you are looking for a way to comprehensively edit your photos, AirBrush offers a great tool. It comes packed with features you would likely find on a desktop photo editing tool packed into an easy to use Android app. To begin with, it offers the basics of photo editing including the ability to crop, filter and color editing as well as more advanced tools like blemish and pimple remover, body slimmer and eyes and teeth whitener. Once done, you can easily share the app to social networking sites quite easily.
Pros:
It is available to download and use for free.
It has a built-in camera, allowing users to take photos right on the app and then begin editing immediately.
It comes with more advanced editing tools like artistic retouching features and radiant features.
Cons:
It has in-app purchases and contains ads.
Its more advanced features can be difficult to use at first.
---
Part 2. The Best Desktop Photo Editor to Edit Android Photos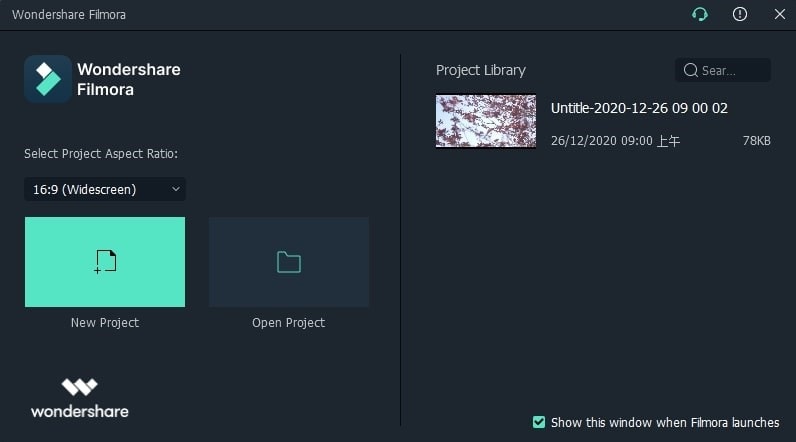 While the Android editing apps above can be used for basic editing like cropping and color editing, they still lack the more advanced features you will find on a desktop editing tool. But just like you have to find the best photo editing app, you can't just use any photo editing software. Filmora Video Editor is one of the best tools you can use to edit your photos and videos. It is easy to use and quite reliable and comes packed with features to help you fully edit photos and videos. The following are just some of these features.
You get the option to enhance any image by applying one or more of the many features, transitions, overlays and more.
You can trim to delete unwanted parts of a video or image.
You can also use it to adjust the brightness of a video or photo.
It also has features to allow you to edit the audio on a video, including the ability to Trim, Split, Voiceover, edit the Pitch and Equalizer.
It also has more advanced features that include the ability to split a video based on the scenes or even stabilize a shaky video.
You can easily import a video directly from your Android device.
With Filmora, you can also make a movie out of all the photos on your Android device. After editing the photos to get them looking as good as you want then to, you can then add duration and combine them to make a movie. Try Filmora free trial today to have a comfortable and easy way to edit both images and videos.