The cameras on most Samsung phones have gotten a number of upgrades over the years. This has created a need for photo editing apps to further improve the images these cameras take. The numbers of photo editing apps that you can use to edit photos on your Samsung phones is mind-boggling so much so that it would be impossible to go through each one of them trying to find the one that suits your needs.
Fortunately for you, you don't have to test every photo editor out there. We've done that for you and the following top 5 Samsung Photo Editors are the best of the best.
Top 5 Samsung Photo Editor
#1. Filmora Video Editor
You may find the Samsung photo editor on the Google Play Store easily. And Filmora provides a unique way for you to edit both your Samsung photos and videos. Once installed on your computer, all you have to do is import the photos on your device into Filmora and then select from the wide range of editing tools to enhance the image. You can choose to crop, trim, PIP or even apply filters to the image to edit it.
For videos, Filmora provides an even larger selection of editing tools including the ability to cut or trim a video, to join a few videos to create one video or even edit the video's audio. The program is also quite easy to use even for the beginner and comes with different modes of operation that are designed to cater to different levels of users.
Pros:
It has a pleasing user interface that guarantees a smooth experience even for the beginner.
It has a wide range of tools to help you easily enhance or edit the image on you device.
You can easily export the image or video from your Samsung device to the program.
Cons: No cons observed so far.
---
#2. AirBrush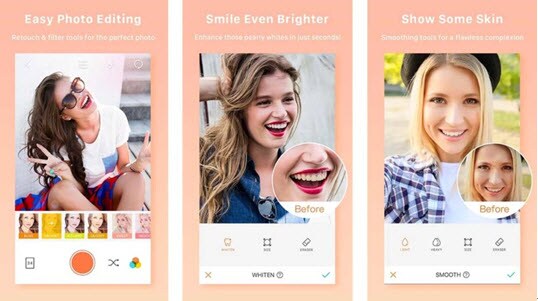 This photo editor is primarily useful to those who are in the habit of taking a lot of selfies. It has features that are meant to quickly remove imperfections in a photo and has features and tools that include blemish remover, teeth whitener, reshaping tools and tools to make eyes look brighter. It is one the easiest Samsung Photo editors to use although it doesn't have a high rating on the Google Play store.
Pros:
It is Ideal for airbrushing selfies by removing imperfections like blemishes.
It is very easy to use; all features and tools are easily accessible the minute you open the app.
It is free to use.
Cons:
Some features may be unavailable on the free version.
It lacks some of the more advanced photo editing tools like cropping and filters.
Learn more >>
---
#3. Bonfire Photo Editor Pro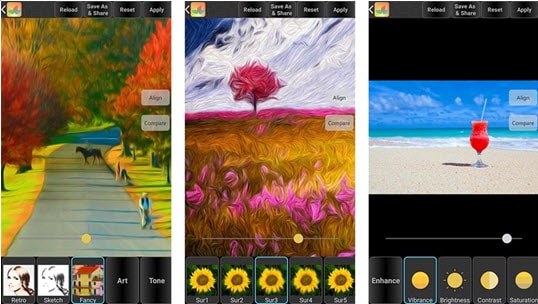 It is one of the most popular Samsung photo editors that you can use for editing photos on your Samsung device. The main reason why it is so popular has a lot to do with the many different types of filters it supports. Among the many you'll find, include HDR, black and white filters and many others. It also comes with the best of basic editing features that allow users to make small changes to photos including adjusting the alignment or even cropping. The pro version of the app comes with even more filters and editing options.
Pros:
The free version comes with a lot of editing options.
It has a lot of filters to choose from most of them unique to the app.
It is free to use and even comes with blemish removal and skin smoothing tools.
Cons:
It still lacks some of the advanced features that you can only find on a desktop app.
Some of the more advanced features it offers can cost you up to $9.99.
Learn more >>
---
#4. Cupslice Photo Editor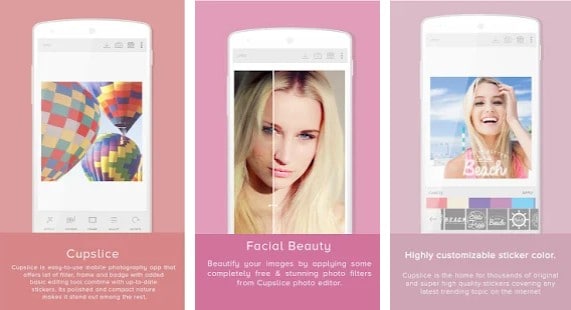 If you want more than just filters on the Samsung photo editor app you use to edit Samsung photos, Cupslice will give you filters and more. It includes some of the more basic editing options including crop, frames, saturation and hue adjustment, contrast and brightness settings and even black and white. All of these tools are on top of the many filters you can choose from. But this app can be a little bit difficult to use especially for the beginner since it is a little bit complex.
Pros:
It is free to use.
It has a wide range of photo editing tools and features as well as a wide selection of filters to choose from.
The filters on this app can be customized to get them just the way you want, enabling you to be as creative as you want to be when editing the photo.
Cons:
This app has been known to be a little buggy sometimes.
It can also be quite complex making it quite difficult to use, especially for the beginner.
It lacks more advanced features you can only find on desktop apps.
Learn more >>
---
#5. LightX Photo Editor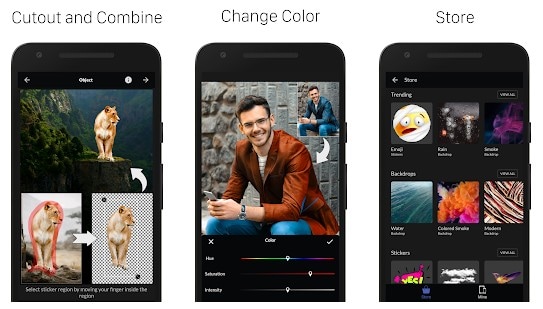 This app is new to the Samsung photo editor but already has gained quite the following. Unlike moat photo editing apps that focus more on filters and light editing, LightX has quite a few features that are more likely to be found on a desktop photo editor. For instance, you it has a background changer tool, slider tools that can be used to enhance a number of options including color balance, curve and levels. It can also be used for more advanced editing functions like merging photos together, removing blur and even creating collages.
Pros:
The free version of the app offers a wide range of advanced photo editing tools.
It also has stickers that can be added to the photos.
It is very easy to use and has great reviews.
Cons:
You may have to purchase the pro version to gain access to some of the more advanced features.
Because it is new, some features like stickers are still in beta-mode.
Learn more >>