After a long journey or an amazing party, there must be lots of photos on your iPhone (iPhone 6 included), and sometimes you wanna print some for sharing or something else. And this article is all about how to print iPhone photos in details:
How to Print Multiple iPhone Photos in a Single Page
To print multiple iPhone images in one page, you are in need of an application like PhotoPrint LT (free). This app enables you to print multiple pictures on your iPhone on a single page in a specific paper size.
Pros:
You are provided all common photo size to choose for printing.
You can choose multiple photos in your photo library to print in one page.
You are able to customize the background color of the printing page
You can save the photo page as a PDF file or send to your friend for sharing via E-mail.
Cons:
You can only print photos in your photo library.
You are limited to print three pages in total with your iPhone photos.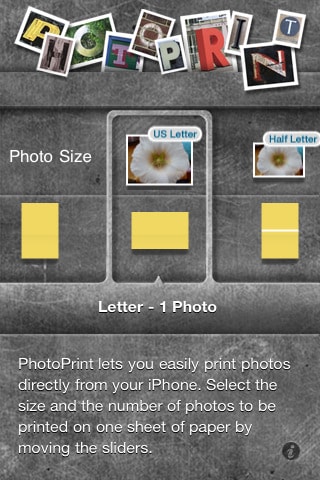 How to Print Several iPhone Photos in a Single Page
To print your iPhone photos, you need: Enable AirPrint, an AirPrint ready printer.
Enable AirPrint on your iPhone.
Open PhotoPrint on iPhone.
Choose photos and customize them in one page.
Set the background color.
Get the printer ready via AirPrint.
Print the photo page on your iPhone on the printer.
That's all.