Newly received an iPhone 6 as gift or just purchased an iPhone? Here are some tips for you to transfer contents like movies, music, apps, TV shows, notes and more from your iPhone 6 to computer or from computer to iPhone.
Part 1. Transfer Movies and Music from Mac to iPhone (iOS 8 Included)
iPhone can't be used as an external hard drive once connected to your computer. In order to add your local movies or songs to your iPhone, things you need to do:
Step 1: Make sure the file formats are compatible with iPhone. iPhone only accepts videos in MOV, MP4, M4V and some kind of AVI, music in MP3, AAC, AIFF, WAV etc. If not, convert your files to the compatible format first.
Step 2: Make sure the media file is encrypted or not. If your media files are purchased by yourself from iTunes or shared by others and have been authorized, go to step 3; if not, make it DRM free first.
Step 3:
Sync items from your computer to the iPhone. Take transferring Mac videos to iPhone for example:
Via iTunes: launch iTunes -> connect iPhone to your Mac -> click on Movies -> drag any movie(s) in the iTunes library to your iPhone's name in the left sidebar of the iTunes.
Via iCloud: If you have other iOS devices running iOS 8 and have iCloud backups, you can log in iCloud on your new iPhone (go to Setting -> iCloud -> Enter your Apple ID info -> then you will get a iCloud terms doc, agree it) and restore the iCloud backup on the device.
Via TunesOver: download and install TunesOver -> connect your iPhone to Mac -> click the "Add" button to find the movies on your Mac or iTunes library to import them to your iPhone. This Mac app is available for transferring your iPhone contents back to Mac.
Part 2. Transfer Movies, Music, Photos from iPhone to Mac (Yosemite Included)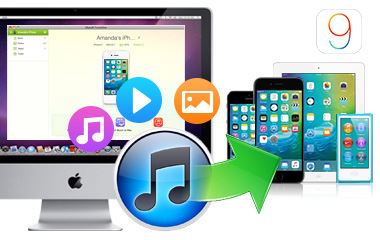 iTunes is not available here because it's a one-way street in transferring. So as to back up your iPhone items to your computer, you can transfer files to Mac OS X Lion via iCloud. To do so, you can back up your iPhone contents to iCloud on your device, then open your Mac to restore contacts, iCal calendars, safari bookmarks and more.
While here I suggest you the most powerful way to transfer iPhone items to your Mac via TunesOver:
2 Simple Steps of iPhone Transfer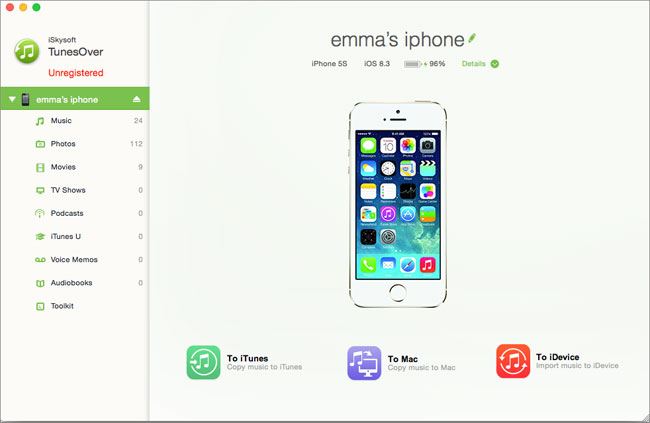 Step 1: Connect iPhone to Mac
Launch the TunesOver and plug your iPhone to Mac. This program will start scanning your iPhone and show your device information on the main interface.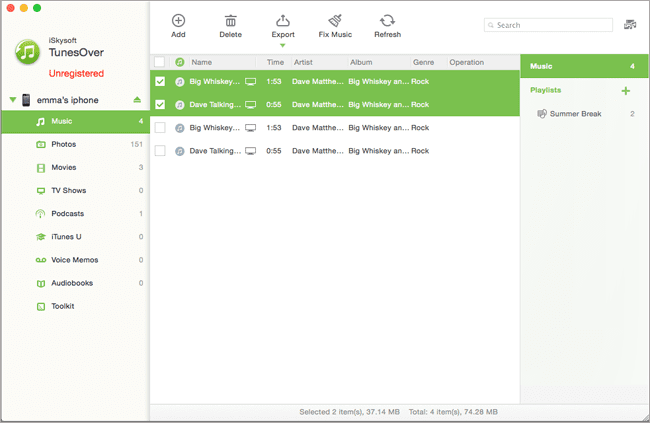 Step 2: Start iPhone Transfer
Now go to the "Music" tab or "Movies" tab and select the items you want. Then click the "Export" button on top of the primary window to start transferring. Detailed info: User Guide of TunesOver for Mac.
Part 3 Transfer photos from iPhone to Mac or from Mac to iPhone
If you have some photos you wanna add to your new iPhone 6 Plus, iPhone 6, iPhone 5s, iPhone 5c, iPhone 5, iPhone 4s or iPhone 4, you can also use iTunes, iPhoto, iCloud and TunesOver to achieve it:
Via iTunes: open iTunes -> connect iPhone to Mac -> click iPhone's name in the left sidebar of the iTunes -> click on Photos -> tick Sync Photos from and specify the very folder where your original photos are located.
Via TunesOver: same as transferring music, movies from Mac to iPhone 6 above.
Via iPhoto: To transfer photos from iPhone to Mac, you can use iPhoto. It can help you to transfer photos shot by your iPhone, saved in Safari or Mail or use TunesOver to transfer all kinds of iPhone photos to your Mac. Detailed info: transfer iPhone photos to Mac
Via iCloud: You can also use iCloud to backup images from your iPhone and then go to your Mac OS X (Yosemite 10.10 included) to restore the photos.
If you used to use a featured phone, an Android phone or an old iPhone, you can also go to Move to iPhone 4S for more info.