Finding the right productivity software can be problematic, for Macs there is a seemingly endless choice for any task you may want to perform and your accounting and financial needs are no different. Here we will look at the best financial and accounting software for mac available for keeping track of your finances.
Part 1. The 5 Best Accounting and Financial Apps for Mac
#1. QuickBooks for Mac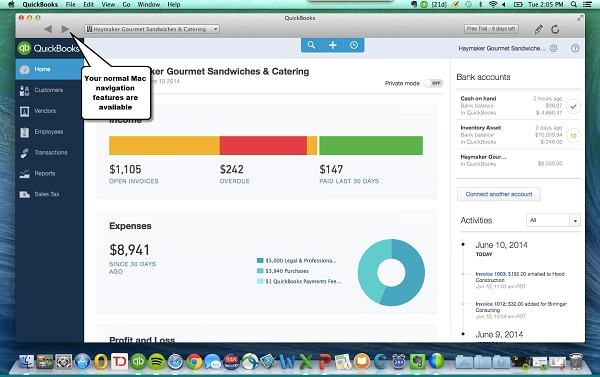 Perhaps the most recognized name in the business, Intuit QuickBooks has everything you could need to keep your business accounts organized on your Mac. It is presented in a simple to understand interface and offers invoice creation and sales tracking, and for freelancers has built in time billing facilities and you can even tie expenses to individual jobs to keep all project costs organized. With integration into iCal and your address book and other contacts it fits into the OS X ecosystem seamlessly allowing you to enjoy the comprehensive feature set and the benefits of the Mac environment simultaneously.
#2. iFinance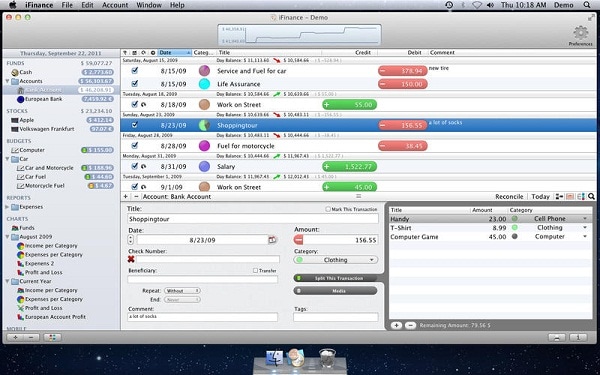 A wonderful personal finance package that has a wealth of features, but notably excels in two areas, transaction tracking and stock reporting. Transaction reporting is particularly comprehensive and includes the ability to track all kinds of expenditure including recurring and transfers, reports for all transactions and even attach media files to those transactions, so you can attach a picture of an object with the transaction details, great for insurance purposes. Also found are some great budgeting tools, you can set the period to weekly, monthly, quarterly or annual. It includes limited integration with certain online banking systems and also includes a mobile app that syncs with the many software and allows you to add transactions wherever you are. The final stand out feature is the investment tracking, it can load stock prices daily and create charts to instantly see the current value of any included investments, presenting a great solution for keeping a clear idea of the state of your investments.
#3. Moneydance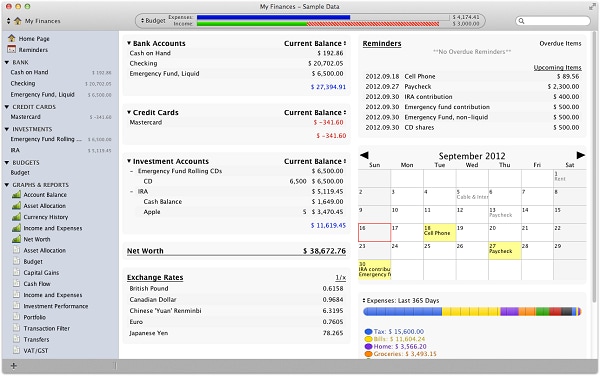 Moneydance has a comprehensive feature set and has the ability to connect directly to hundreds of different financial institutions to let you make the very most of your online banking facilities, and allows you to create reports and keep track with a level of automation that other packages cannot match. There are mobile apps to accompany the software, allowing you to keep updated wherever you are with automatic syncing to the main software when it is convenient. It includes sections for your accounts, transactions and investments, whilst also including a full reporting section with the ability to create charts of all your data for easy consumption. The interface is clear and well designed, followed by the overall workflow which is very simple to follow, a thoroughly well designed financial package.
#4. MoneyWell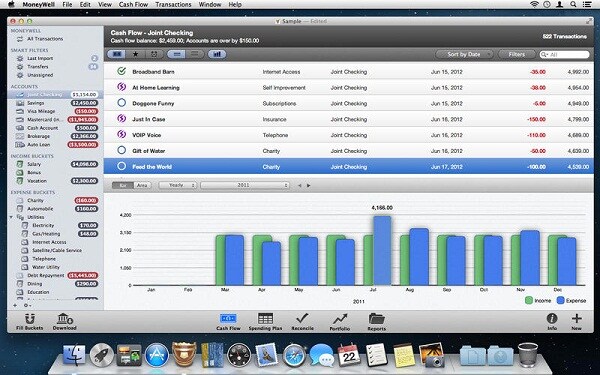 MoneyWell is a financial planning package that aims to help you reduce debt and reduce the stress of making sure you have the funds for various payments when times are tough. It uses an event based budgeting system, and brings the old envelope-budgeting system into the digital age, assigning parts of your income to expected payments and expenses. It also includes the usual money and transaction tracking features, the ability to follow investment performance and the software features support for multiple currencies and its own app for your mobile to enable you to keep up to date when away from your computer. This package has a unique interface, and uses graphical 'buckets' to illustrate cash flow very intuitively, a great package for anyone looking for assistance with budgeting to manage debt.
#5. iBank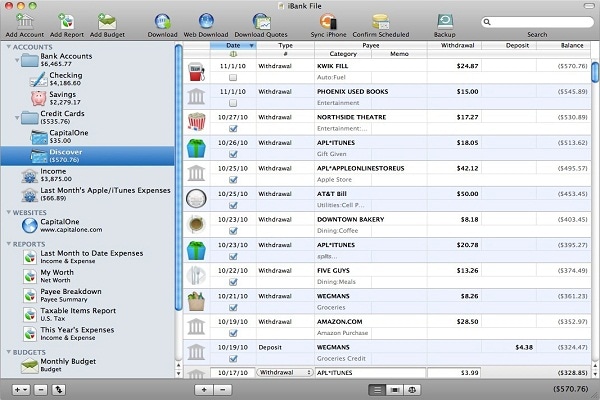 This is a personal finance package that hides its many features behind an incredibly easy to use and understand interface and workflow, making it a great choice for anyone new to the concept of financial software. It includes its own browser that makes visiting online accounts a more integrated process, and does include the facility to connect directly with many banks to automate the process for you. Featuring comprehensive reporting, budgeting, investment tracking and a clear indication of your financial health in the home screen giving at a glance guidance, it has much to offer and provides a very welcome change from the over complication that can be found in many such packages.
Part 2. Comparison of Recommended Mac Accounting and Mac Financial Software
| Features | QuickBooks for Mac | iFinance | Moneydance | MoneyWell | iBank |
| --- | --- | --- | --- | --- | --- |
| Main Usage | Professional Business Accounts | Personal Finance | Personal Finance | Debt Reduction | Personal Finance |
| OS Support | OS X 10.9 and above | OS X 10.5.8 and above | OS X 10.6 and above | OS X 10.6 and above | OS X 10.8 and above |
| Unique Feature | Professional Standard | Investment Tracking | Online Features | Debt Budgeting | Ease of Use |
| Mobile App | --- | iOS Only, $1.99 | iOS and Android | iOS Only | iOS Only |
| Full 24/7 Support | | --- | --- | --- | --- |
| Cost (US $) | $249.95 | $29.95 | $49.95 | $49.99 | $19.99 |