The new 21.5-inch Retina 4k iMac may come to users sooner than expected and it is a gadget that boasts among other features, a 1080p HD resolution, and an unbelievable 4k, 4096 x 2304 display, making the graphics the sharpest and the most vivid among iMac devices till date. Currently, this iMac does not have a Retina display, and it is expected to be released by fall 2015. In 2013, Apple had released the first version of 27-inch iMac, however the new 21.5 inch iMac is a bit smaller but with more functional features and will be ready by the busy shopping season in 2015.
New El Capitan Beta Reveals New 21.5-inch Retina 4k iMac
The new 21.5-inch Retina 4k iMac provides some advanced consume-friendly features, and the latest Beta version has been released to creators to provide references to the upcoming hardware products include the new 21.5-inch Retina 4k iMac and a Bluetooth remote control. Here are some of its new features:
The new El Capitan Beta references iMac will support a higher resolution Apple display panel while another version, which is a larger 27-inch will provide a 5k display.
In addition to the 4k resolution reference (this is not available on any version of Yosemite), there are also some upgrades to the innards and these will also include the references to the new Intel graphics chipset, also referred to as "Iris Pro 6200". The new Iris Pro chipset is a new Broad-well integrated graphics processor that has been launched earlier this year and it has been regarded as a perfect fit for the new 21.5-inch Retina 4k iMac.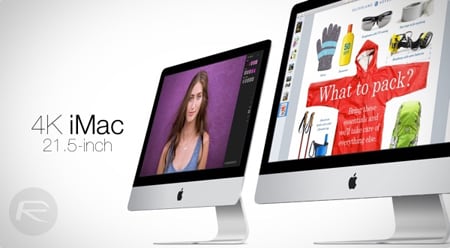 There have also been references to the new AMD Radeon R9 which are: M395, M380, M390, and M395X. These are in the Beta version, and these could indicate that some extra upgrade models of 21.5-inch Retina 4k iMac are in the making. The 4k iMac graphic files have also been referenced.
There is a new file located right inside the El Capitan has confirmed that Apple has been working on a new remote control for the iMac Retina 4k, and that will be powered by the latest Bluetooth technology. A new piece of hardware has been included to integrate the new Bluetooth technology and this includes a wireless chip that can connect with diverse devices via an infrared sensor. The Bluetooth technology is completed with a Multi-touch Trackpad which also comes along with an inertial scrolling support.
A reference was also made to what could be regarded as a Force touch support while the device will also likely support an Audio that includes a Playback for the "Siri". All these features will be in Beta version. A Bluetooth remote control that will support both Infrared and Multi-touch features will definitely be brand new products for Apple products. However, there are no references that the Bluetooth device will turn on other Apple devices.