While there are apps available for iPhone and iPad for moments of happiness, to entertainment, to dedicated physical training, and to sadness, there are many popular fun Christmas apps to usher in to make the celebration bigger than ever. If you've been gifted an iPhone or iPad this Christmas, it's time you delve deeper into the merrymaking of the holiday season and download the top 10 fun Christmas apps that you will love!
Give yourself a break from the Christmas-keeping, excessive gift shopping, decorations, and party planning. We bring to you top 10 fun Christmas apps for iPhone and iPad that are all designed to be useful, exciting, information, entertaining, and funny. If you feel the Christmas spirit approaching, prepare for it in a tech-friendly way.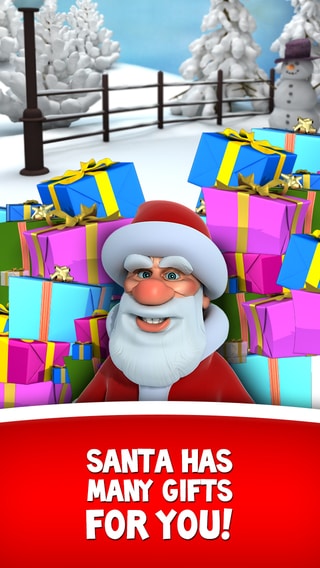 • Talking Santa for iPhone ($0.90)
Talking Santa is one of the fun Christmas apps you'll download. It is a great way to celebrate Christmas with family and friends, especially when you get Santa to repeat your special holiday messages aloud. This app is also joined by the lovable characters from the Talking Tom and Friends collection. You can create and share joyous 3D video animation greetings and Christmas cards will make it one of the best fun Christmas apps that your kids will love too!
Compatible with: iPhone, iPad, and iPod touch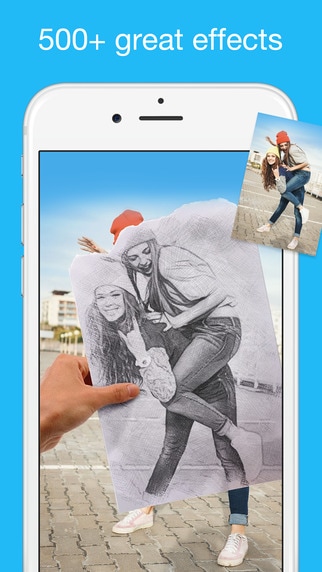 • Photo Lab Picture Editor (Free)
This app is an amazing app that provides you with variety of frames to create creative images, offering personalized greeting cards for every holiday, especially for Christmas. You can make custom 2016 calendars, put your photos into vintage Christmas book, or let it snow over your pictures. The best one is that you can even wear a virtual red Santa hat for an awesome Christmas selfie.
Compatible with: iPhone, iPad, and iPod touch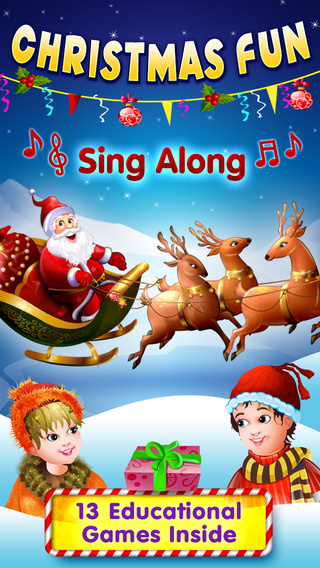 • Christmas Fun - All In One Holiday Spirit (Free)
Christmas Fun is yet another fun Christmas app for iPhone and iPad. With this app, you can enjoy lovely Christmas songs and exciting educational Christmas games. They have the largest collection of Christmas activities for kids of all ages with brilliant HD graphics and delightful soundtracks. You can enjoy family time with your children with interactive sing-along songs, let your children savor their playtime with Christmas paint coloring pages and many more Christmas games!
Compatible with: iPhone, iPad, and iPod touch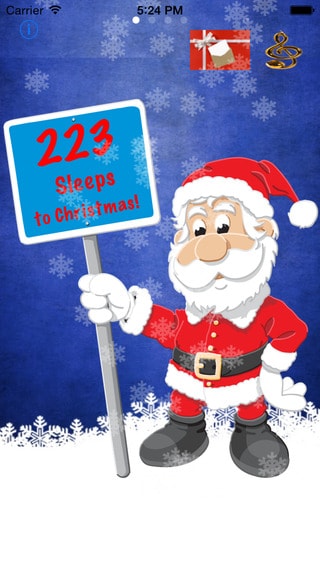 • Sleeps to Christmas Lite - Christmas Countdown (Free)
Rated as one of the most fun Christmas apps ever, it's always jolly to keep track of exactly how long it is until Christmas day. Here, you get to choose from a wide collection of lovingly drawn characters who hold signs that count down the sleeps, nights, days, hours, minutes or seconds to Christmas. You can listen to eight popular Christmas tunes as animated snow falls around the character holding the signs. You can even set the tunes to your likings and listen to be again and again, whenever you want to.
Compatible with: iPhone, iPad, and iPod touch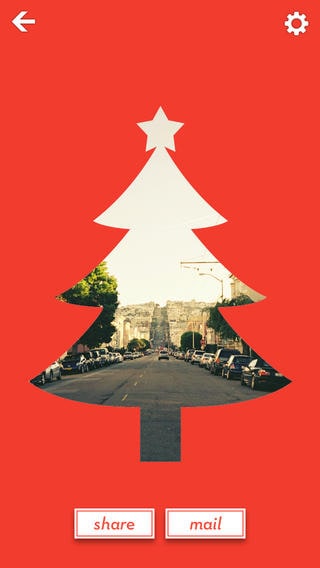 • Photo Combines Xmas (Free)
Photo Combine Xmas is amazingly simple and fun to combine your photo with a Christmas frame. You get to choose from a medley of picture frames that support crop, scale and rotate. With this app, you get to share Christmas photos with your family and friends in an interesting and creative way!
Compatible with: iPhone, iPad, and iPod touch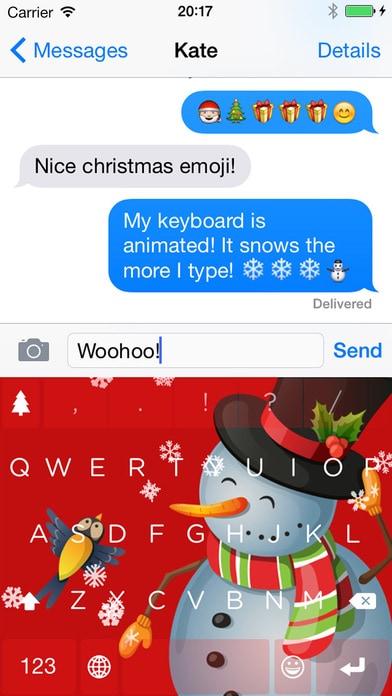 • Christmas Keyboard - Countdown to Xmas (Free)
Christmas Keyboard is rated as yet another fun Christmas app. With this app, you get a Christmas themed keyboard, additional Christmas holiday sounds, season emoji to make your phone more festive than ever. The special treat packed inside this app offers one new keyboard every day from December 1st to the 25th. You can even make your keyboard more cheerful with snowflake animations and Christmas typing sound effects. It works well in all languages which is supported by the original Minuum keyboard.
Compatible with: iPhone, iPad, and iPod touch
• My Christmas Week - Games and Songs All Along (Free)
Ranking as the top selling Christmas children's book, My Christmas Week have created the sweetest Christmas ever! They feature fantastic HD illustrations to learn the names of Santa's reindeer, delve deeper into the holiday spirit by reading interactive Christmas stories, and singing famous Christmas carols. Children can even build their own snowman and play in the snow, cheerfully welcoming the Christmas spirit in the virtual world. My Christmas Week provides a very realistic appearance to the entire Christmas experience: you can even excite yourself by opening Christmas presents, presented by Santa himself.
Compatible with: iPhone, iPad, and iPod touch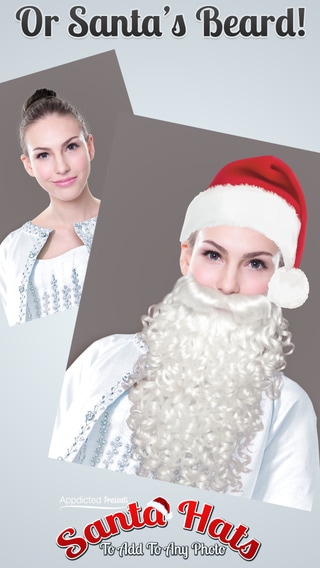 • Santa Hats ($0.90)
Santa Hats is one the Top 10 fun Christmas apps for iPhone and iPad. With this app, you get to add Santa hats and beard to everyone in a photograph. All you have to do is load a photo into Santa Hats and tap the type you want to add and adjust the size and placements. Add Christmas cheer to your photographs without waiting in any line at the mall to get a picture with Santa: just insert Santa next to your picture and you got yourself a Merry Christmas memory!
Compatible with: iPhone, iPad, and iPod touch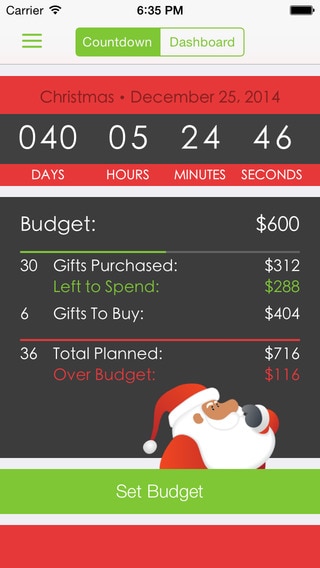 • Santa's Bag - Christmas Gift List (Free)
Santa's Bag is a smart shopping list manages for iPhone and iPad with a Christmas twist. According to Forbes, this app is one of the 8 Santa-approved apps for big savings for the Christmas season. With this app, you can set budgets, plan gifts, create wishlists and shopping lists, track your progress, share it with other recipients- and much more! This app is carefully designed to make sure that you don't miss out on any tiny detail to be whole-heartedly prepared for Christmas. It's better to be less stressed while Christmas shopping than to be over-whelmed even before the holiday season has begun.
Compatible with: iPhone, iPad, and iPod touch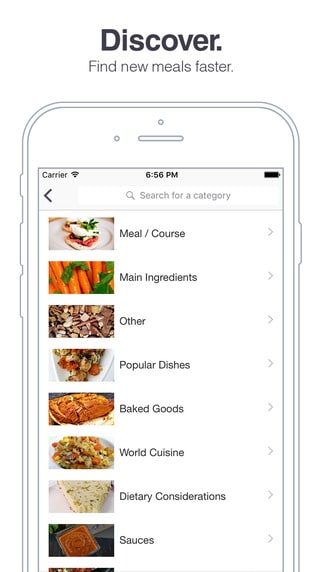 • AllTheCooks Recipes (Free)
Consisting over 150k recipes and a vibrant community of passionate cooks, Allthecooks is an app that has got the whole package for your Christmas party. There are tons of recipe categories for your cookbook; like kids recipes, baked goods, dessert recipes, main dishes, and a separate category for Christmas recipes- and much more! You can even hunt down recipes for cooking just by typing any particular ingredient, prepare and share amazing dish recipes with others in the community and create a whole new Christmas following online.
Compatible with: iPhone, iPad, and iPod touch