Video slideshow apps let you make amazing movies/videos from multiple photo/video clips and view them without having to click or swipe your fingers on your iPhone or Android device. However, if you can get an excellent slideshow with music app, you can create even more compelling photo/video slideshows that can be shared on almost all the social media/video sharing sites.
As you may already know, music arouses good feelings and emotions. Therefore, when you post or share slideshow videos with music, your followers will be motivated to view them, and you are likely to gain more friends, fans, customers, etc. In this article, we share the top 10 free slideshow with music apps for iPhone and Android that can help you make gorgeous and compelling slideshow videos.
Part 1. Top 5 Free Slideshow with Music App for iPhone
For iphone users, here are five of the best free slideshow maker with music apps to check out: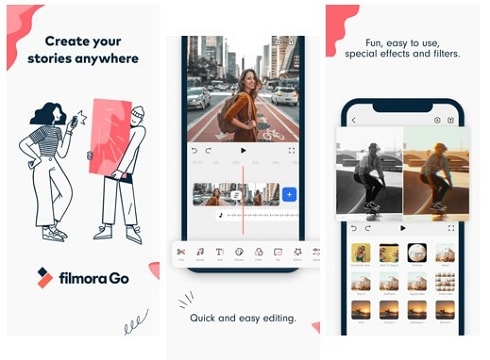 "Wow" your friends with amazing photo and video slideshows by downloading FilmoraGo, one of the most popular slideshow with music apps for iOS.
The fast, simple video editor is excellent for combining video clips, photos, effects, and music into one video. It supports the addition of longer popular music clips compared to other alternative apps and users have the opportunity to select the perfect soundtrack for their videos.
After downloading FilmoraGo, you'll enjoy using its advanced features which make your work easier. It lets you add filters, reorder your favorite moments, zoom and crop your videos/photos, turn selfies/snaps into one video with your favorite song, share the output slideshow video to almost all social media sites, etc.
---
2. SlideLab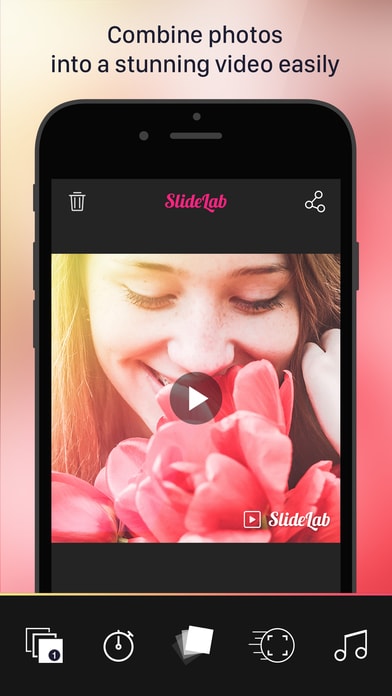 SlideLab is an awesome slideshow with music app. It lets you add built-in music or your own music to photos and record your precious lifetime moments so as to express your stories or emotions in style. You can adjust the start point of your music or the length of the slideshow video in accordance with Vine and Instagram.
The program also comes with fabulous features that make your work easy. These includes awesome filters for beautifying photos, multiple transitions, Photo zooming, cropping, rotating and flipping tools, and more.
---
3. Pic Music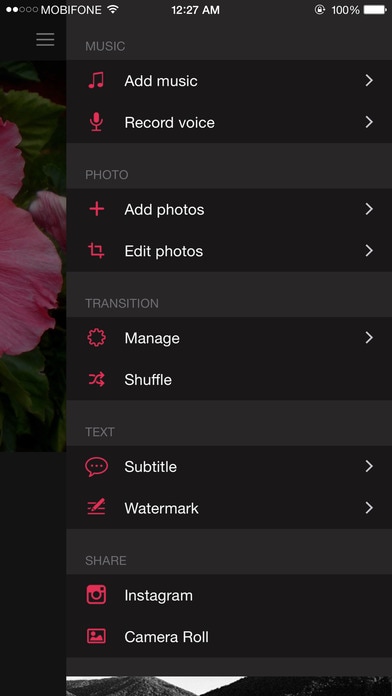 Pic Music is one of the best slideshow makers, video makers and quote makers for Vine, SnapChat, Instagram, Tumblr and Viddy. The fun and easy to use app allows you to mix music and pictures so as to play them as a video.
Users can add music from the library or record their voices, and even choose the part of the audio/song they want to play. You'll also be able to preview slideshows within the app.
---
4. Slide.show Video Maker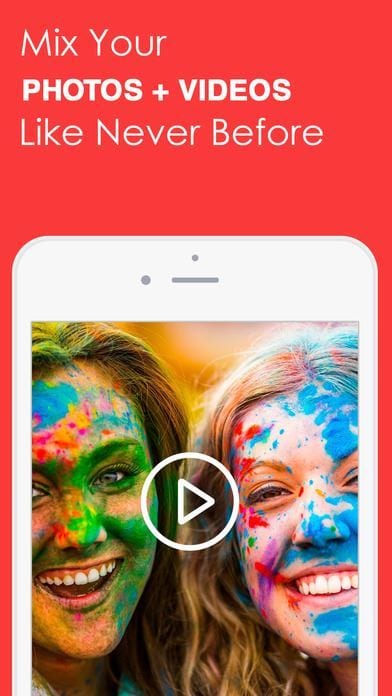 If you want to create photo or video slideshows from your Camera Roll, Instagram or Facebook and then add your own music, Slide.show Video Maker can be your perfect option. It lets you make slideshow videos in a quick and easy way.
You just need to pick your videos and photos, add transitions and your favorite music, select the desired slideshow length, filters, add texts if you like and then publish the slideshow on Instagram, YouTube or Facebook. It's just as simple as that.
---
5. Animoto Video Slideshow Maker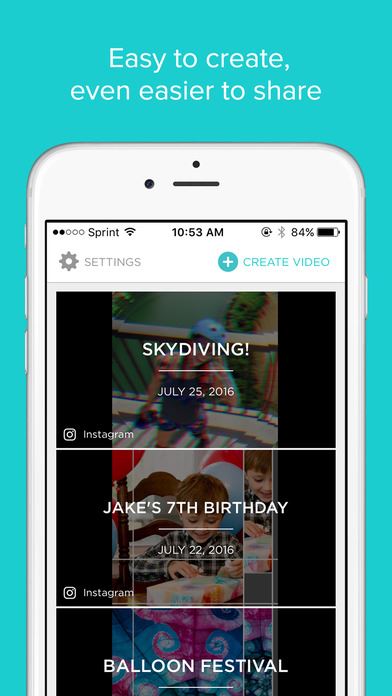 Animoto allows you to make slideshow videos with music from multiple video clips and photos which are selected from the camera roll or imported from iCloud.
The app comes with hundreds of songs which are available in the built-in music library, over 50 sleek video styles to choose, video clip trimmer, captions for photos, intro/outro cards, and many other great features. The output slideshow videos can be shared via email, messages, Facebook and Twitter.
---
Part 2. Top 5 Free Slideshow with Music App for Android
For Android users, here 5 of the best video slideshow creator app you can download for free:
1. Magisto Video Editor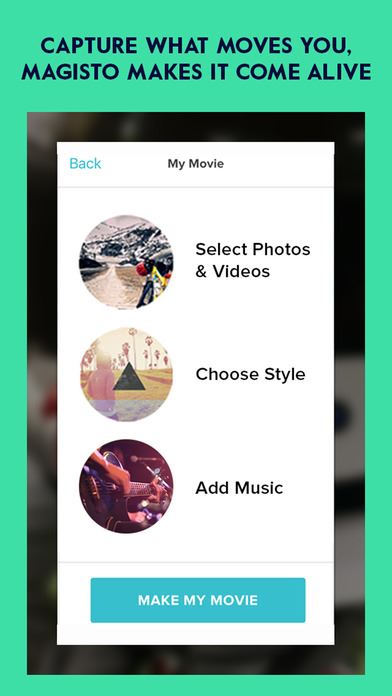 Magisto Video Editor automatically transforms your videos and photos into magical video stories that can be shared with your family and friends.
After uploading photos or videos from the gallery, the app allows you to add music from Magisto music library or your iPhone and create an amazing slideshow. You can then share them via WhatsApp, YouTube, Facebook, Google+, Twitter, and Instagram.
---
2. KlipMix Free Video Editor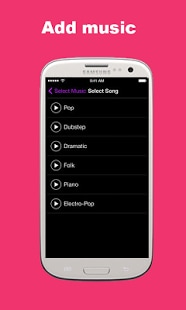 KlipMix Free Video Editor is a perfect app that's easy to use. Anyone can mix multiple photos/videos, add their favorite music and create an excellent slideshow in only one minute.
While using KlipMix, you can modify the display duration of each photo or video, unselect and reorder photos with touch and drag, trim videos and share the output slideshow video with family members and friends.
---
3. Slidegram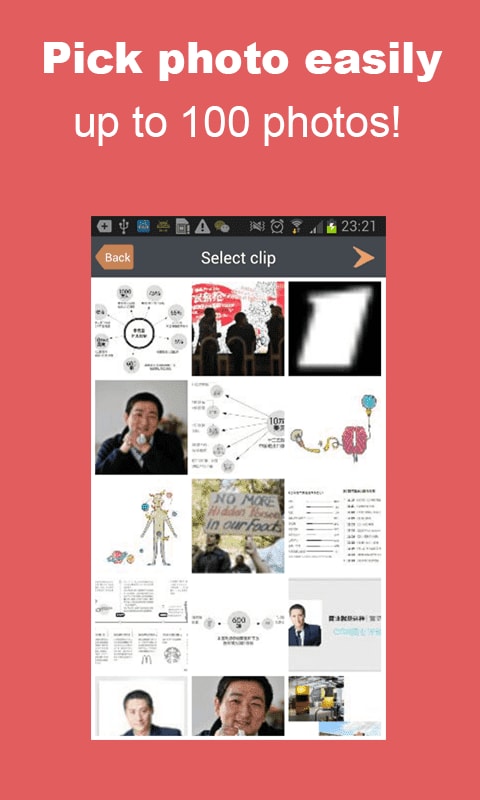 With Slidegram installed on your smartphone, you can import 100 photos at a time and package them in one video. Slideshow creation process involves only a few steps, where you are expected to select photos from gallery, preview and sort them, add your favorite music, set the duration of the slideshow video and then share it with friends on social media websites.
---
4. PicMotion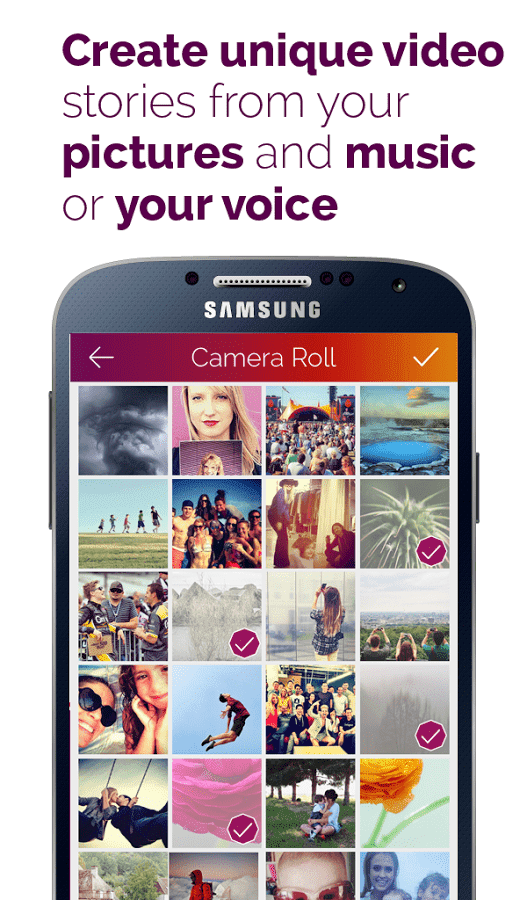 PicMotion creates high-quality video slideshows, photo music and music videos that can be shared on any social media website.
After installing the program on you can create slideshows from pictures/video and make them more attractive by adding music from your library or recording your sweet voice and then add to the video. You can also adjust the start time of your favorite song as well as the timing for each picture.
---
5. Slideshow Maker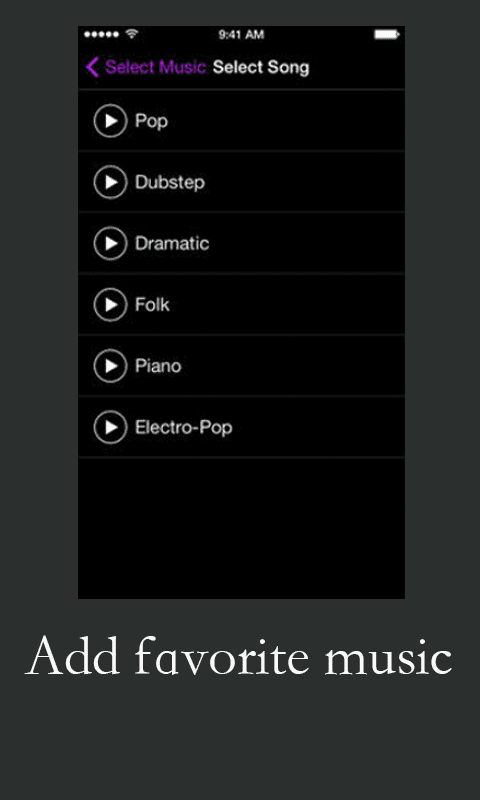 This slideshow with music app is easy to use, and anyone can create gorgeous videos from photos in just one minute. It's completely free, and no watermark is added to your slideshows. All users are free to add their favorite music to the slideshow and share the output video with friends via YouTube or Facebook.
You should also know that Free Slideshow Maker allows you to rotate pictures, unselect and reorder them with touch and drag and modify the display duration of each picture.
---
Part 3. Best Desktop Solution for Making Slideshow with Music [Editor's Pick]
Video slideshow apps allows you to create slideshows on your Phone with ease. In case you need to further edit your videos, such as adding text, music or other effects, a desktop application like Filmora Video Editor will help you to achieve this.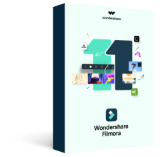 Best video editing software for beginner and semi-professional, that comes with powerful editing skills like trimming, splitting, rotating, editing, etc.
Advanced video effects like kens burn effect, glitch effect, green screen, audio mixercan also be found and applied to your video within few clicks.
500+ free special video effects to customize and create an awesome movie by yourself.
1000+ standalone effects downloading resources to make videos in all kinds of styles.
Record voice in real-time: you can have you voices recorded in realtime and instantly add them to the video files.
If you're interested in Filmora, just click the video below to learn more about using it to create slideshows quick and easily!