There is a lot of debate around transferring iTunes apps to Android. Many people get the whole concept wrong just because they are not well informed. This is a completely complicated topic but information to be discussed in this article will help you have a fresh understanding.
Part 1: Can I transfer iTunes Apps to Android?
The answer to this question is yes and no. With proper procedures, you will have an easy transfer of the apps to Android. However, the biggest experience is when the transfer fails because of common problems.
• Connection failure
When you get this error, be sure that the transfer process will stall and nothing good will come out of it. This can occur when there is a disparity between the device and computer system network connection. 4G and 3G connections are not always good for syncing so don't try using them. Also, the device should not be very far from the router to make sure Wi-Fi connection is strong and stable.
• Invisible songs
There are computers that send a positive message that the syncing process is completed yet the files cannot be seen. This is another big problem that can make transfer of iTunes apps to Android extremely difficult. You have to ensure the files to sync are in the playlist or restart the computer system for the synced files to show up.
You should take note of the fact that iTunes radio and iOS apps are not transferable because they never work well with Android or any of its devices. Also, audio books only work with Android depending on file formats.
Part 2: Two biggest App Store for Android Users to download Apps
Use any of the following app stores for Android in downloading apps. They have been tested and proven to deliver desired results.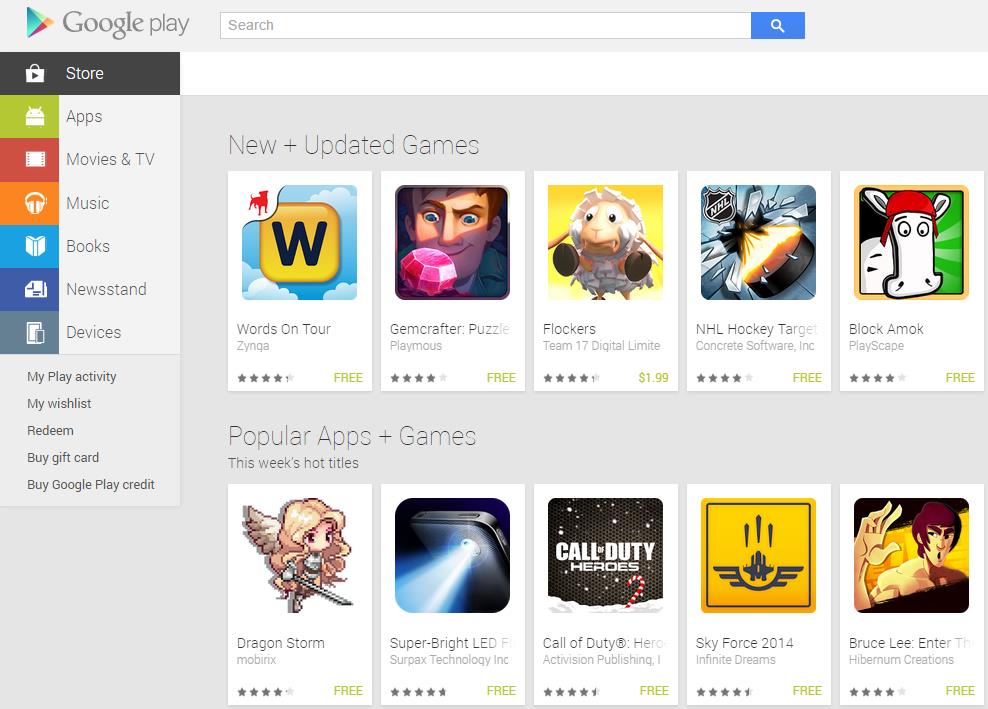 This is under Google and comes on a digital platform. With anything to do with Android, this is its official app store and you will be lucky to use it for downloading your apps. All the applications that you will get at this store can either be free or paid so it will be upon you to make a choice. When downloading, you will not have problems as long as it is to a Google TV or Android device. The downloading can be done from a website or even mobile app as both are enabled options. You will have the privilege of searching any app on Google Play using keywords that are given out by its developer as well as name. There is the "featured apps" section to make it easy getting what you are searching for.
#2. Amazon App Store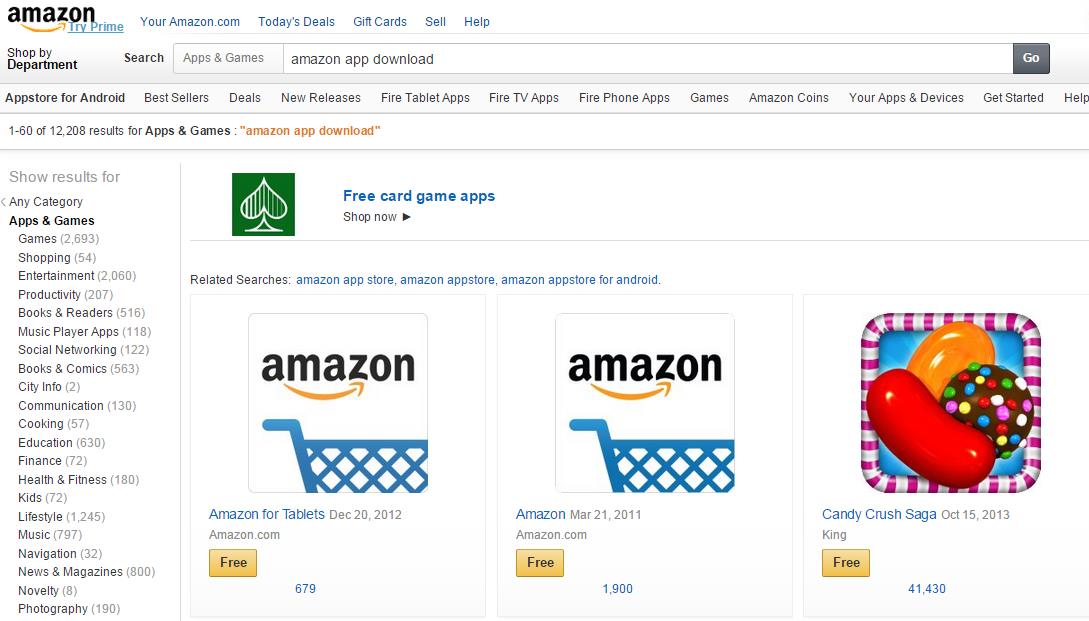 This is the second biggest option and it's a top one for Android operating systems. The "free app a day" is the biggest feature for this app store which offers at least an app mostly games for free every day. It has helped draw many users to Amazon App Store since they feel more recognized. The other notable feature is "test drive" and it offers the opportunity for users to try out any application on their own web browsers for at least thirty minutes.
At least you can't buy something that you are unsure about its working condition or effectiveness. This app store has been growing tremendously with a record 240, 000 apps available for downloading by 2013. And the users are increased in 2014 and it will be keeping the growth in 2015, even in 2016, 2017...
With these two biggest app stores for Android, your concerns of getting the best app should come to a rest. The fact that they have both free and paid apps, it makes them more than just suitable. You have the freedom of choosing what to have while their unique features add on to that exceptional experience.