There was a time when calling 50-60 people for a birthday party took 40-50mins of your time, assuming you still have their number written down in a diary, they answer their landline, and phone calls with each one of them last for just about a minute and not 20-30mins. Yeah that was a hassle, and a big one at that. Luckily for us, technology has advanced well to reduce this kind of a tedious process to quite a large extent. Sending out the same message to a bunch of people has never been easier thanks to the introduction of Instant Messengers on our smart phones, essentially in this case, WhatsApp.
Everyone around you using a smart phone would probably have this application installed on their cellular device. WhatsApp is everything BBM and SMS is and also is so much more than that. In this article, you will have a better understanding of WhatsApp group feature.
Part 1. How to Group Chat on WhatsApp
WhatsApp mainly is on any smart phone Operating System, such as Google's Android, Microsoft's Windows, Apple's iOS and Blackberry's BB OS. Apart from this WhatsApp has now paved way through a few multimedia phones as well, although WhatsApp is extensively used on a smartphone. Using WhatsApp on smartphones is highly simple and easy, also very hassle free. Communication has never been easier for us and at least for now, it cannot get better. Sending out group messages on WhatsApp is highly easy. Given below are the seps for it.
1. For iPhone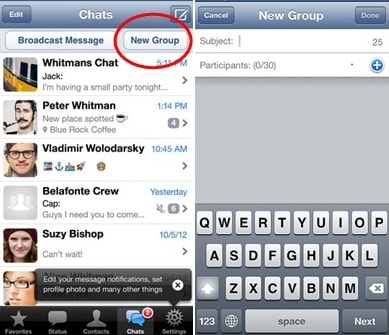 Open WhatsApp. Click on the option of New Group.
Type in a subject for the new group. You will see an option to add a photo for the group as well. You can add a photo by clicking on it.
Go ahead and add participants to the group by typing in their names.
Once the group is created, the group will appear on the chats screen on your iOS device, tap on it to open the group.
Type in any message you want to send and hit send to send any messages on the group.
To send a multimedia message click on the Arrow next to the dialogue box, this shall give you the options to send whatever type of file you want to send.
Choose whatever file you want to send, attach it. Hit Send
2. For Android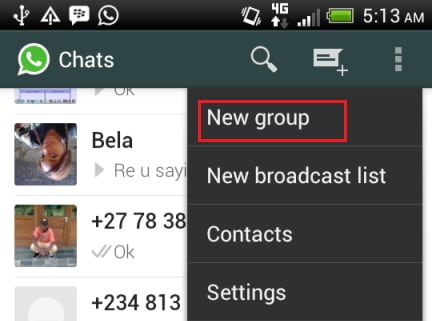 Open WhatsApp. Click on the options button on the top right corner (three vertical dots).
Click on the option New Group. Type in a subject of the group and add a photo, if needed.
Click on Next and type in contact names to add people. You can even tap on the + sign and click on any contact you want to add.
Click Next and the group is made.
To send a message tap on the dialogue box, type and hit Send to deliver a message.
To send a multimedia file, tap on the paper clip on the top right corner and select type of file. Select the file you want to send from gallery and hit send.
Part 2. How to Forward Group Messages on WhatsApp
Forwarding group messages is another simple technique on WhatsApp. Below are the step-by-step guides for iPhone and Android.
1. For iPhone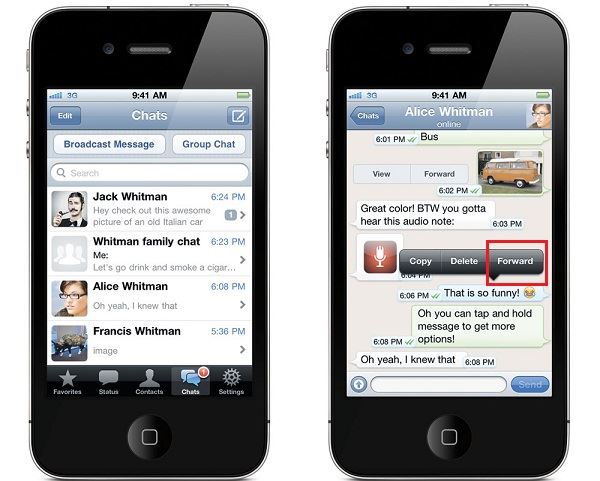 Long press on any message or multimedia file you wish to forward.
Upon doing this, 3 options would appear, click on Forward.
Select the group to be sent on by sharing it through WhatsApp itself. The message will thus be forwarded.
2. For Android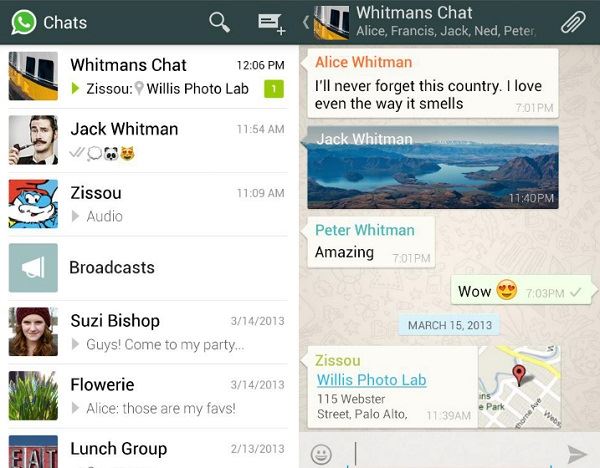 Long press on the message or file you want to share.
Upon selecting it tap on the Arrow button appearing on the top right corner.
Tap on the thread of the group you want to share it with. In this way you can forward a message on WhatsApp over an Android device.
Part 3. How to Recover Lost Messages from WhatsApp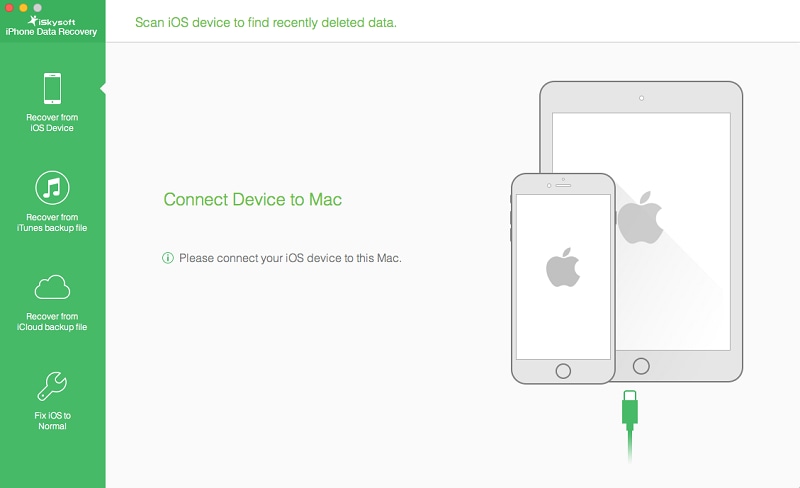 It is well established that WhatsApp is a medium for sharing a lot of media files, many of which can be very important related to somebody's job or profession, in case the phone crashes or gets prone to a virus and has to be under gone a factory reset, all the data can be lost, not to mention files once deleted cannot be recovered shin, hence iSkysoft iPhone Data Recovery for Mac is your perfect choice.
It supports up to 18 types of iOS compatible devices.
The recovery process is powerful, easy and fast. You can do it in just 3 steps.
It can assist you to get data from iTunes and iCloud backup files.
Get your iOS out of a white Apple logo loop or screen error.