More and more people are listening to music through their mobile phones. There are a lot of music streaming sites where you can download your favorite song on mobile devices, including Android, but if you want to discover more new songs, it is ideal to go on a live stream and listen to them online. By using various music streaming applications in your own smartphone, you are able to stream music and decide which music are worth downloading and which are not.
In this article, we will tackle about the top 10 best music streaming app for Android just to provide you options on what are the sites which you may visit for a better feel of music live streaming.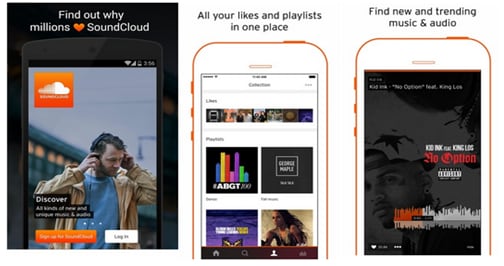 SoundCloud is an online streaming application which is somewhat different with other applications as it lets you listen to songs or tracks that are uploaded by different users. The quality is not the best but it is a great opportunity for discovering new artists as well as producers capable of rising in the music industry. It is an application that is not just meant to let you listen to various tracks but also to discover and connect with new artists. And that what makes it cool! Although this application does not have a huge collection of tracks compared to other online music streaming applications, it is still exciting to use. You may want to check Google Play for this App!
---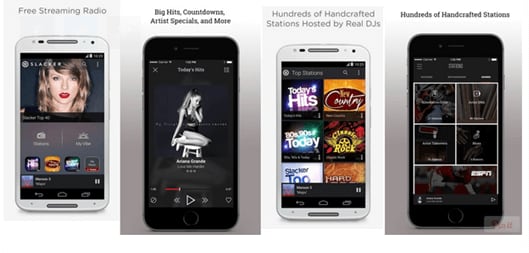 On the number nine spot is the Slacker Radio which is basically an application for online radio station available on mobile devices. It is a kind of music streaming app that gives you the capability to create as well share different custom-made playlists and music stations with your friends and colleagues through any mobile applications or simply through the web. There are about nearly nine million songs in its library and indeed, this application offers a quite extensive selection. The application can be downloaded in Google Play for free.
---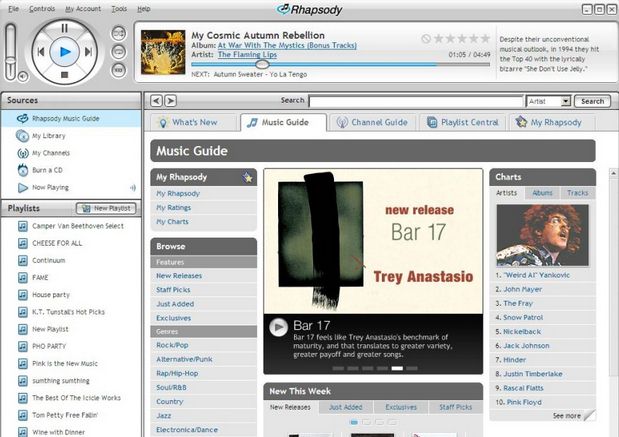 Next in line is Rhapsody which is one of the most popular music streaming application. Unfortunately,it is only available in United States. It is somehow similar with Spotify and also, prices can be compared to others. Its price is nearly $10 per month but you can subscribe quarterly or yearly for you to save some money as they are offering cheaper prices for longer subscription. Tracks are good as it offers classic, latest hits and tons of good music. The sound quality is also pretty good. You can also get a free 14-day trial before buying the application. Visit Google Play for more information.
---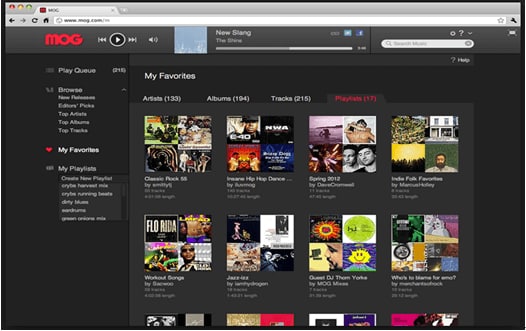 TOP 7: MOG
Next on the list is MOG which fallson the seventh spot. It is a good music streaming application but only if you are in the United States as it is not yet available internationally. It is free and has around 16 million songs in its library. Yes, it may be similar with any other online music streaming app as you may also get it on web but MOG's mobile applications for Android and IOS phones as well iswhat it makes this app worth using. Visit Google Play to download this application.
---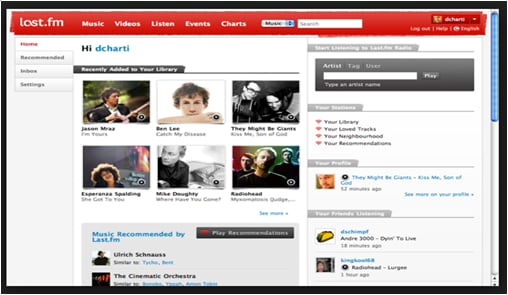 On the sixth spot is Last.FM which is actually an internet radio application. It is still popular nowadays as it has one of the largest selections of songs where you can choose from and it is actually free. The scrobbler feature of this application enables you to mix your music and lets you discover new beats and tunes automatically. Also through this scrobbler tool, one is able to fill up his or her library with music or songs similar to your playlist. Go to Google Play now and download this app!
---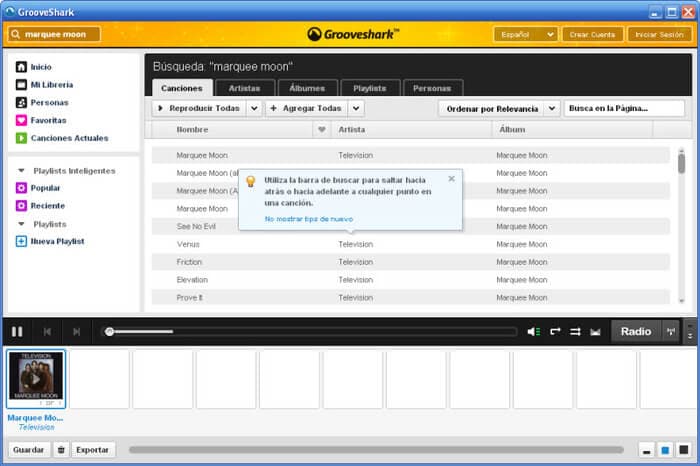 TOP 5: Grooveshark
The next on the list is the Grooveshark. If you are an avid fan of listening to different on-demand tracks on your own laptop or desktop computer, you may want to download this application. What makes it unique is the fact that you can actually choose, pick the song that you desire to listen toand it is absolutely free! But also, you can subscribe to this for only $10 a month but above all, the free version will still give you better music streaming of your favorite tracks.
---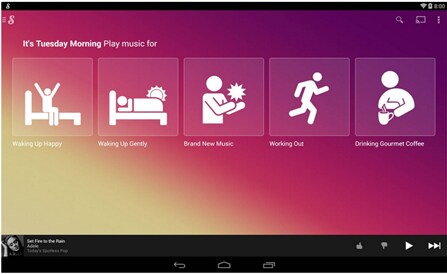 TOP 4: Songza
Songzafallson the fourth spot. This application is free and is an Internet radio application that offers tons of channels and playlists to listen to through web or through mobile applications. Its special features are called as "music concierge" wherein it provides recommendations on what kind of song one should be listening at a particular time of the day. For example, on a Monday afternoon, it might recommend songs that boost energy. In addition, one can browse curated playlist and stream on thousands of music, from classics to the latest hits. You can get this app on Google Play!
---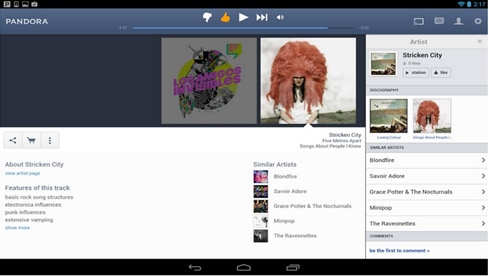 Next on the list is Pandora,falling on the third spot. It is a music streaming application that is regarded to be a free personalized radio application wherein it only plays songs you will love. It is available in the United States, Australia as well as in New Zealand. You can directly listen to through its mobile applications or listen through the web. This application is also upgradable to Pandora One wherein it offers a better listening quality, offers various custom skin choices, adds many desktop applications and lessens the interruptions while you are enjoying the music. You may get the application on Google Play.
---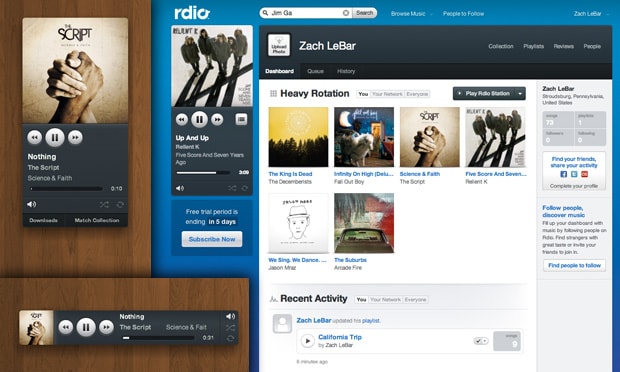 TOP 2: Rdio
The second top music streaming application is Rdio. It is a great application as you will be able to listen and discover new songs for free or through an Rdio subscription. This app lets you have a radio live streaming with various stations, albums, genres and artists. Rdio is comparable and as competitive as Spotify as it also offers almost the same features. You can download the app in your mobile device or listen through the web. As far as selection of music is concerned, it is comparable to Spotify. You may try the free version and later on, pay for your subscription. Visit Google play and download the app now.
---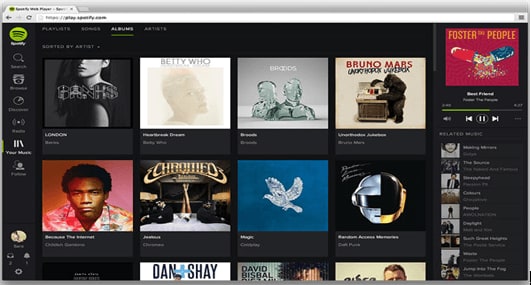 Spotify fell on the number one spot of music streaming application as it offers unlimited access as well as streaming limits to a wide array of tracks, genres, artists, albums and of course, playlist on a shuffle mode. It is the most popular app that is available in many countries worldwide. You may avail the trial version but in case that you want to obtain all its pros, subscribe to such application at around $10 per month. Through it, you will no longer have to buy an album or one song at a time. You may want to visit Google play and download the app now.
All these apps are indeed amazing. The choice is yours now. Choose what is best for you, considering the mobile device you have.