Sometimes, the performance of your iPhone might slow down because of the number of the apps that you have installed. Some apps might cause the phone to perform poorly. Though you can uninstall them, these apps are will continue to affect your phone since they are not permanently removed. Also, you may want to erase an app on iPhone that you no longer use to create space for new ones or for the data that you need to store in your phone. In this case you need a good erasing tool that is far much better than the normal factory reset tool. This article will teach you how to remove an app from iPhone.
How to Erase an App on iPhone
dr.fone (Mac) - Data Eraser (IS) (or dr.fone - Data Eraser (IS)) is the best tool to get rid of all the phone content or data. The tool is available online for download. It is an express cleanup tool that comes with three different data erasing mode; the Erase All Data mode, Erase Deleted Files mode and the Erase Private Data mode. Depending on your iDevice, it takes less time to completely remove junks, files and apps that you do not want on your device any more.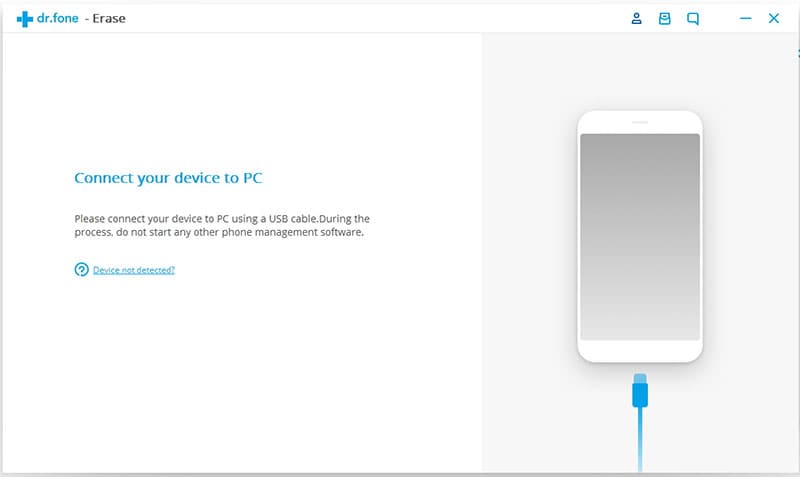 Features of dr.fone - Data Eraser (IS)
With the tool, you can choose which set of data to erase. You can erase all data, deleted files, or private data. It gives the choice to choose which junks or files to get rid of.
You can use the program to reclaim more storage space from your iPhone. As this will involve removing the junks, you will also boost your iPhone activity making it run like a new device.
The software is also a full phone eraser tool. It has feature mode "Erase All Data". This means that you leave your phone completely empty with just a click of a Button.
You can compress photos to free up space for devices. Sometimes photos take much of the space of your iDevice. The Data Eraser, photo compressor feature enables you to backup while compressing left copies.
The program is safe and secure. As the name of the tool says, dr.fone - Data Eraser (IS), you are guaranteed that all the data you choose to erase will be completely erased safely and securely.
Steps for How to Erase Apps on iPhone