We cannot deny the fact that our smartphones have truly become our lifeline. We cannot even imagine losing them because of all the crucial information they have in store of our personal data. If our smartphone happen to get snatched or stolen, we are at a huge risk of losing our sensitive data. Therefore, using a security system to protect that information is absolutely necessary. But other times, all you want is to simply wipe the phone clean of any crucial data which can pose potential threat in future. If you own an HTC phone and looking forward to erase all the personal data like banking information, search history etc., then this guide on HTC wipe phone will prove extremely useful to you.
How to Wipe Your HTC Phone in One Click
dr.fone - Data Eraser (IS) is a highly innovative software that is intently devised to allow a secure and permanent data deletion. When you simply erase your sensitive data from your windows phone, it is very likely to be recovered using some illicit means. But this tool ensures a permanent deletion of your erased files so that they become irrecoverable forever. This is the most trusted tool when it comes to deleting emails, photos, music, videos, banking information, browsing history and other personal information.
Key Features of dr.fone - Data Eraser (IS):
It guarantees a safe and secure data removal from your device.
This data eraser tool will allow you to delete all data from Android and iOS devices as well.
It permanently overwrites deleted files.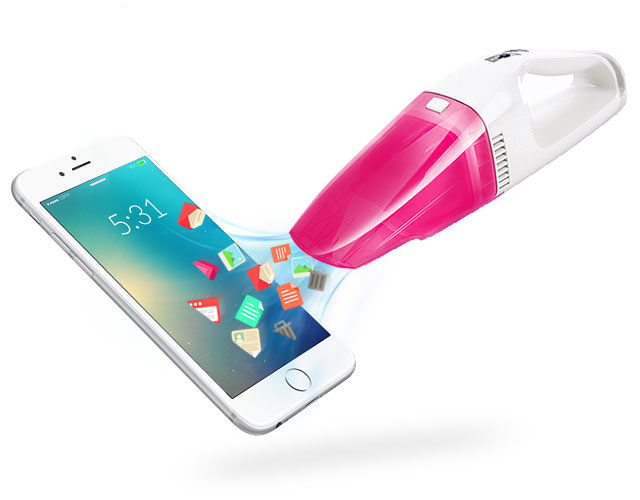 It also enables you to compress files that will eventually free up your valuable storage space and speed up the operation of your phone.
It takes only "One Click" to delete all the unnecessary and junk files from your smart devices.
This tool is also beneficial for you when you want to delete data before changing your phone. So, when you have access to dr.fone - Data Eraser (IS), you can rest assure that all your contacts, emails, photos, videos and other plethora of information is permanently deleted. This tool is highly efficient in ensuring that data is never recovered again.
Step-By-Step Guide to Wipe Your HTC Phone
Step 1

Download and Launch dr.fone - Data Eraser (IS)

You can easily download and install this remarkable dr.fone - Data Eraser (IS) tool from its official website. Then, in order to gain access to the main connection interface of this tool, run the program on your computer. The software will effortlessly setup for erasing personal data.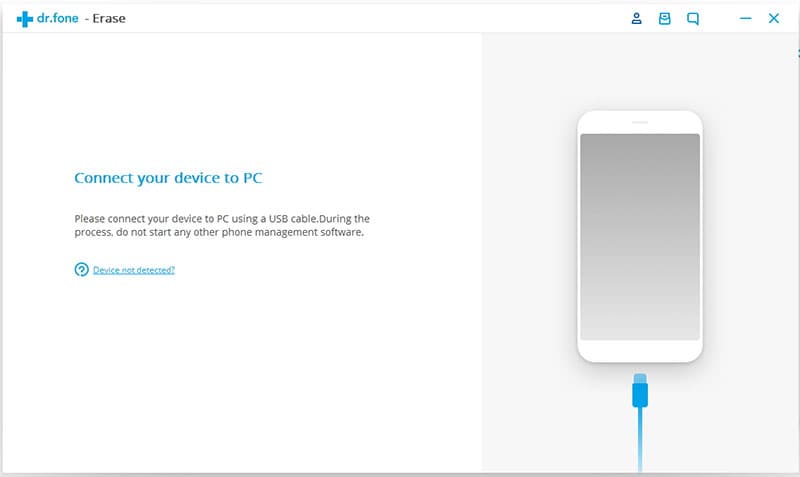 Step 3

Wipe HTC Phone

When you want to delete the entire data that is currently stored in your phone, you can choose "Erase All Data" option. Once you have clicked on this button, a new pop-up window for erasing with a dialogue box will appear on your screen. There is a space in this dialogue box where you can type "delete" and then select "Erase Now". This will initiate the program to delete all the crucial information on your Android phone.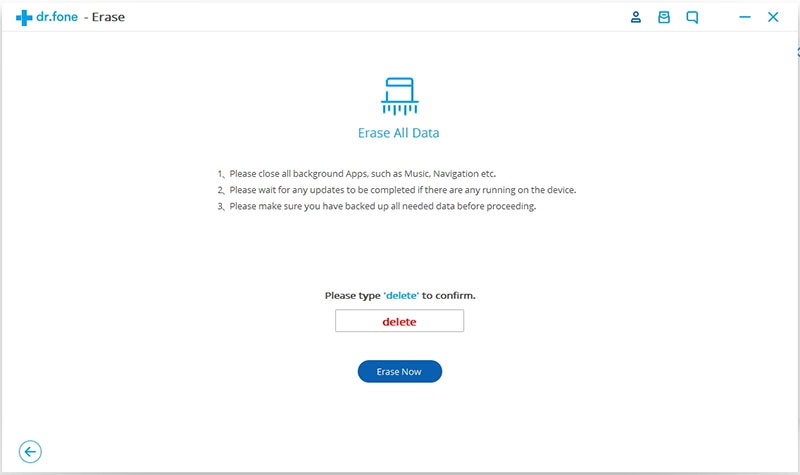 dr.fone - Data Eraser (IS) takes just one click and saves you from all the hassles that may trouble you in future. This tool has become one of the most reliable and useful software among android, iOS and windows users.
Part 2. How to Remotely Wipe Your HTC Phone
Fortunately, HTC provides you the opportunity to wipe data remotely with its HTCSense.com. However, to use the features from the HTCSense.com, it is important to turn on the "Phone Finder" feature on the device and have an account with HTCSense.com.
Step-By-Step Guide to Remotely Wipe HTC Phone
Turning Phone Finder "On"
Step 1. Press the home screen button and choose "Settings".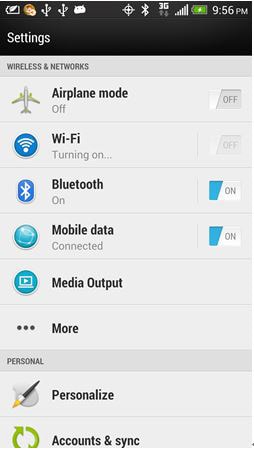 Step 2. Select "Location".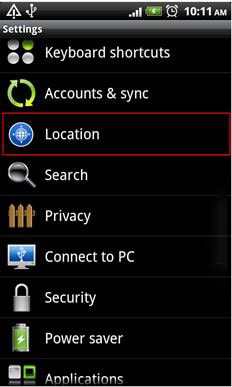 Step 3. Tick mark the "Phone Finder" option.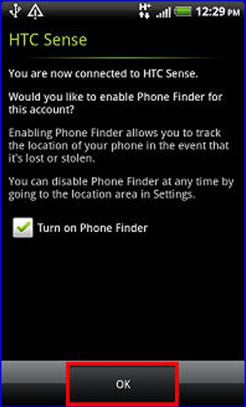 Creating Account with HTCSense.com
Step 1. Tap Settings menu from the home screen.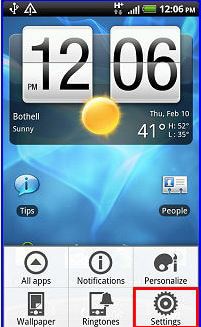 Step 2. Choose "Accounts & Sync".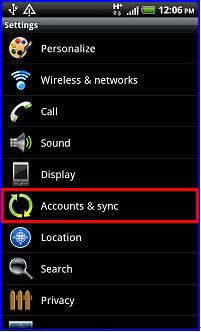 Step 3. Select "Add account".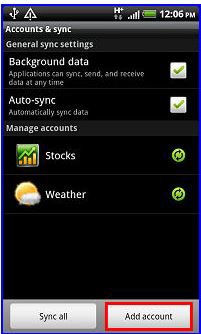 Step 4. Select "HTC Sense". Choose "Create". Press "Next". Select "I Agree".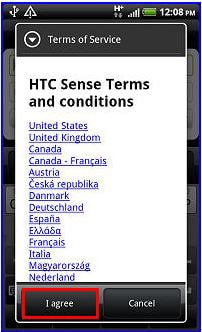 Step 5. Enter your name. Enter email id, area code, and phone number. Type your new password. Enter security question and answer. Choose "Create". Tap "OK".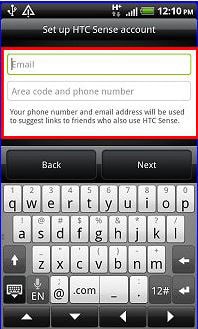 Remotely Wipe HTC Phone
Login to HTCSense.com from a website. Now that you have an account, and the phone finder turned on, you can easily locate the lost phone and wipe data remotely. Enter the HTCSense.com website from a web browser and log in with your account. Since the phone finder is active, you will be able to see its location and last login time and date on the map.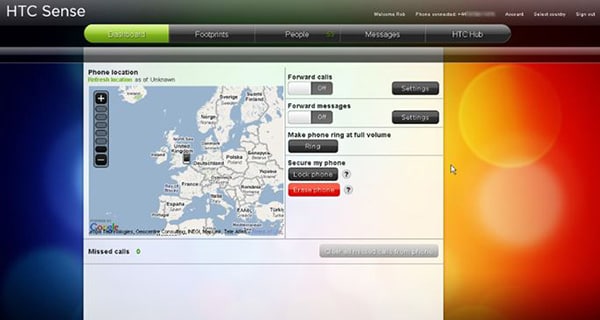 From the screen, choose "Erase Phone" option. Selecting the option will display a notification that states that the action will delete the content on the phone permanently, including all the settings, apps, app data, configurations, etc.
Press the "Ok" button to allow HTCSense.com to begin wiping your lost device remotely. When the process is complete, the HTC Sense that you lost will have no data on it and will become a fresh piece. If the phone is offline, HTCSense.com performs the action the next time the phone comes online. The remote wiping of the gadget ensures that none of the personal and sensitive information falls into the wrong hands.