If you have ever thought of completely erasing the data on your phone, you have no doubt heard or even considered using PhoneClean. As one of the most popular data erasers in the market, PhoneClean has long been the go-to solution for those who are looking for a way to either erase some data from their phones or even completely erase all the data on their phones. But as reliable as it has been, PhoneClean is not completely without flaws. Before you go downloading PhoneClean, you may want to try an alternative that will very quickly and easily do phone clean on your device. In this article we are going to look at this alternative, what it can do and how to use it to clean your device.
PhoneClean Alternative to Easily Clean Your Phone
The best alternative you will ever find for PhoneClean dr.fone (Mac) - Data Eraser (IS) (or dr.fone - Data Eraser (IS)). This software's main purpose is to help you easily erase data from your phone. If you only want to erase private data on your iPhone this software has that provision. If you are looking to get rid of just deleted data from your iPhone (iPhone 7 supported), this program will provide the feature to do that. If you are looking to erase junk files and speed up the iPhone, this program also provides for that. For Android users, this software can delete all data on your Android phone to protect all important data from falling into the wrong hands.
Key Features of dr.fone - Data Eraser (IS):
This program can be used to permanently erase data from your iOS or Android device. All the data erased using this program is 100% unrecoverable even with the best data recovery software.
It can be used to secure personal data such as banking information, login information and even browsing history by completely erasing this type of data from iPhone.
You can use it to clean out all the junk files on your device thereby speeding up the device and clearing up some storage space.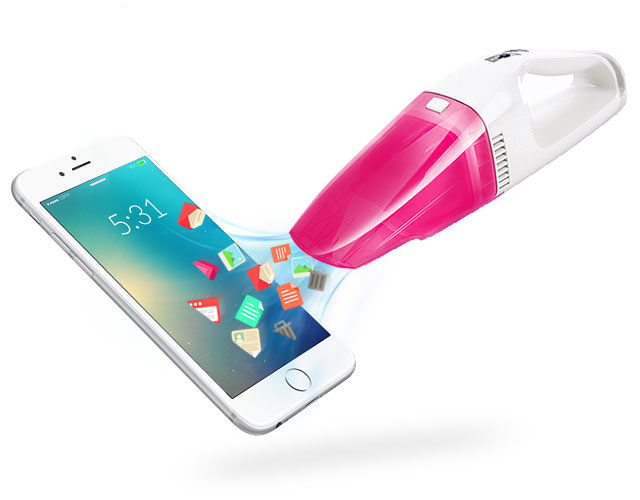 It is very easy to use. All actions are performed in a few simple steps.
It supports all iOS (iOS10) devices and most Android devices.
Step-By-Step Guide to Delete All Data on Phone
Erase All Data from an iOS (iOS 10 included) Device
Erase All Data from an Android Device