In the world, there are a large number of Android users. Do you have the experience of loss of Android data? Sometimes, we lost Android files due to various reasons. 7-Data Android Recovery software can help people recover accidentally lost or deleted files, such as contacts, text messages, videos, photos, audio, emails, documents, etc from Android phones and tablets. When it comes to photos, many formats are supported including TIFF, JPG, PNG, GIF, PSD, and others. Here is the tips about 7-Data Android Recovery as follow.
Part 1: Tips about 7-Data Android Recovery You Need to Know
The installation of 7-Data Android Recovery begins with a warning part-way through to not install the Android recovery package to the drive to you want to recover. Once you fully install the software, it will start immediately. In addition to the launch of the software, it gives you access to open a page to the developer's website in a web browser without requesting your permission.
The interface begins starts with an Android phone picture and a laptop image with the symbol of USB connection between them. Connect your Android phone to PC and click next. The 7-Data Recovery software takes you through the process and then successfully connects to the device. It will scan your storage device before changing to its data display page.
You can see the page analysis system and the file systems show in the left panel that can expand to show each branched folder and subfolders, etc. Here are the name, size, modification date, and file count display in the right panel. There is the option of double-clicking on a file to preview. You can mark the files in the box to accept them back. The Save button on the lower right side can initiate a process of saving and recovery software. The button bar at the top includes buttons for Search, Find File, Thumbnail, up (to raise a parent folder), Select All and Deselect all files.
Key Features of the Software
Recover lost photos from Android
Pictures lost or accidentally deleted because of formatting the SD card can be recovered with 7- Data Android Recovery. It helps restore the images in several formats including JPEG, JPG, GIF, PSD, TIFF, PNG, etc.
Retrieve audio and video file from Android
Videos of your previous music/songs and memories stored for a long time can be a significant loss. 7-Data supports the recovery of audio and video files in formats such as MP4, MP3, AVI, MPEG, 3GP, WMA, WAV, etc.
Recover more than videos and photos
In addition to multimedia files like photos and videos, 7-Data Android Recovery can recover all other data in various formats, including Word documents, files, emails, databases, applications, etc.
It supports many Android Devices
Compatible with several versions of Android OS, 7-Data Android Recovery software makes it possible to recover data from various Android device manufacturers like HTC, Google, Motorola, and others.
Advantages:
View the data content and potential recovery on an Android device.
Retrieve documents, audio, video, images and other files.
Accessing JPG, PNG, GIF, PSD and other image formats.
Recover data from SD cards and the device itself.
Clear interface with a good design.
Disadvantages:
It is the slow to connect Android device to PC.
It take more time to recover deleted data from Android.
It is more expensive
The operation is complicated
Part 2: The Best 7-Data Android Recovery Alternative
iSkysoft Android Data Recovery for Mac(or iSkysoft Android Data Recovery for Windows) is the best alternative to 7-Data Android Recovery. Because iSkysoft Android Data Recovery software makes it possible for you to retrieve lost data from Android phone in an easy way. This exceptional Android data recovery tool for Android is compatible with all types of devices such as Samsung, Motorola, Dell, Google, Nexus, Sony, HTC, Asus, and more.
Key Features of the Software:
One of the greatest features of iSkysoft Android data recovery is that it only detects and retrieves data.
It ensures that there is no room for your personal information getting leaked.
This exciting software also allows you to recover all types of files, such as contacts, text messages, videos, images, WhatsApp conversations, etc.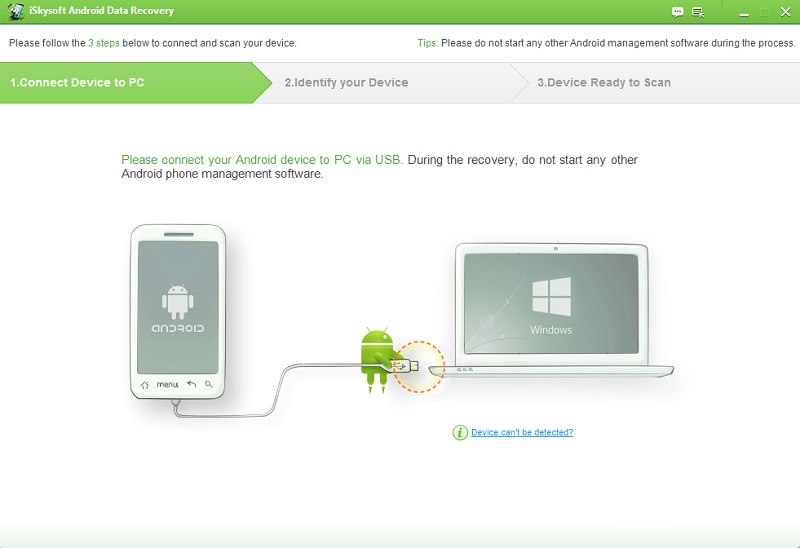 Steps for How to Recover Data from Android Phone
All you need to do is follow three simple steps. Make sure that download, install and run the program on your PC. Moreover, you can connect your Android device to computer successfully and enable USB debugging. If you don't open the USB debugging, please follow as below:
Android OS version 2.3 or earlier – Tap on Settings > Applications > Development
Android OS version 3.0 to 4.1 – Tap on Settings > Developer Options
Android OS version 4.2 or later – Tap on Settings > About Phone > Build Number 7 times. Tap on. This should enable the developer mode, and your device informs you of the same with the message "You are under developer mode". Go back to the Settings > Developer Options. Check the box next to USB Debugging.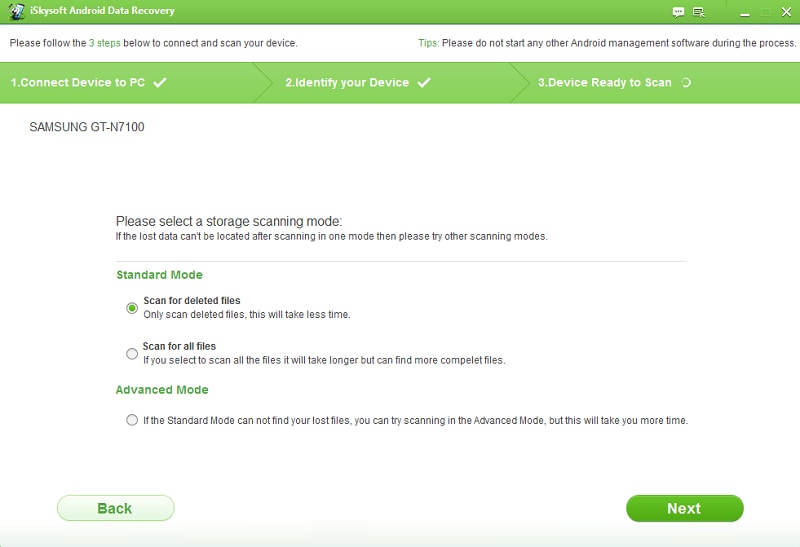 Step 1: Choose the scan mode to scan Android phone
When the setting is over, you can choose the files you want to recover. Then click on the "Next" button to open the new window of scan mode. You can choose "Advanced Mode" or "Standard Mode" mode to analyze and scan your data and click "Next" button to begin analyzing the select Android data.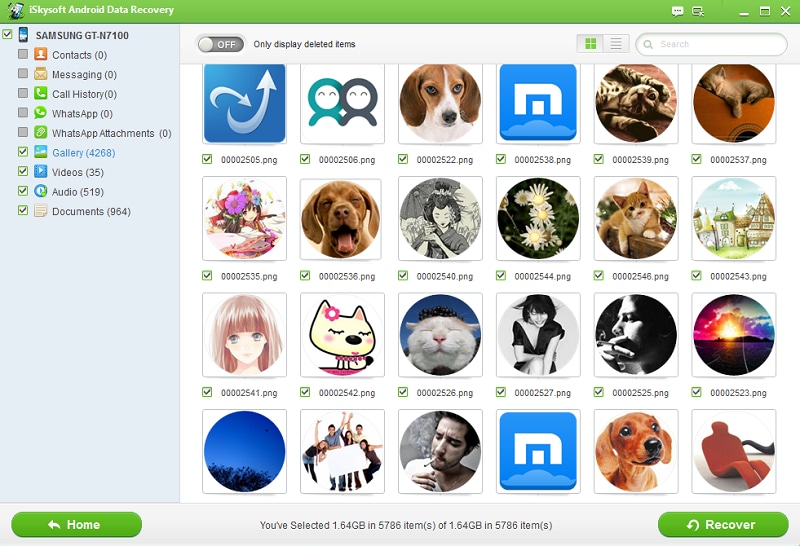 Step 2: Click "Recover" to recover deleted or lost data from Android
When the scanning is over, you can preview the deleted data and select the data you want to recover. Then click "Recover" button to open the new dialog.