So you have discovered that you can recover your lost, deleted or missing files with the help of a data recovery software from the web. You should know that not all third party data recovery programs are excellent at scanning and recovering lost files. Wise Data Recovery can be a good choice for beginners, but if you want to recover very important files, you should go for a professional, powerful and trustworthy data recovery programs such as Recoverit (IS).
Part 1. The Best Wise Data Recovery for Mac and Windows Alternative Software
iSkysoft Data Recovery for Mac (or iSkysoft Data Recovery for Windows) is the perfect alternative to Wise Data Recovery software. It provides users with 4-recovery modes to retrieve videos, photos, documents, emails, archive files, music and other lost files in an easy, fast and secure way. The program is designed to scan lost files on your drive through a risk-free read-only process, so nothing is changed, moved or damage.
If you have little knowledge on data recovery, you'll enjoy using Recoverit (IS) since the wizard mode guides you through a step-by-step data recovery process. Retrieval of lost files from Mac based hard drives is equally as easy as data recovery from USB flash drives, digital cameras, memory cards, players, external hard drives and more. As an expert, you'll love the flexible settings and features that allow users to perform complete data recovery without any frustrations.
Why Choose This Wise Data Recovery Alternative Software:
You can scan for the lost data according to "file types" and save time.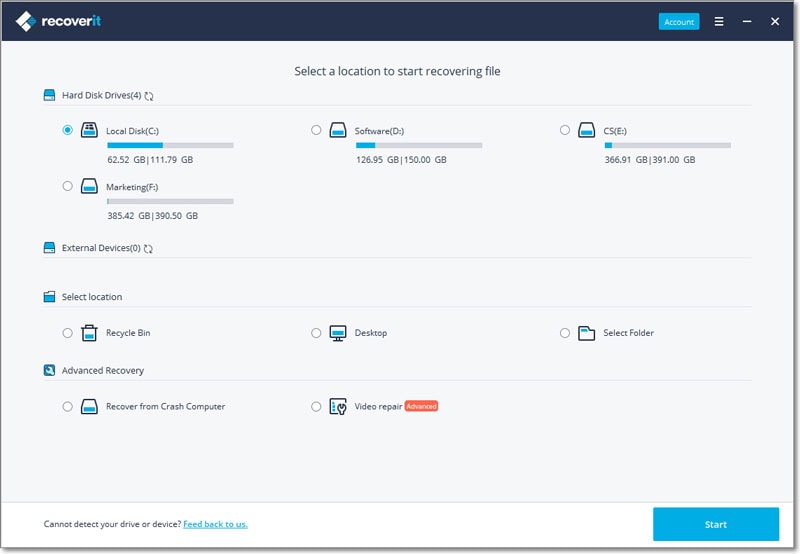 Users find their files in seconds using the file filters and folders tree.
You'll be able to pause and restart the scanning process at any time with just one click.
Lost data are recovered with original file names and file folders.
You can save scan results and resume data recovery when you have time.
Step-by-Step Guide to Use Wise Data Recovery Alternative Software
Step 1

Download and Run the Alternative to Wise Data Recovery

Get online using another Mac computer and download the software. Install it to a USB flash drive and then perform data recovery with the program installed on the USB flash drive. This prevents permanent data loss due to continued operation on the drive from where data were lost. When you launch Recoverit (IS) for Mac, you'll see the supported file types on the primary interface. Choose the right one and click "Next".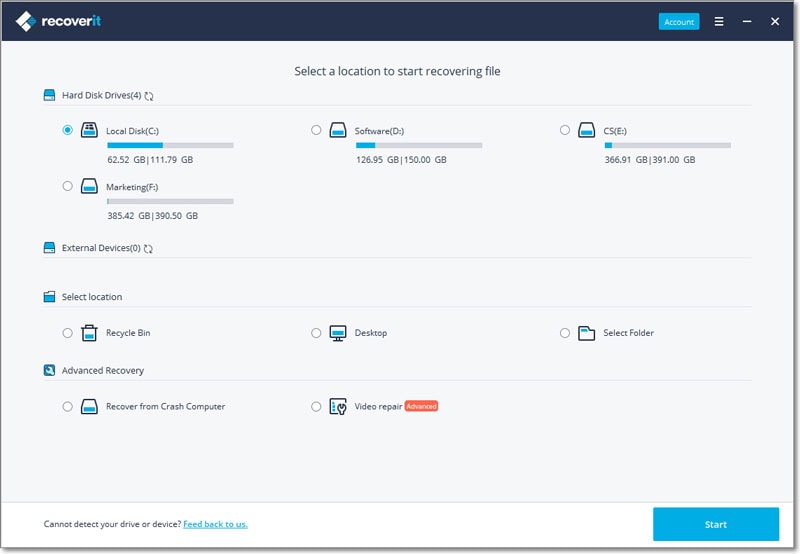 Step 2

Start the Scanning

Once you have successfully selected the drive, click on the "Scan" button to start scanning for the lost files from the drive. If your drive isn't in the list, click the "Refresh Drives" option found at the bottom-left corner of the software's interface and then it will appear in a few seconds.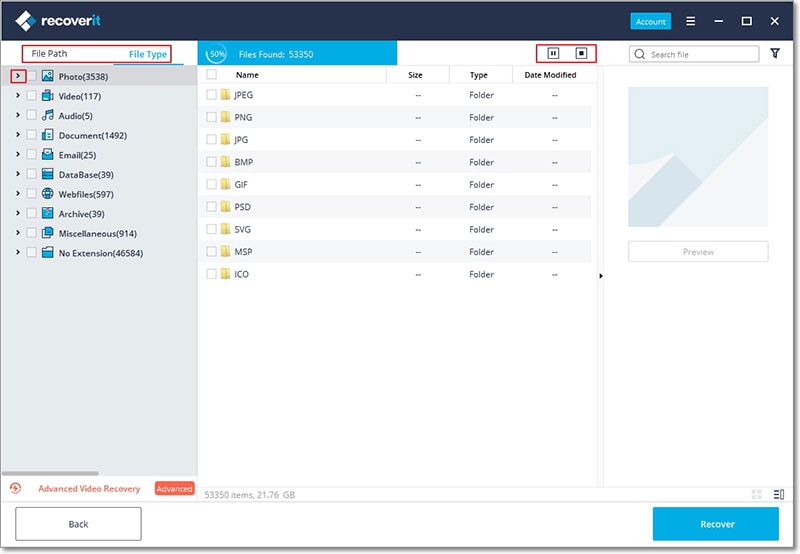 Step 3

Recover Lost Data

As soon as the scanning process is completed, a window will be opened. Check the files in the scan list and click on the "Recover" button located at the top of the program's interface to start recovery. You should ensure that lost files are saved to the selected path and not to the same drive from where you lost them. If you can use an external drive, you'll recover high-quality files. This is the main reason why external hard drives are highly recommended to be used as the destination for the lost files recovery.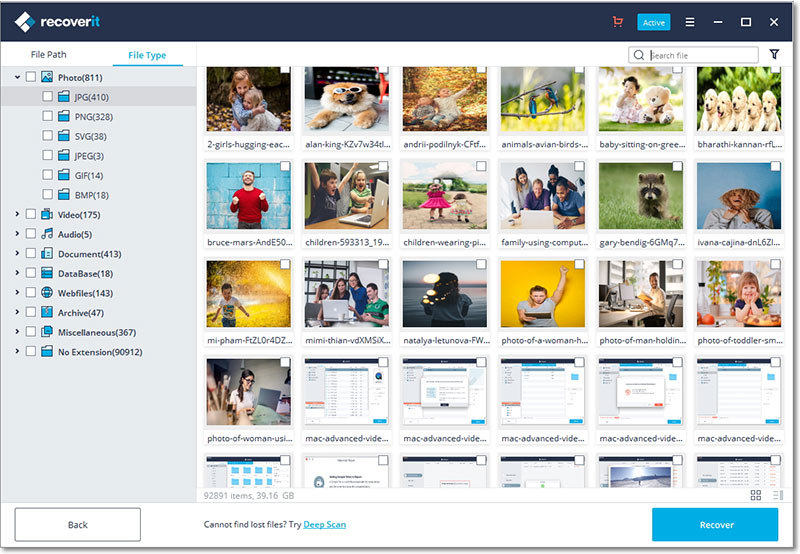 Part 2. How Does Wise Data Recovery Work
Wise Data Recovery refers to a free data recovery software that can recover documents, videos, photos, emails, word, and other files that have been permanently deleted from computer-based drives, and marked as free space by the operating system. The program also supports data recovery of deleted files from MP3 players, flash drives and memory cards.
Step-by-Step Guide on How to Use Wise Data Recovery
Step 1

Download and Run the Software

Go to http://www.wisecleaner.com/wise-data-recovery.html and download the software. Install it on your PC by opening the "downloaded file". Double click on the program's icon from the desktop background to launch it. You'll then see a drop down menu on the main interface.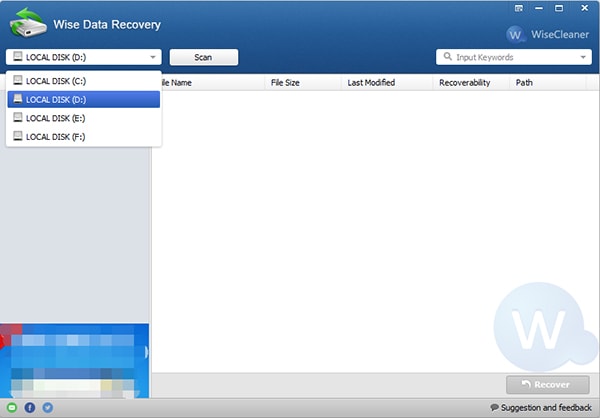 Step 2

Scan the Drive

Click the drop down menu to select the hard disk drive where the lost files were saved. You should also be aware that the common file formats are classified into different categories in the "Input keywords" option located at the top right corner of the primary interface. It allows you to scan for the lost files according to the categories.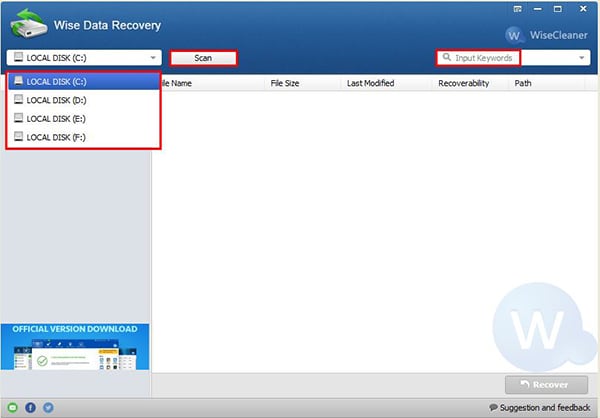 Step 3

Complete Wise Data Recovery

After the scan, items will appear on a new tab marked in different colors. The red color shows that recovery is likely to fail, yellow means that it can be recovered partly and the green color indicates that the lost file can be retrieved completely. Just select the checkbox of the files you would like to recover and then the "Recover" button will be activated. Alternatively, you can right-click on an individual item and then select the "Recover this item" option.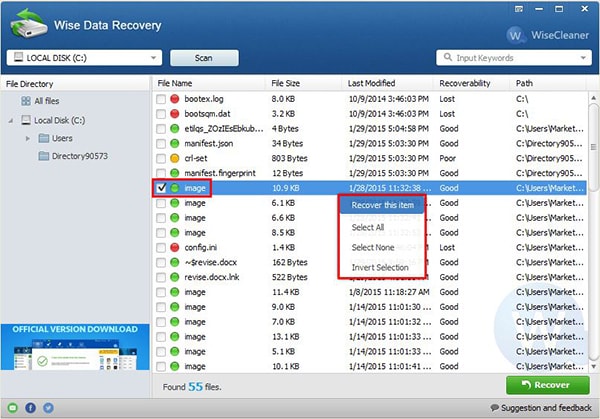 Before recovery can start, you'll have to select the destination folder where the recovered files will be saved. You should ensure that you save them to a different drive from the one where they were lost or deleted. External drives are highly recommended. Once the recovery process is completed, a pop-up box will inform you that recovery is finished. Click the "OK" button to access the recovered files in the destination folder.
Shortcomings of Wise Data Recovery:
A large percentage of files are unrecoverable.
It lacks most advanced options found in other popular Data Recovery software
The program doesn't show file type in the column.
Part 3. Comparison of Recoverit (IS) and Wise Data Recovery
Software

Supported Operating System

Pros

Cons

Recoverit (IS) for Mac

The program fully supports Mac operating systems and there is a Windows version for Windows users.
i. Lost files are scanned and then recovered at a fast speed.
ii. The "Deep Scan" option scans your drive completely, recovering more data.
iii. You can determine the validity of scanned files and even preview them before recovery with Recoverit (IS).
iv. Recoverit (IS) for Mac is offered at an affordable price, and a free trial version is also available for free download.
None

Wise Data Recovery

Wise Data Recovery is compatible only with Windows operating systems.
i. Wise Data Recovery is a free software that can be downloaded by anyone and everyone.
ii. It comes with a simple and user-friendly interface.
iii. A portable version of Wise Data Recovery lets you avoid data overwriting since you'll not have to install it.
iv. It shows users the recoverability status of the files to be recovered before recovery.
i. No deep scan capability.
ii. The program lacks the "Preview" feature.
iii. Scan seems to take more time, and the recovery process is very slow.