You accidentally delete photos from ASUS laptop and look for them in Recycle Bin. What could be worse than realizing those deleted photos are not there in Recycle Bin? All your precious memories are now lost forever. This must be terrible to deal with. But before you lose hope, you must know there is a way to try ASUS hard drive recovery. Mistakenly deleted important data has become a pretty common trouble nowadays, various programs are being developed to perform ASUS hard drive recovery.
Part 1. What is the Kind of Process of Asus Hard Drive Recovery
From a plethora of data recovery software available for your help, we have handpicked the best of all: iSkysoft Data Recovery for Windows. This tool is smartly developed to let you perform the most outstanding ASUS hard drive recovery.
From your computer's hard drive to external hard drive and memory card to USB flash drive, you can use Recoverit (IS) for Windows for retrieving lost data from almost any device. This is an outstanding program which offers four inbuilt data recovery mode such as Lost File Recovery, Partition Recovery, Raw File Recovery and Resume Recovery. No matter what caused the loss or deletion of data from your device, it will scan the device powerfully to retrieve it in its original form. The tool is not only simple to download but extremely easy to use as well. The intuitive built in this tool performs deep scanning and finds out all the files possibly lost on your particular drive.
Why Choose This Asus Hard Drive Recovery Software: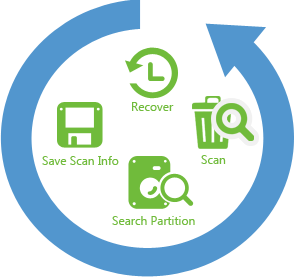 Recoverit (IS) for Windows offers the option to Preview your data before recovering it.
The tool has two modes of scanning i.e. normal scan and deep scan.
The main user interface of the tool is smartly designed for user-friendliness and ease of use.
The tool is compatible with a wide range of devices and works phenomenally well for retrieving almost any kind of data.
Step-by-Step Guide for Asus Hard Drive Recovery
Recoverit (IS) for Windows offers a remarkable Partition Recovery mode for easily recovering lost data on your ASUS laptop. It makes data recovery impressively simple, easy and effective.
Step 1. Use the official website of the program to download it on your system. It will take a few minutes before this software will be downloaded on your computer and you can use it to recover your lost files. However, make sure to not install the application on the original drive from which data was lost otherwise data may get overwritten. Launch Recoverit (IS) for Windows program on your system and choose the file types that you want to recover from the main user interface.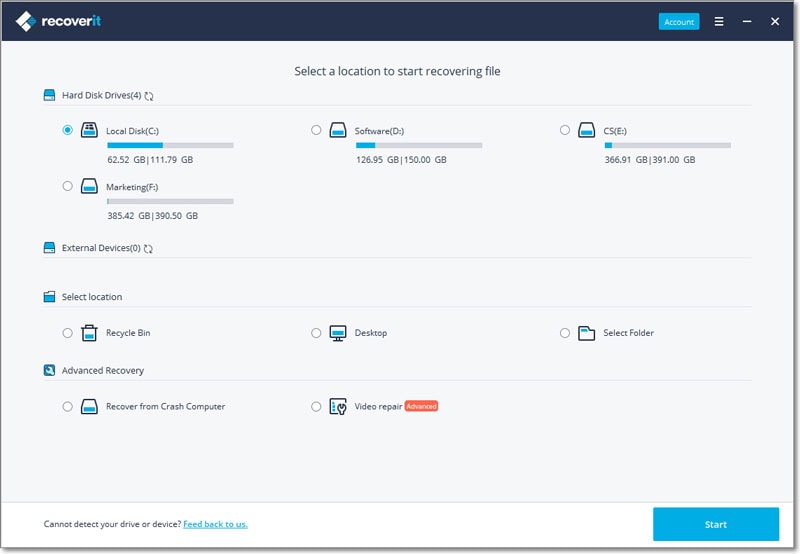 Step 2.All physical drives on your system will appear on the program. Select the drive you want to scan and click "Next".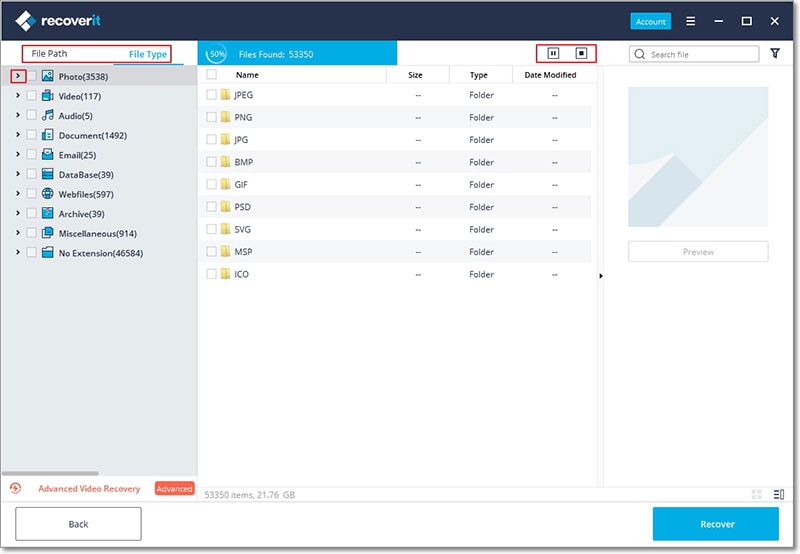 Step 3. When the scanning finishes successfully and the results are displayed on the screen, tick mark all the data you want to retrieve and click on the "Recover" button.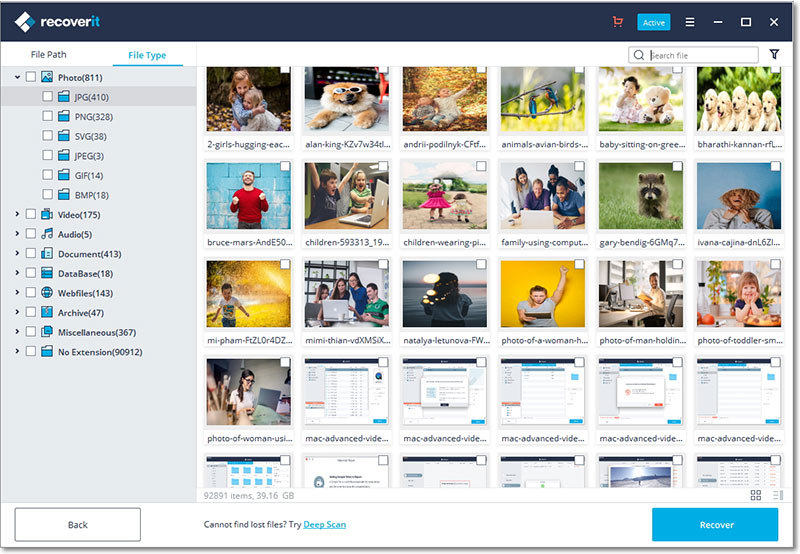 With Recoverit (IS) for Windows, you will get back all your treasured data whether you want your accidentally deleted photos or lost videos effectively. It recovers all types of data and their various formats without any glitches.
Part 2. Is It Good to Do Asus Hard Drive Recovery by Using Recovery Partition
Most of the pre-built notebooks and laptops comprise of hard drives that are visibly partitioned to effectively mitigate the loss of data in case your operating system fails or becomes corrupted. In fact, because of these partitioned hard drives, it becomes possible for you to launch different operating systems within the same device. It is only because of partitioning that you can turn your single hard-drive into many drives.
Now, in case your operating system gets corrupted, you can easily recover your lost data because it was stored separately. Though having a partitioned drive is not a guarantee of 100% recovery, it still keeps the hope to retrieve most of the data alive. Thus, the recovery partition is a good way of performing ASUS hard drive recovery as well in case you use ASUS laptop.
What is ASUS Recovery Partition?
When you're looking to rebuild, restore or troubleshoot your ASUS laptop, you can use the recovery partition to recover lost, formatted or deleted data easily. You can see various partitions on your ASUS computer by simply pressing the F9 key. Your ASUS computer will have the recovery partition needed to restore the data. You can download specifically designed programs for recovering lost, deleted or formatted partitions and recover them easily.
Can We Use it to Recover Lost Data?
ASUS computer has a recovery partition known as RECOVERY that you can use to restore your data. The recovery partition will only be available on your computer if your partition is not damaged. So, when you have made access to your partition, download a data recovery program such as Recoverit (IS) for Windows and recover lost data in simple steps. You can either use the RECOVERY partition installed on your hard drive or a data recovery program to recover data if the partition is not available. Recoverit (IS) for Windows can help you when recovering data is more technically challenging because it has various inbuilt features and powerful scanning to retrieve any data in its original, unchanged form.