Data corruption just happens. It is one of the most common computer blunders that are not necessarily caused by a virus. It is nothing but when the data that was supposed to be something erroneously gets changed to something that is not decipherable. Irrespective of the reason, the data is lost and there are chances for your computer to break down too. Failures can either be flagrant or subtle not becoming clear for few weeks or even months sometimes. But the question still remains what makes the file corrupted, why does it go missing and how to make corrupted file recovery?
Part 1: What May Lead to the File Corruption?
Data corruption is not like a bug which occurs as a result of inappropriately written or executed code. But it happens when code is deliberately or unintentionally altered from its actual correct form. Even a small change in the code can lead to a fundamentally broken program and can also render a file useless.
Therefore, the manifestation of data corruption largely depends on exactly what has harmed your system and to what extent. Most possible reasons for data corruption that need corrupted file recovery are:
Bad Program
This is one of the most common reasons for data corruption. This could be the result of an improper shut down or restart of your computer system. When the system is unknowingly switched-off or restarted because of power failure or hurry, errors can freeze your system. If this happens to your computer, simply restart it manually with a power button.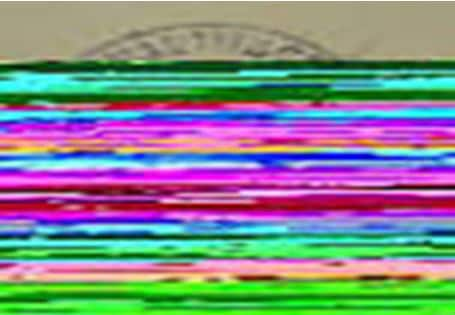 Malware Infection
Malware is a software application that is only designed to cause loss to the system. The main reasons for its occurrence could be excessive work load or excess data that may come due to internet. Your system will start to work slow and the running data may also get corrupted if such virus infects your system. Thus, you must have antivirus software uploaded in your system for scanning the software before installing.
Poor Software and Hardware
Some sort of software and hardware issues can also lead to data corruption. In fact, some of the software comes with certain viruses or bugs that hang the entire system when installed. This can corrupt your data and may make it undecipherable. Failure of hardware is another popular cause of corruption which is caused due to hard drive failures like bad RAM etc.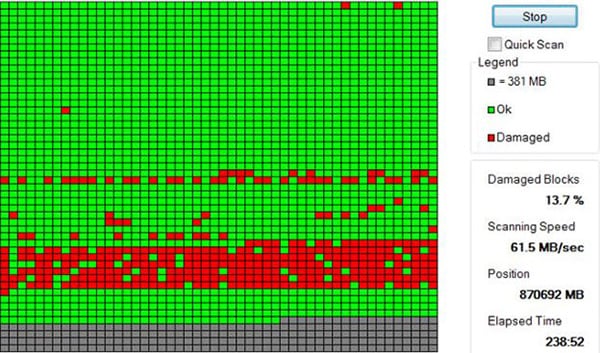 Part 2: How to Avoid the File Corruption?
It is inevitable that your data may get corrupted one day or another. So, the main question here is not what if it happens or what you are going to do about it. But the main concern is what measures you can take to minimize the chances of data corruption. These are some of the most effective ways that can prevent data corruption at the first place.
Take a Complete Backup Often
When you take a complete backup of all your significant data from time to time, you can actually prevent losing it due to hard drive failures and other problems. There is no specific time when your PC may break down. Backup is the best solution to avoid data loss.
Keep the System Updated with Antivirus Software
Antivirus is perfect when you share applications between the systems or drives. It pre-scans the files and identifies if there is any chance of malware in your system.
Protect Your Data with Security Mechanisms
Use passwords and data encryption to protect your files and other documents. This can also be done using Power-On Password to your system. So, whenever your system will be switched on, it will prompt the user to enter a password and will then open the system. It will enhance the protection of the system.
Part 3: The Safest Way to Recover Corrupted File
Whatever be the reason for data corruption, recovering your files is extremely crucial. And there are several applications available nowadays that can help you with corrupted file recovery. But the most innovative and safest data recovery application is iSkysoft Data Recovery for Mac (or iSkysoft Data Recovery for Windows). It is easy to use and effectively recovers your corrupted files.
The application is specifically developed to offer easy corrupted file recovery. There are four modes in Recoverit (IS) for Mac tool. These modes are Lost Data Recovery, Partition Recovery, Raw Data Recovery and Resume Recovery. All the four modes are highly efficient in allowing safe, secure and complete data recovery. The tool can effectively recover data in almost any data lost scenario. It effectually performs scanning, enables previewing and recovers the data that is accidentally deleted, formatted or anyhow corrupted. Recoverit (IS) for Mac is the easiest and the fastest solution for data recovery.
Key Features of Recoverit (IS):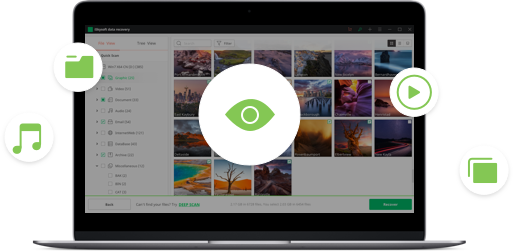 The tool allows you to recover any kind of file such as photos, videos, music, emails, archive files and other documents.
It features an easy to use interface that promises powerful data recovery.
The application functions as a read-only process and scans the existing files of your system. This also makes sure that nothing is changed in your recovered file.
It is highly efficient in scanning your entire system and recovers your files successfully.
There are flexible recovery settings in the tool that allow you to have the full preview of your found data.
Step-by-Step Guide to Recover Corrupted File
Note: After discovering that your files are missing, either on your Windows-based drives or external drives, you should stop using the specific drive to avoid overwriting your files, which can result in permanent data loss. Therefore, if your lost files were saved on your computer's drive, you should not use your PC to browse for Recoverit (IS), download, install or run it.
Step 1. Download Recoverit (IS) for Mac tool from an authentic website and run the program on your Mac. You can only use this tool on PC and not on the drive from which the data is lost. If the data is corrupted or lost in some external storage drive, connect it to the Mac. From the first interface, please select the file types that you want to recover. Depending on your requirement, you can also choose "All File Types". Then click "Next".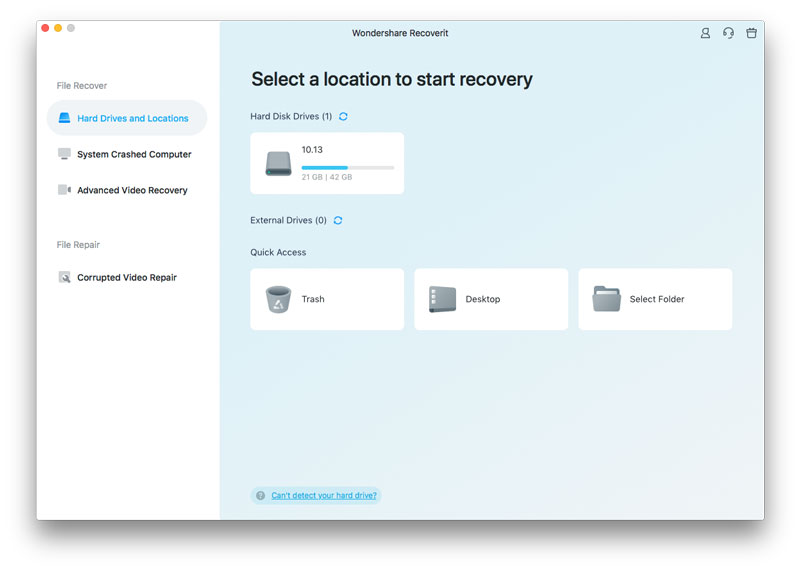 Step 2. Now some partitions will appear on the screen. You can choose any of the drive which you want to scan for locating your file and click "Start".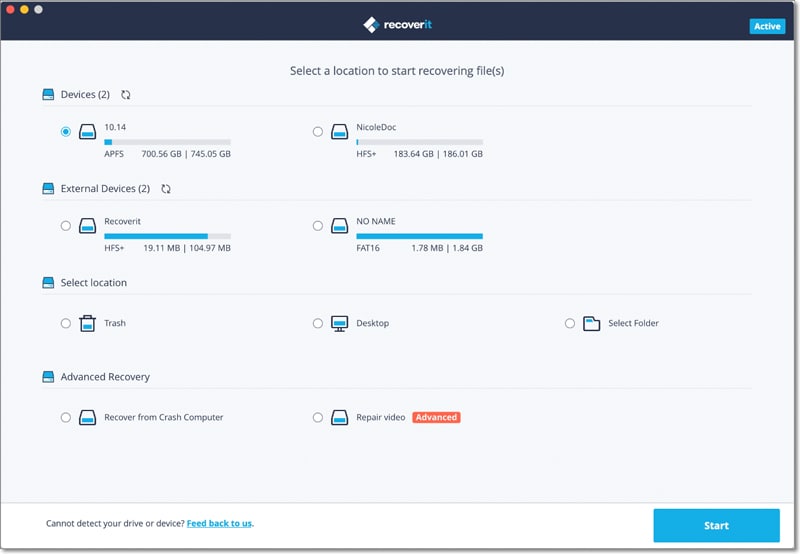 Step 3. Wait while scanning is in progress. It can take some time, usually more than other recovery modes. When the scanning finishes and results are displayed on your screen, choose the files you want to recover. Click on "Recover" after making your selections.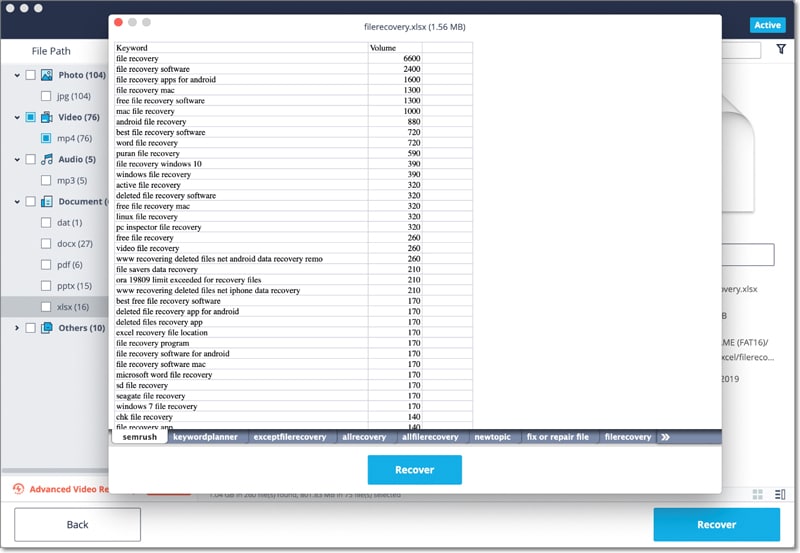 Save the recovered files on other drive or on some external storage device for safety. This is undeniably a very effective data recovery tool that is easily downloadable. It takes few minutes for this application to recover your lost or corrupted data. If you don't still can't find your lost data, please perform the "Deep Scan" mode.