It will consume a lot of your time to delete every contact from your android phone individually. To save you from such agony, you should delete all contacts together and it will be quicker than ever. Very many situations will demand that you delete all contacts from your android device. For instance, you can do that when handing over the device to a different person for some days. That will make sure your contacts are protected from access by a different person. It helps to safeguard your privacy and that of your contacts as well.
Part 1. How to Delete All Contacts Quickly on Android
You should never be worried about deleting all your contacts from an android device because there are several methods to use. They are much effective compared to deleting one contact at a time. If you are not sure about discarding the contacts completely, make sure there is a backup before deleting.
Step 2. Then click on "options" into your android phone, "delete" and select "all". You will be now able to select few or all the contacts. Once selected click "delete" on top right side. There will be a warning message showing that all linked contacts will be deleted which you should tap "ok" and all contacts will be deleted quickly.
Tips: What should you do in case of deleting all contacts on android accidently?
It will be a bit frustrating if you lose all your contacts from an android device unexpectedly. You might have wanted to delete a few but you lost all which is very unfortunate. Some people think that it's all gone but not. You can recover the contacts before they are gone completely. You should install a software program that is proven to be good at data recovery and then use it to scan the device for all the deleted contacts. Choose those that you still deem valuable and recover.
Part 2. The Saftest Solution to Recover Deleted Contacts on Android
There is no doubt thatiSkysoft Android Data Recovery is one of the best if not the best software programs for data recovery. Using it will make you an expert in a field that you have very thin understanding. The good thing with this program is that it comes with tutorials to help beginners use it. Furthermore, it entails the use of just three steps when recovering data which makes it very simple to use. When installing iSkysoft Android Data Recovery to your computer, it will take a few seconds to complete which is a critical time-saving measure. It will always be an easy solution for recovering data from an android device.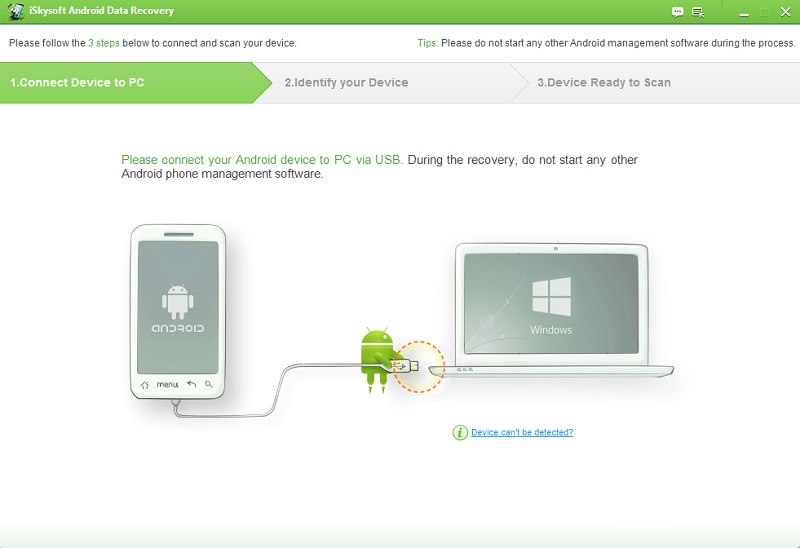 Just like any other software program, iSkysoft Android Data Recovery has its features that play a critical role in ensuring it delivers the best results. The common ones are:
You will get iSkysoft Android Data Recovery for free trial especially on Windows. That makes it possible to scan through the device and have a preview of all the data that you want to recover.
It supports more than 6, 000 android devices and many file types. That signals to its high compatibility rate.
It delivers specific results after scanning through the device. You will be allowed to give the preferred file type or scan mode so as to make the process much faster and easier.
Ability to handle very many scenarios for data loss makes for arguably the best feature that iSkysoft Android Data Recovery boasts of. You will have no difficulties regardless of how you lost your data.
iSkysoft Android Data Recovery is risk free. That guarantees safety to your personal information always.
The Step-by-Step Guide for Recovering Contacts on Android
More related articles:
Do not waste your precious time deleting one contact after the other from your android phone. It is possible to delete all contacts quickly and it's the best option because it helps to save time.