Is it possible to extract files from iTunes backup?
Yes! It is quite possible to extract files from iTunes backup files using third-party tools such as iSkysoft iTunes Backup Extractor. Normally, you cannot directly do so, for the sake of the security of your data. You need a tool that can authenticate your account and access the backup files.
Best Tool to Extract Files from iTunes Backup
iSkysoft iTunes Backup Extractor is the best tool for extracting iPhone files from your iTunes backup. The tool has a simple interface which anyone can understand, listing all the data in categories and sub-categories for easy extraction.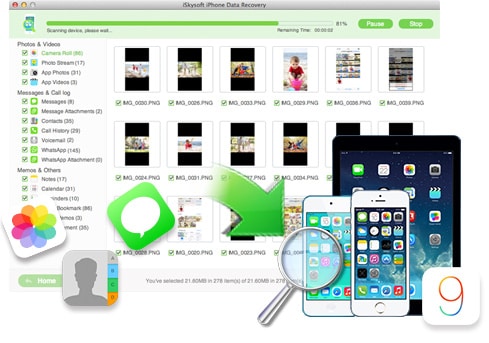 Key Features of iSkysoft iTunes Backup Extractor
Quick preview of data – You can easily preview the data that you are about to extract before you actually do so. This will save you a lot of time and effort, since you get only get what you need.
Multiple extraction modes – You can get your data directly from your iPhone, iTunes or iCloud, giving you three modes of extraction.
Complete iOS device support – It does not matter whether you are extracting data from iTunes backup to your computer, iPod, iPad or iPhone. iSkysoft iPhone Data Recovery works very well with all devices running on iOS.
Automated data extraction – Whenever you access your iTunes account, you can automatically extract data. The program will launch without you starting it and then you can proceed with the extraction of data.
Step-by-step Guide to Extract iPhone/iPad/iPod Backup on iTunes
If you use an iPhone, iPad or iPod, you know that you can access your iTunes account and backup the data in your device. However, there is no way in which you can extract the files to your computer or device. This allows for your data to be safe on the Internet. With iSkysoft iTunes Backup Extractor, you can do so with ease.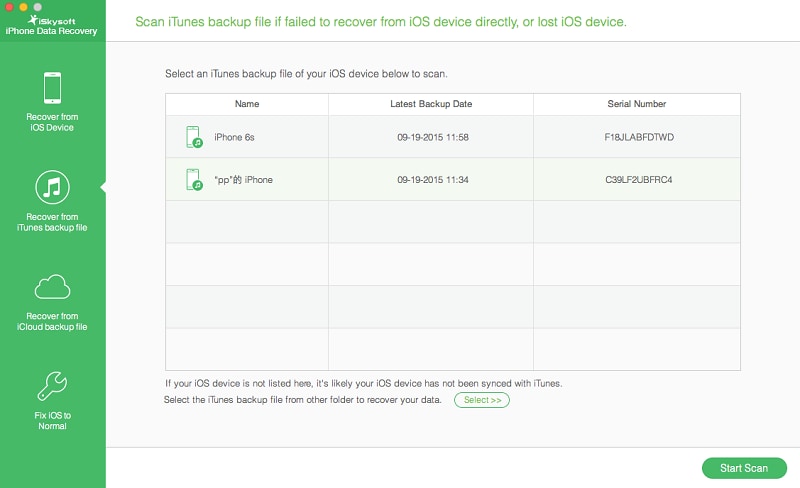 Step 1: Open the software
Install iSkysoft iTunes Backup Extractor and launch it to go to the start page. Here you will select the "Recover from iTunes backup file" in order to go to the backup files. You will be presented with a list of backup files stored on your iTunes account. The files are dated, so you should select the latest one and click "Start Scan".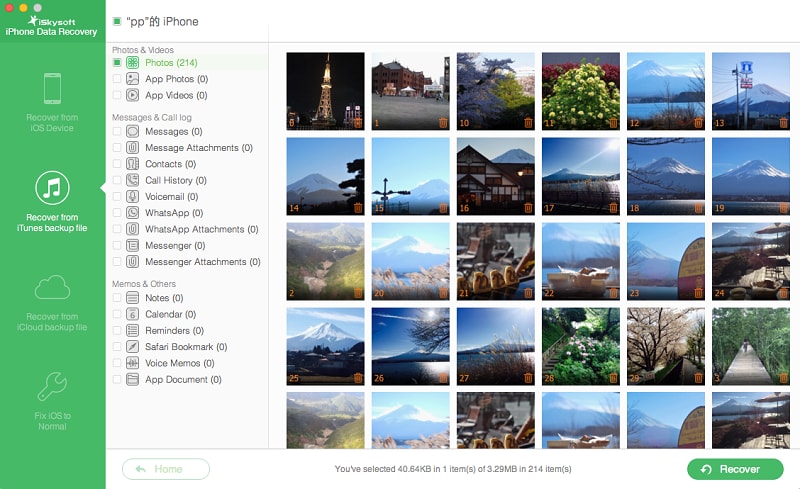 Step 2: Preview backup data on iTunes
After the scanning of your iTunes backup file by iSkysoft iTunes Backup Extractor, you will see a preview of all the data that is present in your backup file. To complete the extraction of data from iTunes backup for free, deselect all the data that you do not need, so you can only view a preview of the data that you want. In each sub-category, look through the individual files and select those which you need.
Step 3: Extract files from iTunes backup
Once you are done, you should hit the "Recover" button so as to complete the extraction. You can opt to store all the data with just a simple click by leaving all data selected before hitting the "Recover" button.
Whether you are having an iPod, iPad or iPhone, the storage of your data in iTunes backup files is very important. You do not know when you may need to refer to information accidentally deleted from your device. It is with this in mind that the developers of iSkysoft iTunes Backup Extractor put together this handy tool to ease the storage and extraction process of your iTunes backup files. From now on, you will not have to worry about losing data on your device.