One of the most common causes of data loss in accidental deletion. We've all done; you mean to hit open and instead choose "delete" or a child is playing around on your computer or other device and all of a sudden some of your data is missing. On a smartphone or tablet, recovering this data may be as simple as restoring from a backup. But when the data loss is on your computer, you are pretty much out of options, or are you? Take heart in the fact that the deleted data may be recoverable. There are several ways to find deleted files and we have the best solution for you. But before we show you just how you can get your deleted data back, let's explain to your exactly why your data may be recoverable.
Part 1: Why the Deleted Files are Still Can Be Found?
Whenever you delete a file, it is not completely gone. Instead of actually deleting the file, Windows will only set a mark on the file information block, notifying the system that the space is now free and can be used. The main reason why Windows doesn't delete the file entirely is because completely overwriting the file takes quite a bit of time. This is also the main reason why you can recover the data using a powerful and reliable data recovery program.
But to maximize the chance that you will be able to recover the file, it is very important that you stop saving files to the drive as this could cause the data to be overwritten, rendering the data unrecoverable. It may also be a good idea to stop using some of the applications on your computer as some save files on your drives and may overwrite the data before you can recover it.
Part 2: The Best Program to Find Deleted Files
Now that you know the deleted data can be recovered, you need a tool that can help you get the deleted data back. Fortunately for you, we have the best data recovery software that is not only easy to use but highly effective. This program is iSkysoft Data Recovery for Mac (or iSkysoft Data Recovery for Windows), a program designed with your comfort in mind. Some of the major reasons why you should choose Recoverit (IS) for Mac as your data recovery tool of choice.
Key Features of Recoverit (IS):
Quick scan and fast data recovery can solve your problem easily and completely.
All of the data is recovered intact and in the original condition.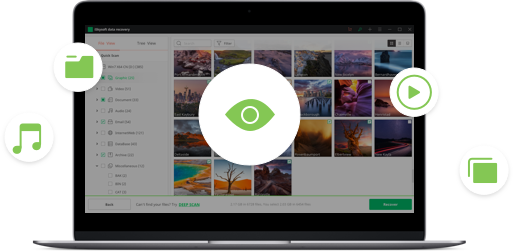 It is also useful when recovering data that has been lost due to unexpected power outages, software crashes, accidental deletion, virus infection, and even improper operations.
It is also 100% safe to use. None of the data on your drives will be at risk.
Step-by-Step Guide to Find Deleted Files
The following is a simple guide to help you use this great program to get all of the data you lost back to your Mac. Before we begin, download and install the program to your Mac. It is however very important that you install the program on a separate drive other than the one with the missing data. This is to avoid saving anymore data on the drive and overwriting the missing data. Like we already saw in part one above, you want to avoid overwriting the data on your device as much as possible.
Step 1. When you first launch the program, you will see all of the six file type tabs displayed in the primary window as shown below. From the options select your desired file types and click "Next" button.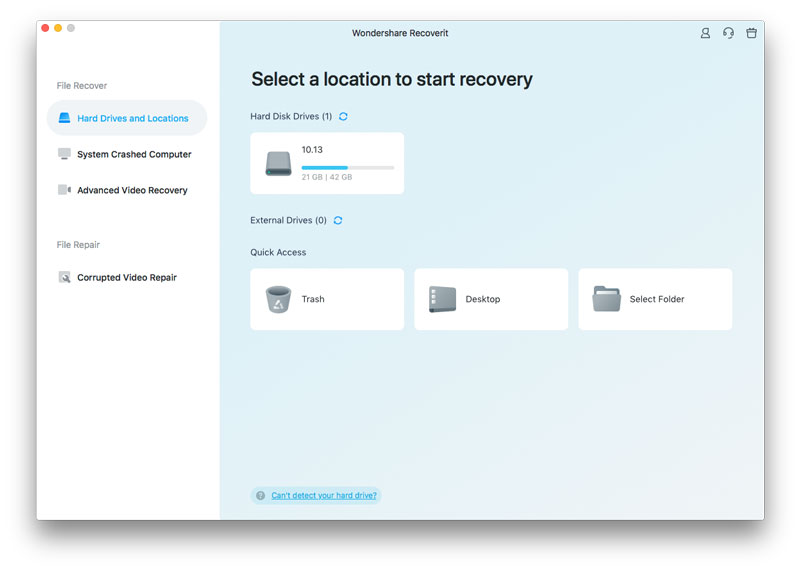 Step 2. From here, select the drive that could contain your deleted data and then click "Start". If you don't see some of the external devices in this window, click on "Refresh" icon and you should be able to see it.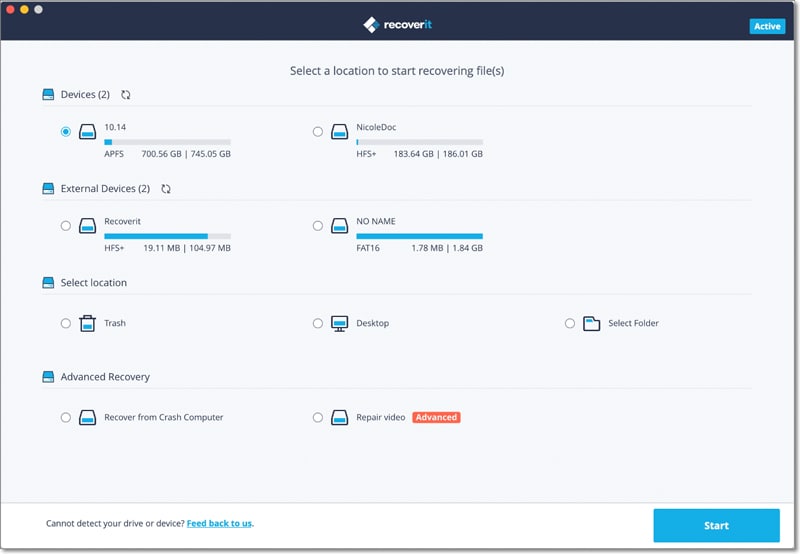 Step 3. Once the scanning process is complete, you will be able to see all of the data available on that drive including the data that has been deleted or corrupted in any way. You can then simply select the missing data and then click "Recover".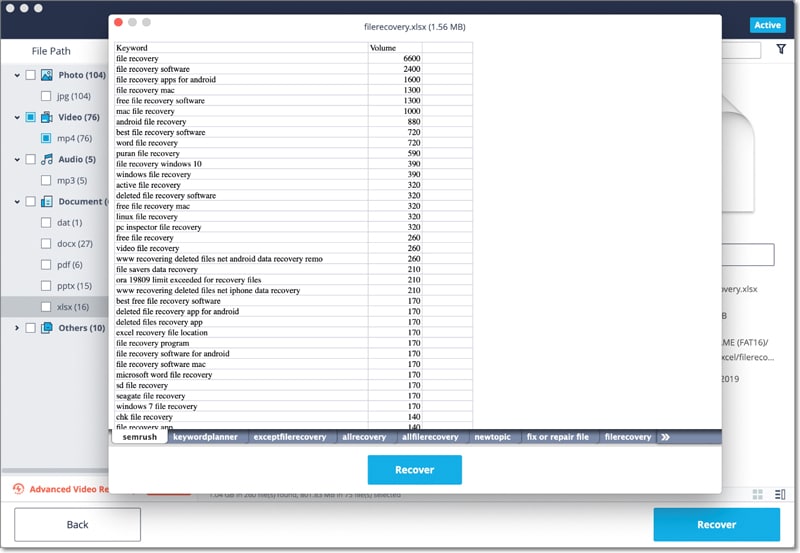 Once you find the data you are looking for, save the data on a different drive. It may even be more prudent to save the data on an external drive.